National Seminar
Redefining Care of the Seriously Ill in a Hospital Setting
Topic: Strategic Quality Improvement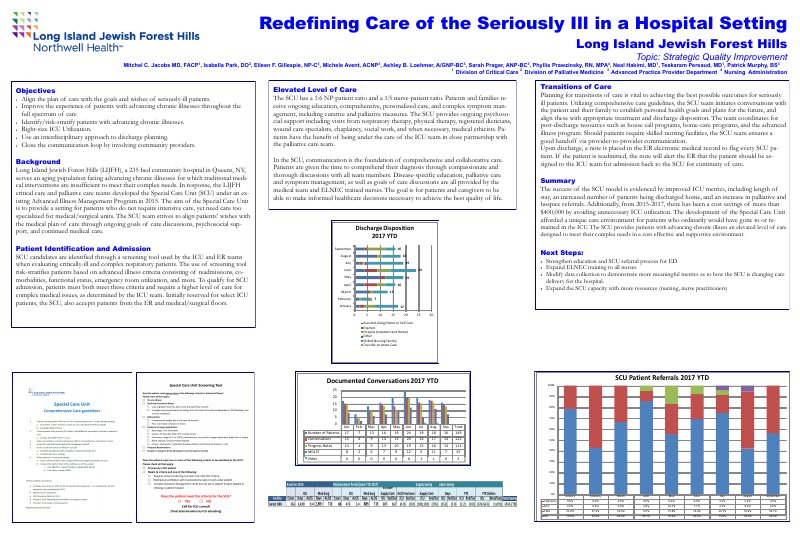 Objectives:
Highlight the advantages of developing a Special Care Unit within a healthcare facility.
Background:
Long Island Jewish Forest Hills (LIJFH), an urban community hospital in Queens, NY, serves an aging population facing advancing chronic illnesses for which traditional models of care no longer meet their complex cases. To address the requirements of these seriously ill patients, the LIJFH critical care and palliative care teams developed the Special Care Unit (SCU) under an advanced illness management program. The crux of the Special Care Unit is to align patients' wishes with the medical plan of care through ongoing goals of care discussions and continuity of care.
Description:
Patient Identification and AdmissionSCU candidates are identified through a screening tool, referrals from interdisciplinary daily rounds, and through an electronically-generated daily list that risk-stratifies patients based on advanced illness criteria consisting of readmissions, comorbidities, functional status, emergency room utilization, and more. To qualify for SCU admission, patients must meet the requirements for advanced illness and require close monitoring for complex respiratory care needs or other symptoms such as pain. Initially reserved for select ICU patients, the SCU now accepts patients from the ER and medical floors.
Elevated level of care:
Led by the critical care team, the SCU has a 1:4 nursing-patient ratio and a 1:6 nurse practitioner (NP)-patient ratio. This ensures that SCU patients receive comprehensive, personalized care and complex symptom management that combines curative and palliative measures from a multidisciplinary team. This also includes daily rounds with respiratory and physical therapists and an NP.
In addition, throughout their time in the SCU, patients and families receive ongoing education and psychosocial support from all disciplines, including nursing, social work, and providers. The SCU frequently calls for chaplaincy and palliative care in meeting the needs of these seriously ill patients.
Transitions of Care:
Continuity and transitions of care are vital to achieving the best possible outcomes for seriously ill patients. To accomplish this, the SCU team always ensures good handoff to receiving facilities and community providers to deliver a comprehensive, safe transition. For patients able to return home, the team coordinates with in-home assistance programs that can bring nurses, therapists, and house-call physicians and nurse practitioners for home visitations. To ensure continuity, a complex care note is placed in the electronic medical record for every SCU patient upon discharge. If the patient is readmitted, the note will alert the ER that the patient should be assigned to the ICU team for admission back to the SCU.
Conclusion:
The success of the SCU model is evidenced by improved ICU metrics, including length of stay and Apache scores, an increased number of patients being discharged home, and an increase in hospice referrals. The development of the Special Care Unit afforded a unique care environment for patients who ordinarily would have gone to or remained in the ICU. The SCU provides patients with advancing chronic illness an elevated level of care designed to meet their complex needs in a comforting, supportive environment.
Author
Senior Administrative Director II
Long Island Jewish Forest Hills
102-01 66th Road
Forest Hills, NY 11375
(718) 830-1996
Co-authors
Ashley B. Loehmer, MPH, A/GNP-BC
Isabella Park, D.O.s
Patrick Murphy
Sarah Prager, ANP-BC