National Seminar
Recording Life Stories: A Practical Way to Create a Legacy
Topic: Innovative Clinical Interventions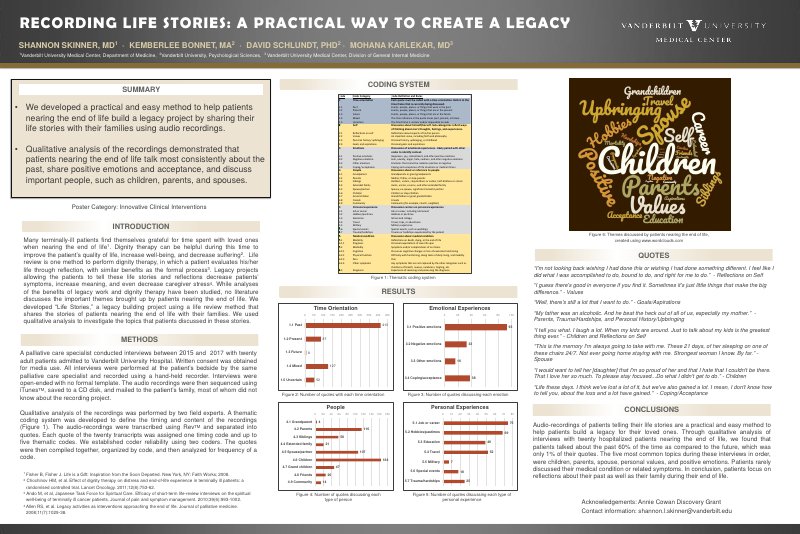 Dignity therapy and legacy work have been long recognized by palliative care teams to help patients with psychosocial and spiritual stress. Unfortunately though, many patients do not see the value in sharing their life experiences because they assume no one will want to listen. The medical system reinforces this perception. While medical students early in training are taught to take lengthy histories asking open-ended questions, house staff quickly learn that residency survival is predicated on efficiency, and will politely interject a story in order to move on to their next task. Attending physicians spend even less time with patients and may not even know that they have missed out on "the story." Our personal stories are important; they define who we are. Dying patients have stories to tell, and unless we engage patients to share these memories, their life stories will die when patients take their last breath. To prevent this occurrence, we developed "Life Stories," a legacy building project aimed to share the stories of patients at the end of life with their families using a dignity work framework. This project is based on audio recordings as a practical and simple method, that can be recreated in any healthcare setting, to share a patient's legacy and preserve dignity.
In this poster session, we will describe our method for recording and sharing patients' stories from start to finish. The recordings have also been transcribed and qualitatively analyzed to determine the common themes that emerge in the stories told by patients at the end of life. We will discuss the results of our qualitative analysis as well as the impact these recordings have had on patients, their families, and the clinical team. Our hope is for others to learn how to develop their own story project using technology to document and share the powerful stories they hear when taking care of patients within their own palliative care setting.
Author
Chief Resident
Vanderbilt Palliative Care
1211 Medical Center Drive
Nashville, TN 37205
Co-authors
David Schlundt, Ph.D.
Kemberlee Bonnet, M.A.
Mohana Karlekar, M.D.