National Seminar
Quality Care at the End of Life: the PHAIM Approach
Topic: Measuring Impact and Value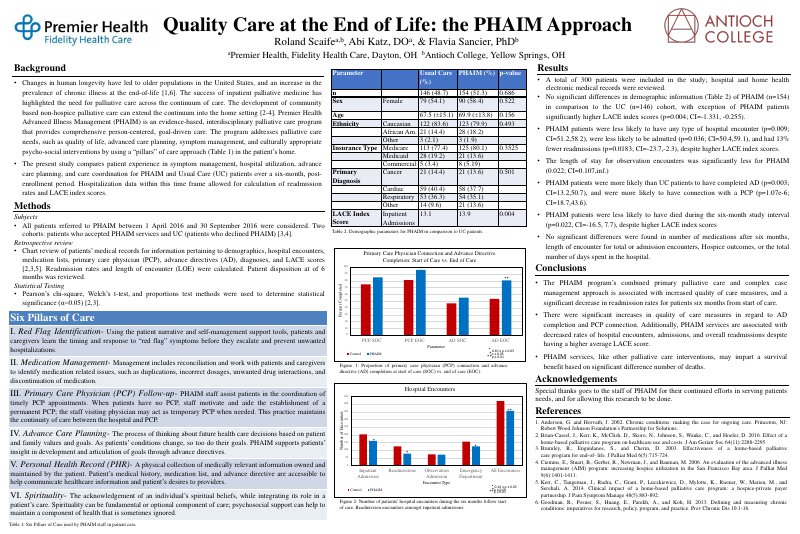 The success of inpatient palliative medicine has highlighted the need for palliative care across the continuum of care. The development of community based non-hospice palliative care can extend the continuum into the home setting. Premier Health Advanced Illness Management (PHAIM) is an evidence-based, interdisciplinary program that provides comprehensive person-centered, goal-driven care navigation; symptom self-management support; advanced care planning; and culturally appropriate psycho-social interventions, in the setting of the patient's home. The program interventions address palliative care needs such as quality of life, symptom management, shared decision making, emotional, and spiritual support, using a "pillars" of care approach. The current study compares patient experience in symptom management, hospital utilization, advance care planning, and care coordination for usual and PHAIM care patients over a six-month post enrollment period.
Methods:
A retrospective review of 600 medical records was completed for 300 patients referred to PHAIM services between 1 April – 30 September 2016. Two cohorts were compared consisting of PHAIM (n=154) patients and a usual care (UC; n=146) of patients offered PHAIM services but declined. Date of referral will act as UC patients' start of care date. Information pertaining to demographics, hospital encounters, medications, primary care physician (PCP), advance directives (AD), diagnoses, and LACE index scores were collected for a span of six months following start of service. Pearson's chi-squares, Welch's t-test, and independent proportion tests were performed to determine statistical significance (α=0.05).
Results:
After six months, a significant increase in patients' completion of advance directives and connection with a primary care physician was found in the PHAIM cohort. Although PHAIM patients had higher LACE index scores, they were less likely to have a hospital encounter, hospital admission, or be deceased. The readmission rate for PHAIM was 13% less than in UC cohort.
Conclusions:
The PHAIM program's combined primary palliative care and complex case management approach is associated with increased quality of care measures, and a significant decrease in readmission rates for patients six months from start of care.
Implications:
Using a pillared approach of palliative care, in addition to home-health case management, provides a useful model of care. Implementing primary palliative care into a homecare setting has shown an effect in short-term, and will be the focus for future studies to better shape program actions toward increased quality of life and care.
Author
Program Assistant
Fidelity Health Care
3170 Kettering Blvd
Dayton, OH 44883
Co-authors
Abi Katz, DO, MS, HMDC
Flavia Sancier, Ph.D.