National Seminar
QI Project on Advance Directive Education/Documentation
Topic: Strategic Quality Improvement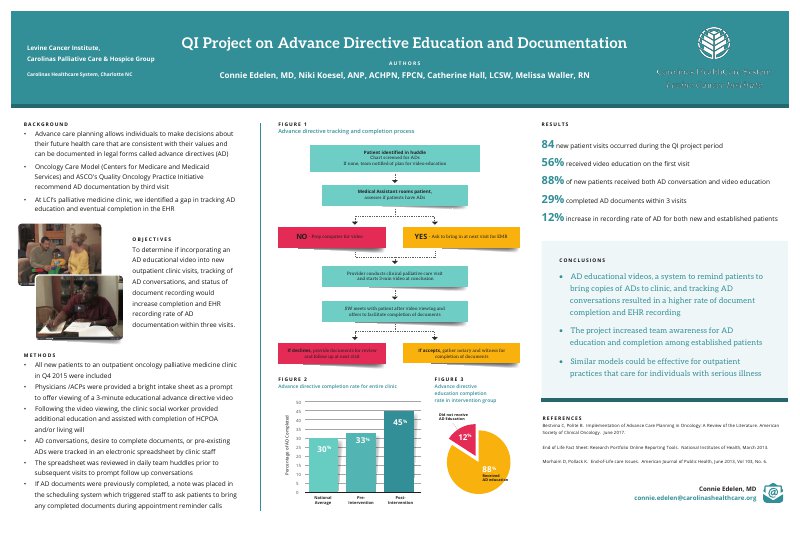 Advance care planning allows patients to make decisions about their future health care that are consistent with their values and should be revisited over time as wishes and clinical status changes. The Oncology Care Model (Centers for Medicare and Medicaid Services) and ASCO's Quality Oncology Practice Initiative recommend documentation of advance directives (AD) by the third clinic visit. At Levine Cancer Institute's palliative medicine clinic, introduction of ADs was an established practice however there was a gap identified in tracking education and eventual completion in the EHR.
Objectives:
To determine if incorporating an AD educational video into an initial outpatient clinic visit, tracking of AD conversations, and status of document recording would increase completion and EHR recording rate of AD documentation in the first three clinic visits.
Methods:
This QI project included all new patients to an outpatient oncology palliative medicine clinic in Q4 2015. Physicians and advance care providers were provided a brightly colored intake sheet as a prompt to offer viewing of a 3-minute educational advance directive video to all new patients. Based on the patient's expressed level of interest in ADs following the video viewing, the clinic social worker provided additional education and assisted with completion of HCPOA and/or living will. AD conversations, desire to complete documents, or pre-existing ADs were tracked in an electronic spreadsheet by clinic staff. The spreadsheet was reviewed in daily team huddles prior to subsequent visits to prompt follow up conversations. If AD documents were already completed, a note was placed in the scheduling system which triggered staff to ask patients to bring any completed documents during appointment reminder calls.
Results:
There were 84 new patient visits during the QI project period. Video education was performed on the first visit for 56% of visits. By the end of the second visit, 81% of patients received both AD conversation and video education. ADs were documented on 29% of new patients by the end of the project period. Recording rate of ADs for the entire clinic (new and established patients) by the end of the project increased 12% from above preintervention baseline (33% to 45%).
Conclusions:
Using AD videos, implementing a system to remind patients to bring copies of ADs to clinic, and consistently tracking advance care planning conversations as part of clinic flow resulted in a higher rate of document completion and recording of documents in the EHR. The project also had an indirect effect of increasing awareness of needs for AD education and completion among established patients for the palliative team. It would be appropriate to develop a similar model for other outpatient practices that care for patients with serious illness. An area for further research may include earlier implementation of AD education and tracking in newly diagnosed cancer patients.
Author
Physician
Levine Cancer Institute/Carolinas HealthCare System
711 East Morehead Street
Charlotte, NC 28278
Co-authors
Melissa Waller, RN
Niki Koesel, ANP, ACHPN, FPCN