National Seminar
Pushing Palliative Care FURTHER Upstream: RN-led clinics
Topic: Palliative Care in Specific Settings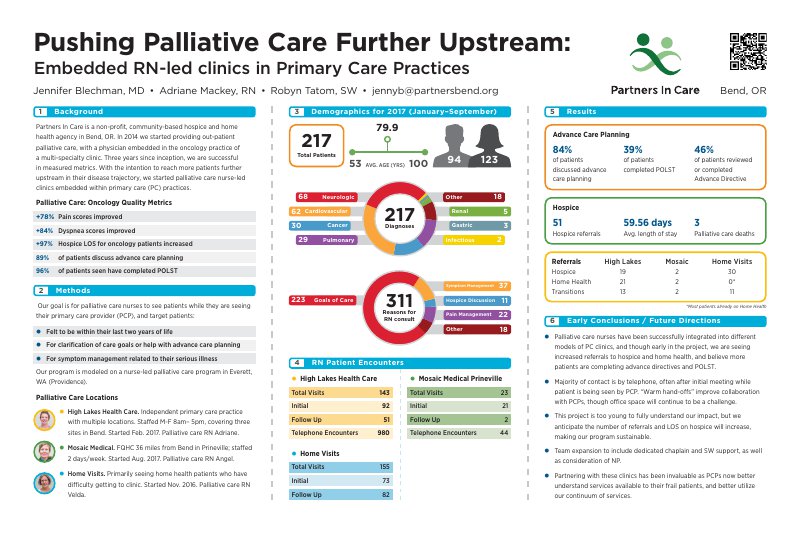 Partners In Care is a non-profit, community-based hospice and home health agency in Bend, OR. In 2014 we started providing out-patient palliative care, with a physician embedded in the oncology clinic of a multispecialty clinic. Now three years since inception, we have achieved enormous success in our reach, quality metrics including pain and dyspnea scores, advance care planning, and length of stay on hospice, which has increased 194% for oncology patients. However, similar with national trends, as an organization we continue to see late referrals to hospice, the gold standard for end of life care.
With the intention to reach more patients further upstream in their disease trajectory, we started a palliative care nurse-led clinic embedded within primary care (PC) clinics. The goal is to see patients while they are seeing their PCP (primary care provider), targeting patients felt to be in their last two years of life, or those needing either clarification of care goals or symptom management related to their serious illness. Our program is modeled on a nurse-led palliative care program in Everett, WA (Providence); we are fortunate to have the nurse who started that program working with us as we get started, and help mentor our new palliative care nurses, both of whom were previous hospice RNs. We have been embedded in a PC clinic with 3 sites in Bend, and in our first 5 months had contact with 143 patients and 856 total encounters to date (both in person and by telephone). The majority of contact is by telephone, often after an initial meeting while the patient is being seen by their PCP. "Warm hand-offs' are beneficial to better collaborate with PCPs, and also helpful for patients who benefit from seeing that we are working closely with their team.
Patients are selected by illness severity scores, recent hospitalization or ER visit, chart scrub, or as requested by PCPs.
Much of the work is centered around care goal discussions, with the intention of clarifying wishes and obtaining earlier hospice referrals. Our physician is available to see patients requiring intensive symptom management, though the RNs are able to make recommendations to the PCPs for symptom management with good results.
In August 2017 we will expand to another site - a federally qualified healthcare center in a rural town 36 miles from Bend with a similar RN-led model of care.
In addition, one of our palliative care RNs does home consults, primarily seeing home health patients who have limited mobility and difficulty getting to clinic. She has followed 48 patients in the last 6 months.
To date, 24 of these 143 patients (14%) have been referred to hospice, though with only 5 months of data from a new program, it is too soon to judge its success.
Future directions include becoming more entrenched and reaching more patients in these primary care settings, as well as expanding our team to include chaplain support for both clinic and home patients.
Author
Palliative Care Medical Director
Partners In Care
2075 NE Wyatt Ct.
Bend, OR 97703
(541) 382-5882
Co-authors
Adriane Mackie
Angel Williamson
Cassie Ebner
Robyn Tatom
Velda Filzen