National Seminar
Progression of Palliative Care in Rural Middle Tennessee
Topic: Palliative Care in Specific Settings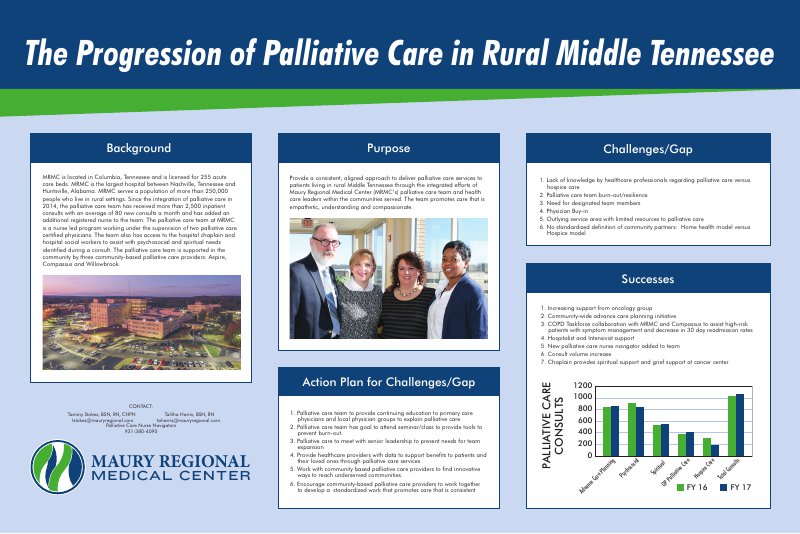 Healthcare communities today, like never before, are faced with the growing challenge of providing high quality, affordable healthcare to patients living with chronic and life threatening illness with a goal of providing each patient and their loved ones with outcomes that meet the patient's needs. Underserved and impoverished rural areas of the United States are at a greater disadvantage when faced with this challenge and often have to find innovative ways to meet the needs of these patients. In 2013, a team of healthcare professionals at Maury Regional Medical Center (MRMC) identified a need for palliative care and devised a plan to start a palliative care program that would change the culture of healthcare for the underserved living in greater than 6 counties served by the medical facility. In October of 2014, under the guidance of two palliative care certified physicians, a registered nurse began the palliative care program at MRMC located in Columbia, Tennessee. Uncertain of the utilization of the service, hospital administration had given the team a goal of receiving 130 consults by referring physicians by the end of fiscal year 2015. By June 30, 2015, the team was consulted on more than 500 patients. In the fall of 2015, MRMC was selected to present a poster at Center to Advance Palliative Care (CAPC) National Conference regarding the integration of palliative care in rural middle Tennessee. Since that time, the palliative care team at MRMC has faced a great number of challenges, successes, and over this time has recognized several gaps in the care being provided. No one could predict the impact palliative care would make on the MRMC healthcare system or the overwhelming accolades that would follow the palliative care team.
MRMC is located in Columbia, Tennessee and is licensed for 255 acute care beds. MRMC is the largest hospital between Nashville, Tennessee and Huntsville, Alabama. MRMC serves a population of more than 200,000 people who live in rural settings. Since the integration of palliative care in 2014, the palliative care team has received more than 2,500 inpatient consults with an average of 80 new consults a month and has added an additional registered nurse to the team. The palliative care team at MRMC is a nurse led program working under the supervision of two palliative care certified physicians. The team also has access to the hospital chaplain and hospital social workers to assist with psychosocial and spiritual needs identified during a consult. This team begins each day by meeting to discuss new consults, as well as identifying any needs or issues of existing patients seen in the hospital. The team also coordinates care with community palliative care providers for continued continuity of care. The proposed presentation will recognize the successes, challenges and gaps the palliative care team has faced and demonstrate how the team has enhanced patient care in a rural setting to improve the lives of patients and their loved ones living with chronic illness.
Author
Palliative Care Nurse Navigator
Maury Regional Medical Center
3 S Park Grove Road
Columbia, TN 38464
Co-authors
Register Now
Register for the 2018 CAPC National Seminar and Pre-Conference Workshops by September 24 for Early Bird pricing.
Learn More and Register