National Seminar
Proactive Palliative Care for Advanced Illness Patients
Topic: Strategic Quality Improvement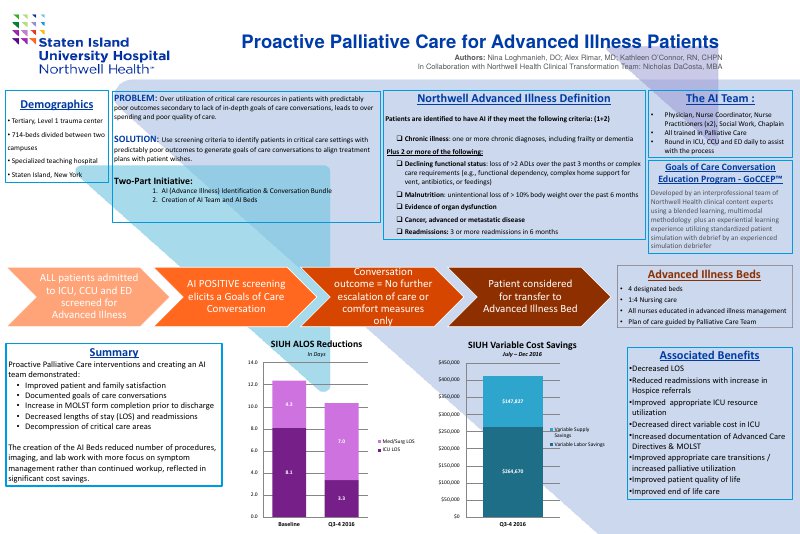 Northwell Health initiated a quality improvement initiative to improve the care of individuals with Advanced Illness. Advanced Illness (AI) is defined as when one or more conditions become serious enough that general health and functioning decline and treatments begin to lose effectiveness. In 2015, several hospitals within Northwell began a screening process to identify patients with Advanced Illness in critical care settings. This included Medical, Surgical and Cardiac Critical Care Units and Emergency Departments. In the critical care settings, a standardized screening tool was used to identify patients. Patients who screened positive for AI were then followed by the "AI Team" which engages patients and families in discussions about options for advanced care planning. The goal of the AI team is to create a plan of care that aligns with the patient's values, needs, and circumstance. For those patients whose wish is to focus on comfort rather than continued escalation of care, the "Advanced Illness Beds" were developed. The AI beds at Staten Island University Hospital are staffed by a physician, two nurse practitioners, and a social worker; all trained in Palliative medicine.
The AI Beds in Staten Island University Hospital opened in July of 2016. The program uses four beds which are designated for critical care level patients. These patients require intensive nursing care with continuation of a focused medical care plan as discussed during an official goals of care meeting with the AI team. Patients in the AI Beds are medically managed by the primary care team (i.e. Medicine, Pulmonary, or Surgery); all plans are overseen by the AI Physician with a focus on Palliative medicine philosophy. The AI Beds are staffed using a 1:4 (nurse to patient) ratio. All nurses in the AI Unit are trained in Palliative care and symptom management. By providing care that is tailored to patient and family needs, patients maintain their optimal quality of life while reducing unwanted and unneeded care.
Within the first six months of inception, the Advanced Illness beds program at Staten Island University Hospital has had a significant impact in several areas including: improved patient and family satisfaction, documented goals of care conversations with increase in MOLST form completion prior to discharge, decreased length of stay (LOS) and readmissions, and decompression of critical care areas. In addition to improving the patient experience, the AI beds had a significant impact on utilization of hospital resources. With care plans focused on symptom management rather than continued workup, patients had limited procedures, imaging, and lab work. Program performance has been highlighted by a 59% reduction in ICU LOS along with an overall hospital LOS reduction of 17%. This success has translated to a variable cost reduction of $412,500 for the first 6 months of operation. Total annual savings at Staten Island University Hospital is estimated to exceed $1 million as the program continues to mature. For Staten Island University Hospital, AI beds have proven to be a cost effective way to provide high quality care while also improving hospital efficiency.
Author
Associate Medical Director
Staten Island University Hospital, Northwell Health System
475 Seaview Ave, Staten Island, NY 10305
Staten Island, NY 10282
(716) 713-2045
Co-authors
Alexandar Rimar, MD
Kathleen O'Connor, RN
Nicholas Decosta, MBA