National Seminar
Preventing ED Use in SNF - Rectal Administration Catheter
Topic: Innovative Clinical Interventions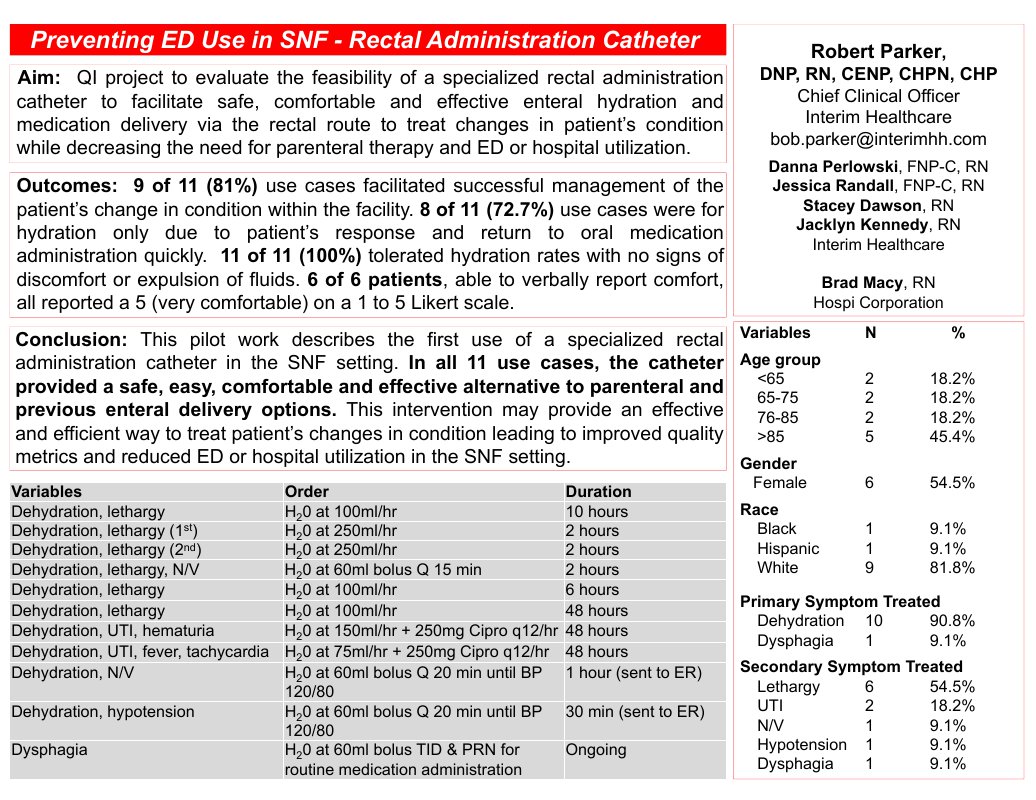 This poster will present the findings of a collaboration between four skilled nursing facilities and a community-based palliative care program.  This pilot project implemented a specialized rectal administration catheter to help reduce avoidable ED and hospital utilization and improve care quality in the SNF setting in partnership with palliative care services.
The acute loss of oral intake, and subsequent inability to provide hydration and/or medication orally is one of the greatest challenges SNFs face in managing changes in condition. Infection, fever, lethargy, agitation, delirium, nausea and vomiting are examples of changes in condition that may lead to loss of oral intake and dehydration. Unless a patient has a percutaneous endoscopic gastrostomy (PEG) tube or nasogastric (NG) tube in place, the alternative route of fluid and medication delivery Underhas historically been parenteral. There are patient safety and cost challenges associated with parenteral therapy. The insertion of an IV can be difficult or contraindicated. Staff in SNFs often do not have the skillset to insert an IV in difficult venous access patients leaving many SNFs contracting their IV placement services; a costly alternative that often delays treatment for hours. The use of a specialized rectal administration catheter can provide an option to treat changes in patient condition, and facilitate safe, fast and easy enteral hydration and medication delivery via the rectal route.
Nine of the 11 (81%) catheter interventions facilitated successful management of the patient's change in condition within the facility. Two patients had conditions that mandated ED utilization even though hydration via the catheter had been successful. Six of the 11 (55%) interventions were for hydration and medication administration with the remaining five being for hydration only. All 10 patients tolerated the intervention well with no signs of discomfort or expulsion of fluids. Hydration was considered successful in all case uses based on either normalization of vital signs or decrease in lethargy and an ability to return to oral rehydration and medication administration. In all instances, regular tap water was utilized, with hydration rates varying from 75ml/hr to 250ml/hr at various durations. Some infusions were given as boluses at specified time intervals with a 60ml enteral syringe provided in the catheter tray by the manufacturer. Others were given as infusions using a standard feeding tube bag which fits onto the administration port of the catheter. Of the six patients able to verbally report comfort, all six reported a 5 (very comfortable) on a 1 to 5 Likert scale with each use. All staff reported a 5 (very easy to use) on a 1 to 5 Likert scale for both ease of use and perceived patient comfort.
Author
Corporate Director of Palliative Care
Interim Healthcare Home Care and Hospice
506 Brushy Branch Rd
Lockhart, TX 78644
(806) 782-2976
Co-authors
Brad Macy, RN
Danna Perlowski, FNP-C, RN – APN
Jacklyn Kennedy, RN
Jessica Randall, FNP-C – APN
Stacey Dawson, RN