National Seminar
Preparing Palliative Care Community Specialists
Topic: Education Strategies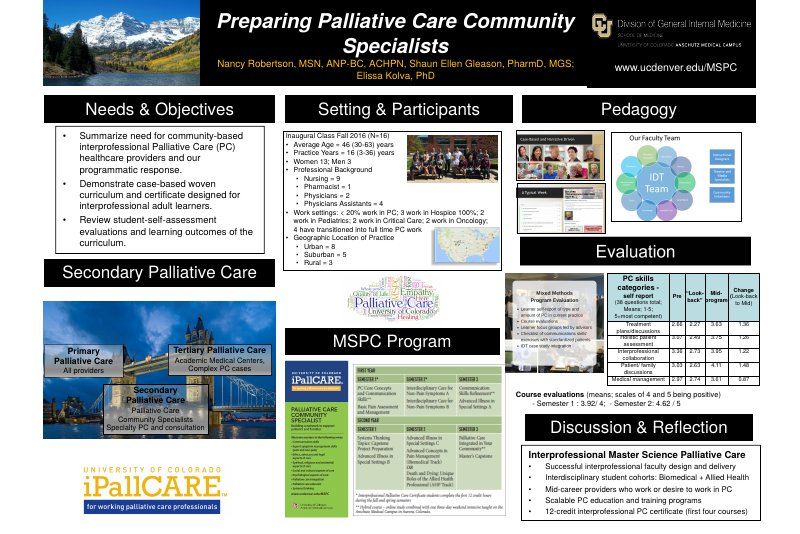 Palliative Care (PC) services are expanding in community settings to better serve people where they live throughout the trajectory of serious illness. Finding qualified, educated Palliative Care (PC) healthcare providers to serve this population is challenging. It is important to support both primary Palliative Care and expand specialist Palliative Care services in all settings. The University of Colorado's interprofessional Master of Science in Palliative Care (MSPC) and Interprofessional Palliative Care Certificate (IPCC) programs were designed to meet this challenge. Creating a platform where learners from every Palliative Care (PC) discipline come together academically is truly unique.
These programs meet the need for a new role: The Palliative Care Community Specialist. The MSPC and IPCC are hybrid programs offered primarily online with three on-campus weekend intensives to practice communication skills with standardized patients and interprofessional teamwork skills. Faculty and course content are sourced from nursing, medicine, pharmacy, bioethics, social work, spiritual care, psychology, and communication disciplines. The inaugural cohort (2016-17) consists of nurses, pharmacists, physician assistants, and physicians (16 students). The next cohort (2017-2018)has been expanded to include social workers, chaplains, psychologists, and counselors.
Methods:
The MSPC longitudinal curriculum encompasses 6 semesters for a total of 36 credit hours; the IPCC encompasses the first four courses (12 credit hours). The online curriculum begins each week with a patient/family/provider dialogue representing scenarios on the illness trajectory to demonstrate communication skills and illustrate learning points. This is followed by two learning modules: a biomedically-focused topic and a related psycho-social-spiritual-ethics topic developed/presented by content experts from the interprofessional faculty. Pharmacy "pearls" are presented where appropriate.
Evaluation:
Program evaluation is accomplished through a mixed method process including: learner self-assessments on 39 Palliative Care (PC) skills/tasks before, during and after the program's formal training; self-reports on type/amount of PC in their practice; scored communication skills exercises with standardized patients, semi-structured interviews and other methods, and standard course evaluations.
Results:
The pre-program self-assessments revealed diversity in student disciplinary backgrounds, practice settings, and the extent of the Palliative Care approach in their practice. This cohort reported an average score of < 3 on a Likert type scale in their abilities to handle complex end of life conversations, management of clinical conditions and ability to provide spiritual/psychological support. The self-assessment survey results completed at the mid –point in this program demonstrated increased self-assessed ability in all domains. Skills evaluation data indicate the curriculum is meeting learning objectives.
Discussion:
An Interprofessional MSPC, designed/delivered by interprofessional faculty, is scalable and meets the needs for Palliative Care teams training from a unique approach. Breaking out of education silos prepares students for a career in interdisciplinary Palliative Care.
Implications:
To our knowledge this is the first program in North America to specifically address the need for Interdisciplinary trained Palliative Care providers. Preliminary evaluation data from the first cohort indicate enthusiastic appeal and achievement of learning objectives.
Author
Sr Professional Research Assistant
University of Colorado Anschutz Medical Campus
12631 E 17th Avenue
Aurora, CO 80045
Co-authors
Elissa Kolva, PhD
Shaun Gleason, PharmD, MGS