National Seminar
Partnering to Increase Palliative TOC
Topic: Building Palliative Care Into the Organizational DNA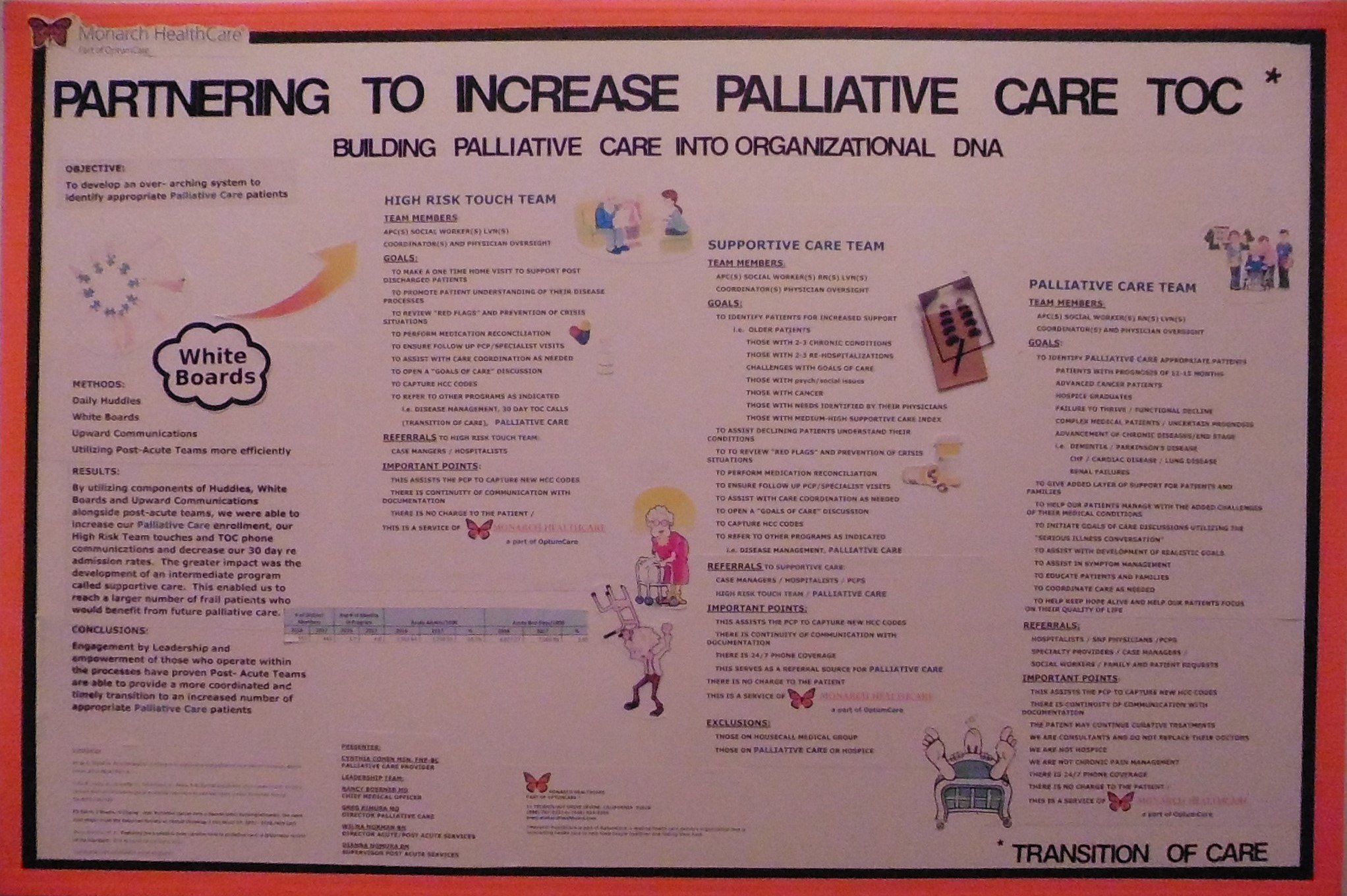 Partnering to Increase Palliative TOC Background: Initiating palliative care in the home starts with collaboration of multiple care coordinators. This can result in the inefficient use of resources intended for those who are most frail with rapid returns to the hospital setting, diminished symptom management and loss of time for goals of care/end of life discussions.
Objective:
To develop an overarching system for identification and advancement of palliative care to an increased number of appropriate patientsMethods: Daily Huddles for each Post-Acute team were designed. White boards posted prominently to keep organizational aims at the fore. Issues were escalated to the highest level needed to prevent disruption of smooth transitions of care for patients and families. Increased touches by phone, letter, home visits.
Results:
By utilizing systematic components of Huddles, White Boards and upward communication alongside post-acute teams with home assessments, we were able to increase our Palliative Care enrollment, our High Risk Touch Team touches, and our TOC phone communications and decrease our 30 day readmission rates. The greater impact was the development of an intermediate program titled Supportive Care that provided us a larger exposure to frail patients who can benefit from palliative care at a future date/time.
Conclusion:
Engagement by leadership and empowerment of those who operate the process have proven our Post-Acute Teams are able to provide a more coordinated and timely transition to palliative care for more patients resulting in improved coordination and delivery of quality palliative care.
Author
Nurse Practitioner
Monarch, Part of Optum Care
11 Technology Drive
Irvine, CA 92618
(949) 923-3440
Co-authors
Dianna Nomura, RN
Greg Kimura, Physician
Winnie norman, RN