National Seminar
Palliative Care in Sickle Cell Disease Reduces Length of Stay and Cost
Topic: Addressing the Needs of Specific Patient Populations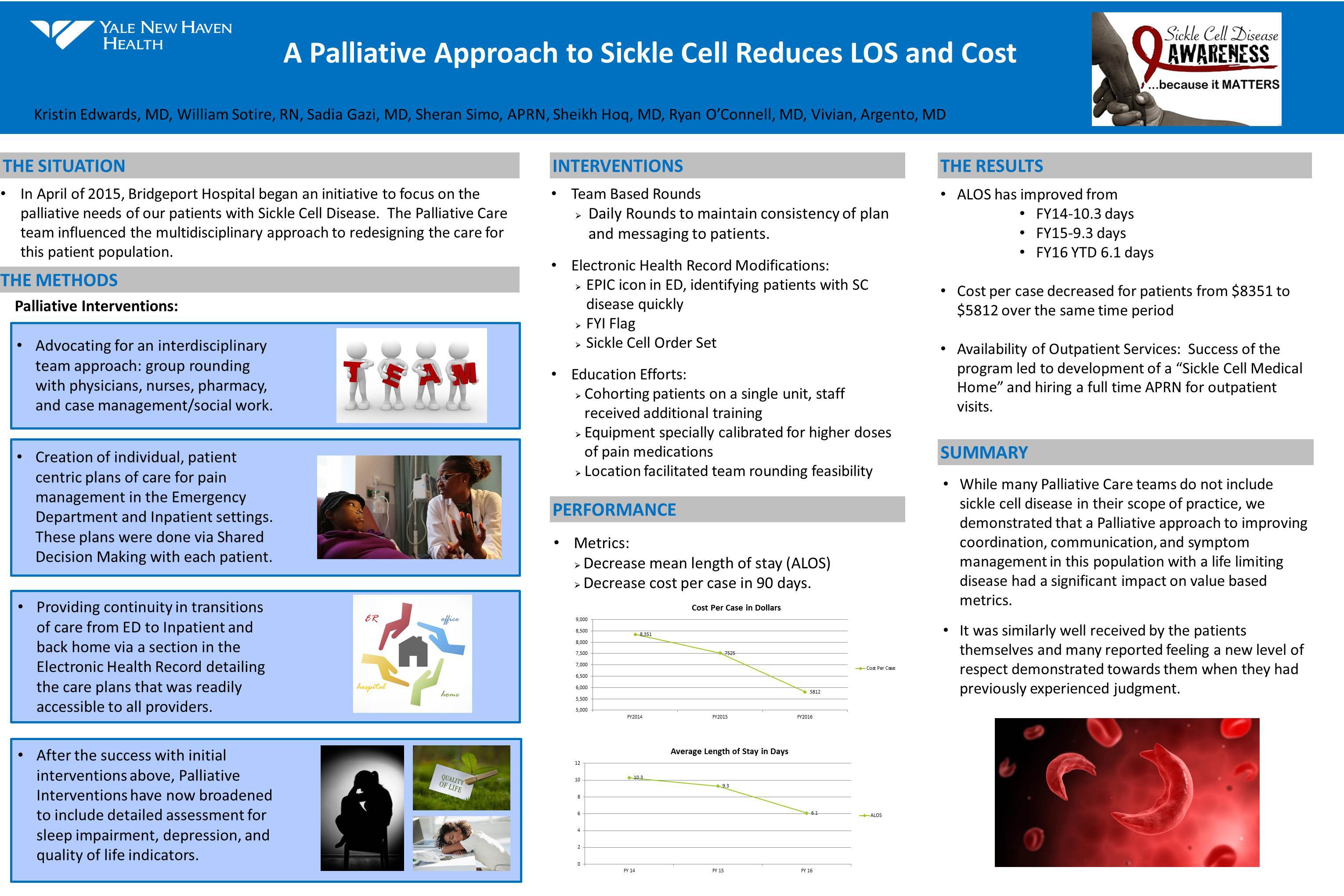 In April of 2015, Bridgeport Hospital began an initiative to focus on the palliative needs of the Sickle Cell Patient Population. The Palliative Care team inspired the multidisciplinary approach to redesigning the care for this patient population.
Methods:
The Palliative Interventions included:
– Advocating for an interdisciplinary team approach: group rounding with physicians, nurses, pharmacy, and case management/social work
–– –Creation of individual, patient centric plans of care for pain management in the Emergency Department and Inpatient settings. These plans were done via Shared Decision Making with each patient.
– –Providing continuity in transitions of care from ED to Inpatient and back home via a section in the Electronic Health Record detailing the care plans that was readily accessible to all providers.
–– After the success with initial interventions above, Palliative Interventions have now broadened to include detailed assessment for sleep impairment, depression, and quality of life indicators.
The team defined the metrics as mean length of stay (LOS), readmission rates, cost per case and availability of outpatient services. We utilized a Plan-Do-Study-Act model and lean methodology to determine if interventions implemented facilitated improved outcomes. EHR modifications included the development of an EPIC icon that alerts the ED physician that the patient needs rapid attention for pain management, an FYI flag with a detailed description of the patient's previously determined care plan for pain management, and development of a "Sickle Cell Order Set" specific to this population which included orders with higher concentrations of opioids than other opioid naïve populations. Education efforts included cohorting admitted patients on a single unit of the hospital where staff received additional training, equipment was specially calibrated for the higher dose of pain medication needed in PCA pumps, and location was geographically easier to facilitate multidisciplinary bedside rounding. Multidisciplinary Bedside Rounds provided early identification of significant social issues which provided barriers to discharge, as well as consistent messaging across the team and to patients.
Results:
As a result of the project, the Average Length of Stay (ALOS) decreased from FY14-10.3 days, FY15-9.3 days and FY16 year to date 6.07 days. Cost per case decreased for patients as well from $8351 to $5812 over the same time period. These trends have persisted with most recent ALOS of 6.21. In addition, success of the program led to the development of improved outpatient care in the community by creation of a Sickle Cell Medical Home.
Summary:
While many Palliative Care teams do not include sickle cell disease in their scope of practice, we demonstrated that a Palliative approach to improving coordination, communication, and symptom management in this population with a life limiting disease had a significant impact on value based metrics. It was similarly well received by the patients themselves and many reported feeling a new level of respect demonstrated towards them when they had previously experienced judgment.
Author
Medical Director of Palliative Care
Yale New Haven Health--Bridgeport Hospital
267 Grant Street
Bridgeport, CT 06840
Co-authors
Ryan O'Connell
Sadia Gazi, MD
Sheikh Hoq
Sheran Simo
Vivian Argento, MD
William Sotire, RN
Register Now
Register for the 2018 CAPC National Seminar and Pre-Conference Workshops by September 24 for Early Bird pricing.
Learn More and Register