National Seminar
Palli-Bears: A Dose of "Soft and Cuddly" Improves Outcomes
Topic: Innovative Clinical Interventions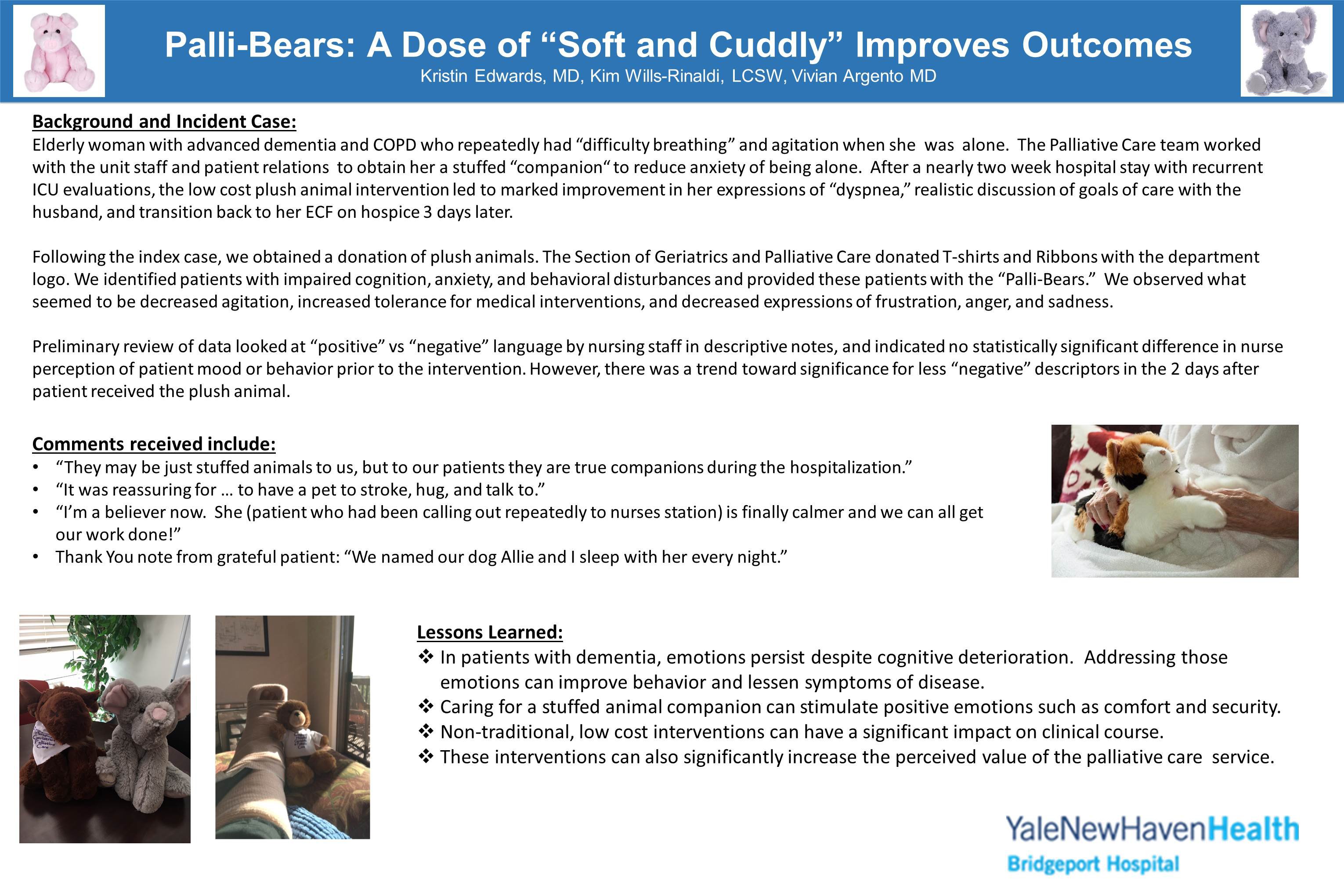 The objective of this project is to provide sensory stimulation and comfort for patients to decrease physical and/or psychological distress. We achieve this through donating stuffed animals to select patients on the Palliative Care and Geriatric Services at our hospital. Stressors such as acute illness, pain, or change in routine, can trigger problem behaviors in patients with cognitive decline. Background and Incident Case:The first patient to receive a stuffed animal companion (Palli-Bear) was an elderly woman with advanced dementia and COPD who repeatedly had "difficulty breathing" when she was alone. The Palliative Care team learned that she had multiple stuffed companions at her nursing home, and worked collaboratively with the unit staff and Patient relations department to obtain her a similar companion for her hospital stay. After a nearly two week hospital stay, her low cost plush intervention led to marked improvement in her expressions of "dyspnea," realistic discussion of goals of care discussion with the husband, and transition back to her ECF on hospice 3 days later. This case then generated the idea to offer similar companions to other patients in similar circumstances. The Hospital Foundation obtained 100 original animal companions via donation. The Palliative Care and Geriatric Teams donated animal size Tshirts and Ribbons sporting the department logo, and Palliative Care and Geriatric teams identified patients with impaired cognition, anxiety, and behavioral disturbances. Clinical Social Workers then provided these patients with the Palli-Bears. Data has been collected from the beginning regarding the reason animal companion is gifted, the date of the gift, and the patient's medical record number to enable future data analysis.
Project Growth:
Feedback for the program has been so overwhelmingly positive that it has grown substantially, and now includes a wider range of patient characteristics, families, and even occasionally staff (especially those who have experienced difficult cases and/or personal losses). To date, over 450 Palli-Bears have been gifted to patient, families, and staff. Evidence of success has been from direct observation, and comments from patients, staff and family. Data via chart review is being collected regarding: Observed decrease in agitation, increased tolerance for medical interventions, and decrease expressions of frustration, anger, and sadness. Comments received include:
"They may be just stuffed animals to us, but to our patients they are true companions during the hospitalization."
"It was reassuring for ___to have a pet to stroke, hug, and talk to."
"I'm a believer now. She (patient who had been calling out repeatedly to nurses station) is finally calmer and we can all get our work done!"
Thank You note: "We named our dog Allie and I sleep with her every night."
Lessons Learned:
• In patients with dementia, emotions persist despite cognitive deterioration. Addressing those emotions can improve behavior.
• Caring for a stuffed animal companion can stimulate positive emotions such as comfort and security.
• Non-traditional, low cost interventions can have a significant impact on clinical course.
• These interventions can also significantly increase the perceived value of the service.
Author
Medical Director of Palliative Care
Yale New Haven Health--Bridgeport Hospital
267 Grant Street
Bridgeport, CT 06840
Co-authors
Kimberly Wills-Rinaldi
Vivian Argento