National Seminar
Outreach to Palliative Care Registry Population
Topic: Building Palliative Care Into the Organizational DNA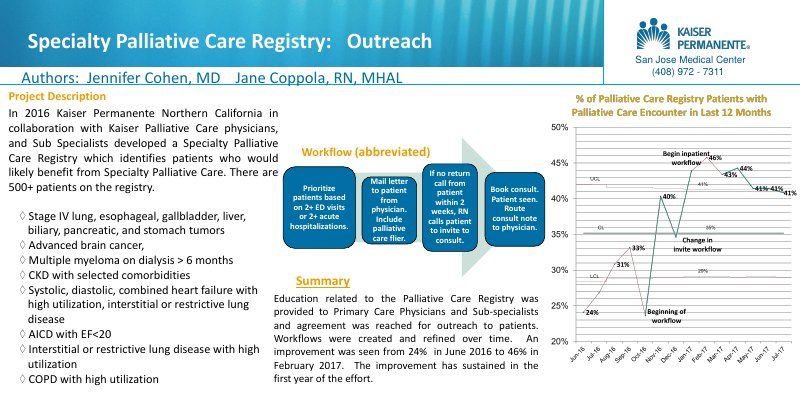 In 2016 Kaiser Permanente, Northern California (NCAL) developed a Specialty Palliative Care Registry which identifies patients who would likely benefit from Specialty Palliative Care. The registry was developed following a collaborative effort between NCAL Kaiser Palliative Care physicians and Sub Specialists. Five disease groups were identified, each of which met specified disease criteria: certain high-risk cancers, chronic kidney disease with selected comorbidites, heart failure, interstitial or restrictive lung disease, and COPD with high utilization. The geographic area served by Kaiser San Jose has over 500 patients on the registry and a plan was formulated to invite a percentage of those patients to a palliative care consult. The Outpatient Palliative Care and Inpatient Palliative Care teams provided Specialty Palliative Care Registry education to physicians at the Kaiser San Jose Medical Center and in collaboration with the Adult & Family Medicine Chief and Sub Specialty Chief created workflows to invite registry patients to palliative care consults. The workflows involved identifying patient population for initial outreach efforts, tracking the invitation process, and collecting data about patient responses to the invitation. The number of Specialty Palliative Care Registry patients with palliative care encounters increased from 24% to 43% following the initiation of the workflows.
Author
Manager
Kaiser Permanente San Jose Medical Center
275 Hospital Parkway
San Jose, CA 95119
Co-authors
Register Now
Register for the 2018 CAPC National Seminar and Pre-Conference Workshops by September 24 for Early Bird pricing.
Learn More and Register