National Seminar
Optimizing Specialty Palliative Care
Topic: Building Palliative Care Into the Organizational DNA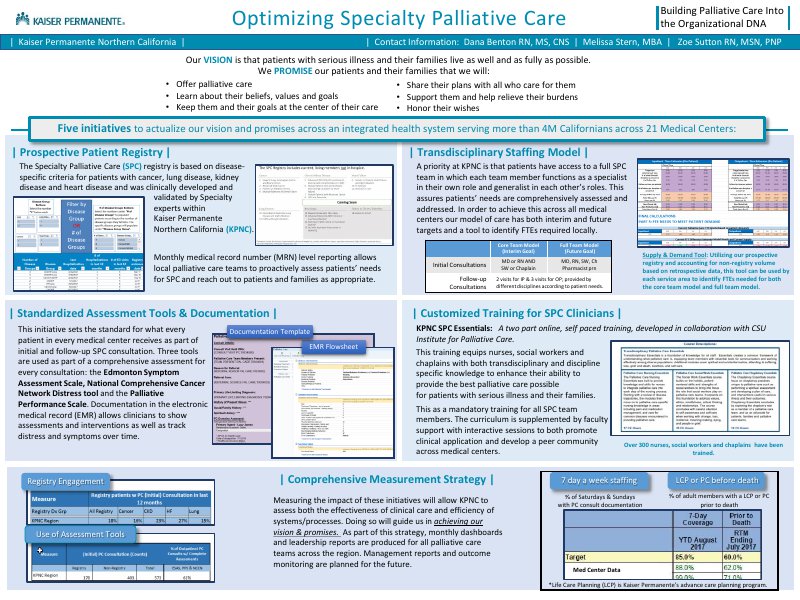 Providing optimal specialty palliative care (SPC) requires a transdisciplinary team approach to comprehensively assess and address distress for patients living with serious illness, ideally early in the course of illness. In 2016, Kaiser Permanente Northern California (KPNC) implemented 5 large-scale initiatives to drive SPC consistency and quality across an integrated health system serving more than 4M Californians with 15 service areas which include 21 hospitals.
These initiatives support KPNC's vision that all patients with serious illness and their families live as well and as fully as possible:
1.) Prospective patient registry: The SPC registry supports efforts to reach patients more upstream to provide specialty-level palliative care at appropriate points throughout their illnesses. The registry is based on disease-specific criteria for patients with cancer, lung disease, kidney disease and heart disease and was clinically validated by specialty experts within KPNC. Prospectively identifying patients allows local palliative care teams to proactively assess patients' needs for SPC and reach out to patients and families as appropriate.
2.) Transdisciplinary staffing model: The staffing model aims to ensure both access and care consistency for all patients who would benefit from SPC, in both inpatient and outpatient settings. It supports a team-based staffing approach that includes physicians, nurses, social workers and chaplains.
3.) Standardized assessment tools and documentation: This initiative sets the standard for what every patient in every medical center receives as part of initial and follow-up SPC consultation. Three tools are used as part of a comprehensive assessment for every consultation: the Edmonton Symptom Assessment Scale, National Comprehensive Cancer Network Distress tool and the Palliative Performance Scale. Documentation was designed in the electronic medical record to allow clinicians to show assessments and interventions as well as track distress and symptoms over time.
4.) Customized training for SPC clinicians: Training was created to provide our SPC clinicians with a foundation of knowledge that enhances their understanding of the unique issues facing patients and families who are coping with serious illnesses, and to promote and define specialty-level Palliative Care within our organization. This is an online, self-paced training, developed in collaboration with CSU Institute for Palliative Care, providing certificates/CEUs. The curriculum is supplemented with faculty support by web ex to promote clinical application and develop a peer community across medical centers.
5.) Comprehensive measurement strategy: Measuring the impact of these initiatives allows KPNC to assess the effectiveness of clinical care and efficiency of systems/processes. As part of the measurement strategy, baselines were identified and targets were set for several metrics, including 7 day weekly inpatient staffing. Monthly dashboards and leadership reports are produced for all palliative care teams across the region. Management reports and outcome monitoring are planned for the future.
Implementation of these 5 large-scale initiatives to drive SPC consistency and quality across 21 medical centers has created the ability for us to drive operational and clinical excellence across KPNC and assure that every patient and their family has access to high quality SPC.
Author
Regional Clinical Practice Leader
Kaiser Permanente Northern California
1950 Franklin St
Oakland, CA 95476
Co-authors
John David Ralls
Melissa Stern
Teresa Quadres, LCSW
Zoe Sutton, RN, MSN, PNP