National Seminar
Nurses Knowledge and Perception of Palliative Care: In ICU
Topic: Education Strategies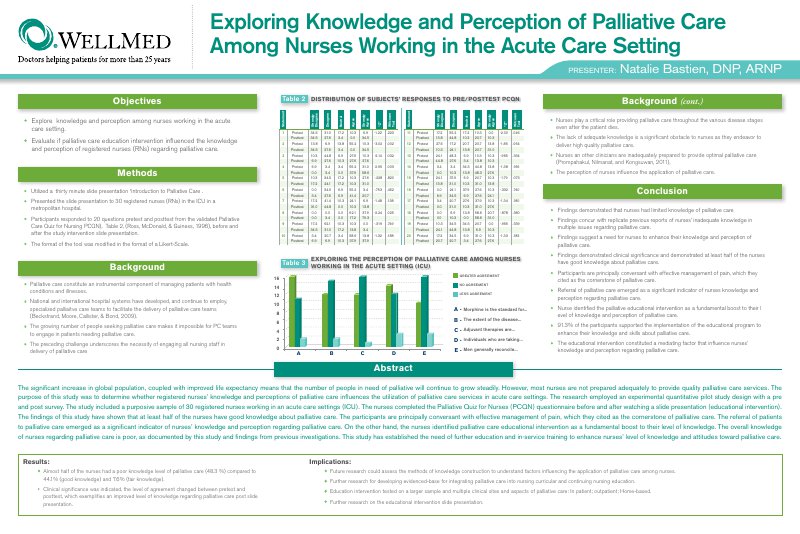 The significant increase in global population, coupled with improved life expectancy means that the number of people in need of palliative will continue to grow steadily. However, most nurses are not prepared adequately to provide quality palliative care services. The purpose of this study was to determine whether registered nurses' knowledge and perceptions of palliative care influences the utilization of palliative care services in acute care settings. The research employed an experimental quantitative pilot study design with a pre and post survey. The study included a purposive sample of 30 registered nurses working in an acute care settings (ICU). The nurses completed the Palliative Quiz for Nurses (PCQN) questionnaire before and after watching a slide presentation (educational intervention). The findings of this study have shown that at least half of the nurses have good knowledge about palliative care. The participants are principally conversant with effective management of pain, which they cited as the cornerstone of palliative care. The referral of patients to palliative care emerged as a significant indicator of nurses' knowledge and perception regarding palliative care. On the other hand, the nurses identified palliative care educational intervention as a fundamental boost to their level of knowledge. The overall knowledge of nurses regarding palliative care is poor, as documented by this study and findings from previous investigations. This study has established the need of further education and in-service training to enhance nurses' level of knowledge and attitudes toward palliative care.
Author
Wellmed Medical Management
2191 9th Avenue North
St. Petersburg, FL 34638
(727) 820-7778
Register Now
Register for the 2018 CAPC National Seminar and Pre-Conference Workshops by September 24 for Early Bird pricing.
Learn More and Register