National Seminar
Non-prescription medication use in hospice patients
Topic: Expanding the IDT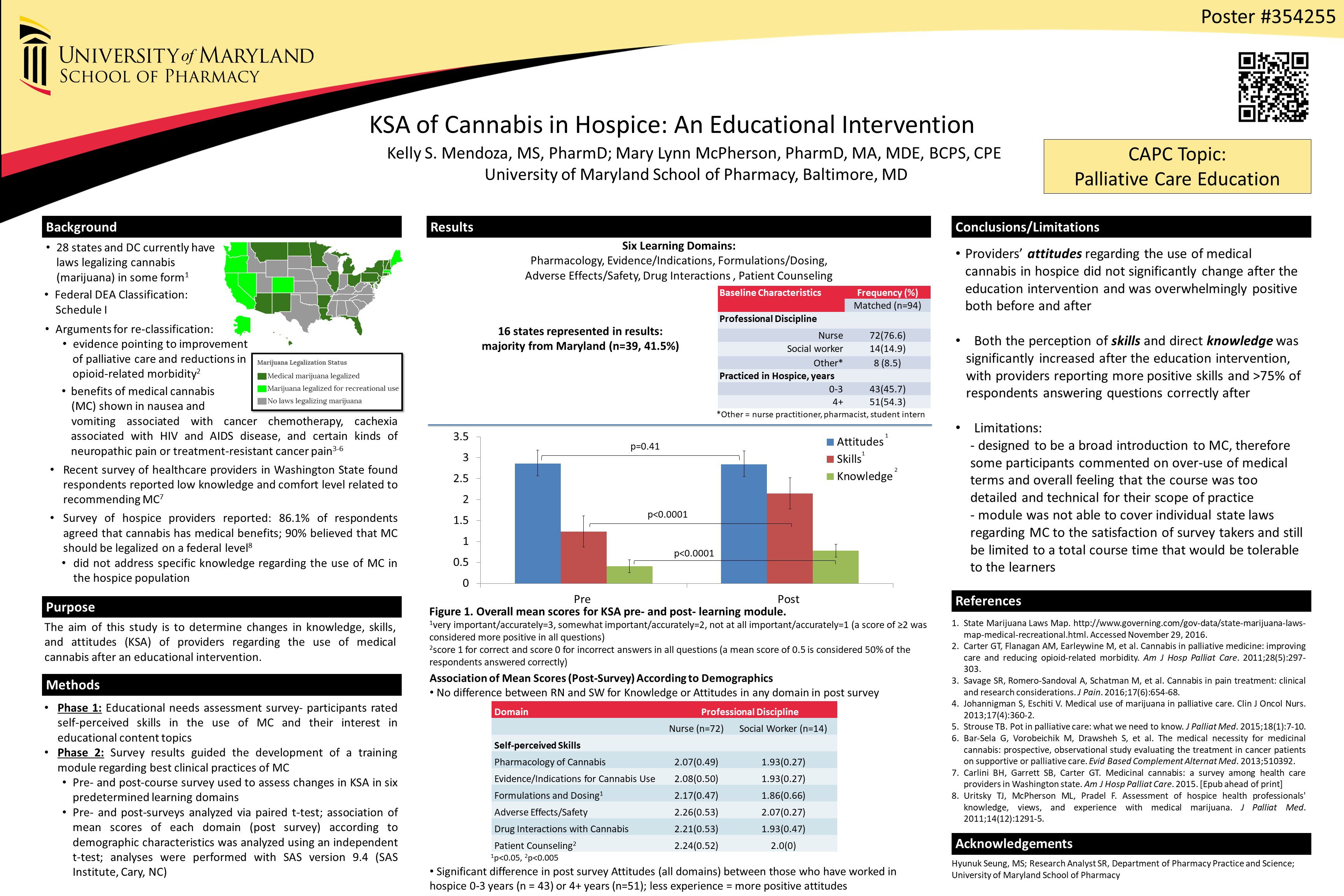 Background:
Previous research has shown that the average age at hospice admission is 77.5 years.1 This is important given the fact that older adults account for 34% of prescription drug use and 30% of nonprescription or over-the-counter (OTC) medication use.2 Due to age-related physiologic changes, polypharmacy, and inappropriate prescribing and monitoring, older adults are at an increased risk of serious adverse drug events.2 Previous research has shown that 8 of the top 25 drugs used by hospice patients are nonprescription medications,1 however this may be an underestimation as patients and caregivers frequently underreport use of OTC medications.3 Therefore, it is critically important that we fully characterize and appreciate the contribution of nonprescription medications in the hospice patient population. The objective of this study was to characterize the utilization of nonprescription medications in a hospice population, and determine if OTC medication use correlates with estimates of OTC utilization in a general, non-hospice geriatric population.
Methods:
This was a retrospective study designed to characterize nonprescription medication use in hospice patients. Data for this study were provided by Seasons Hospice & Palliative Care, a national hospice organization with locations in 19 states. We used a clinical database of patient demographic and medication information gathered from patient electronic medical records. Patients were included in the study if they were admitted to hospice on or after January 1, 2016 and were discharged by death by December 31, 2016. The institutional review board at the University of Maryland approved this study.
Results:
Results in progress at the time of abstract submission.
References:
1. Sera L, McPherson ML, Holmes HM. Commonly prescribed medications in a population of hospice patients. Am J Hosp Palliat Care. 2014;31(2):126-131.
2. National Council on Patient Information and Education. Fact Sheet: Medicine Use and Older Adults. October 2010. Available at: http://www.mustforseniors.org/facts.jsp. Accessed July 13, 2016.
3. McPherson ML. Nonprescription drug documentation and nursing knowledge in a home health care population. Consult Pharm. 1989;4:32-36.
Author
PGY-2 Pain and Palliative Care Resident
University of Maryland School of Pharmacy
20 N. Pine Street
Baltimore, MD 21224
Co-authors
Mary L. McPherson, PharmD, MA, MDE, BCPS, CPE
Ryan C. Costantino, PharmD, BCPS