National Seminar
Moving Hospice and Palliative Education Online
Topic: Education Strategies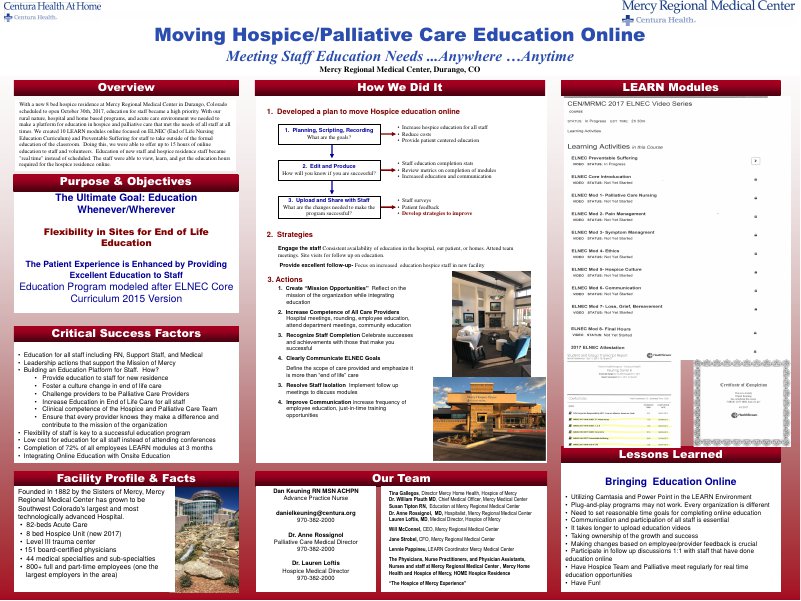 With a new 9 bed hospice residence at Mercy Regional Medical Center in Durango, Colorado scheduled to open October 30th, 2017, education for staff became a high priority. With our rural nature , hospital and home based programs, and acute care environment we needed to make a platform for education in hospice and palliative care that met the needs of all staff at all times. We created 10 LEARN modules online focused on ELNEC (End of Life Nursing Education Curriculum) and Preventable Suffering for staff to take outside of the formal education of the classroom. Doing this, we were able to offer up to 15 hours of online education to staff and volunteers. Education of new staff and hospice residence staff became "real time" instead of scheduled. The staff were able to view, learn, and get the education hours required for the hospice residence online. With a team of 2 medical directors and 4 nurse practitioners in hospice and palliative medicien, we are able to meet the needs of patients and families in SW Colorado in multiple care settings. Keeping the goal of quality of life for our patients and staff with the most up to date technology for education.
Moving to an online education platform and making it available to all hospital staff and volunteers, we are looking forward to an end of life culture change in the hospice residence, hospital, and home based programs.
Author
Nurse Practitioner
Mercy Regional Medical Center
1010 Three Springs Blvd
Durango, CO 81147
(970) 382-2000
Co-authors
Daniel B. Keuning, RN MSN FNP-C ACHPN
Register Now
Register for the 2018 CAPC National Seminar and Pre-Conference Workshops by September 24 for Early Bird pricing.
Learn More and Register