National Seminar
Mercy Doula Training for Medical Students
Topic: Education Strategies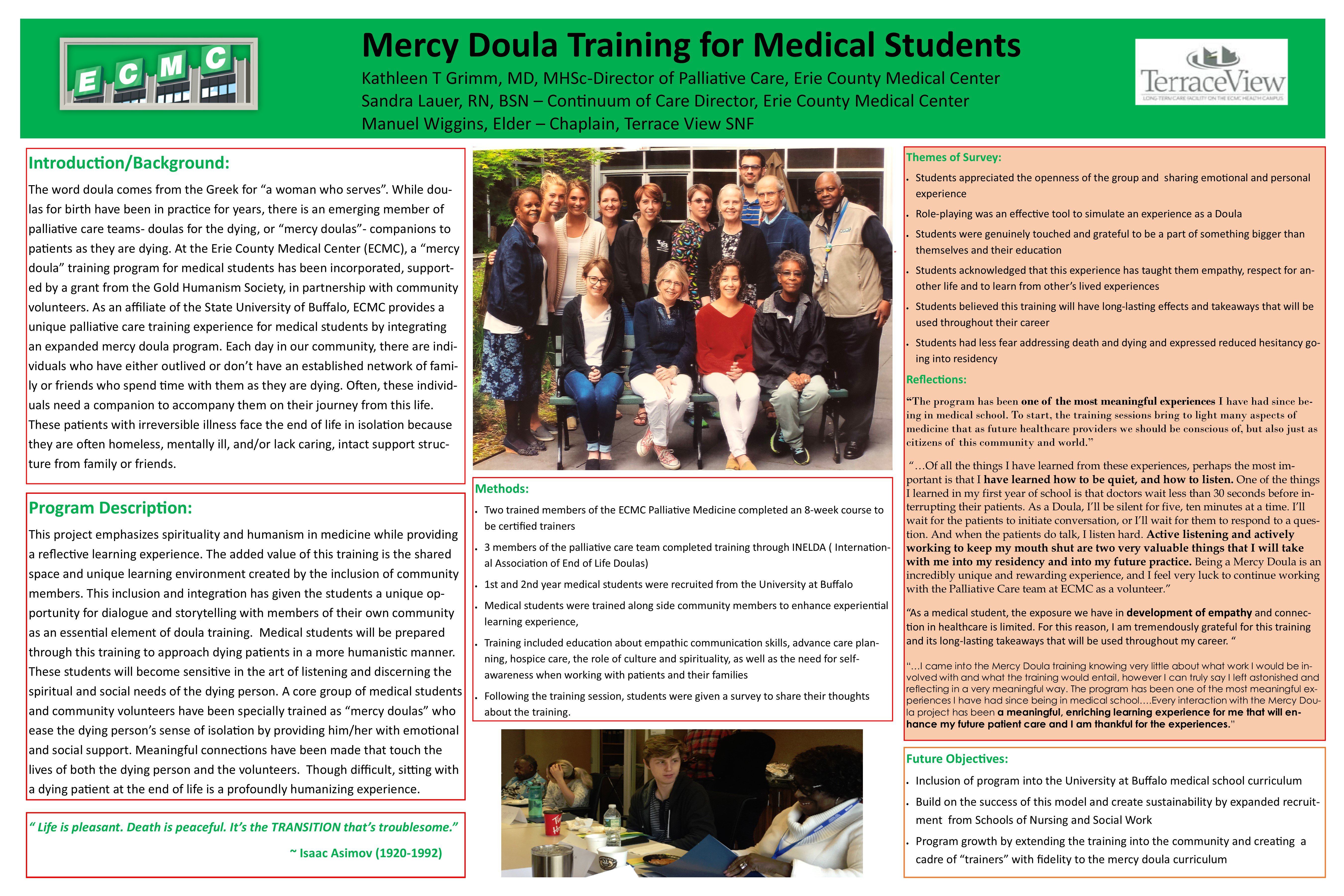 Background:
The word doula comes from the Greek for "a woman who serves". While doulas for birth have been in practice for years, there is an emerging member of palliative care teams- doulas for the dying, or "mercy doulas"- companions to patients as they are dying. At the Erie County Medical Center (ECMC), a "mercy doula" training program for medical students has been incorporated, supported by a grant from the Gold Humanism Society, in partnership with community volunteers. As an affiliate of the State University of Buffalo, ECMC provides a unique palliative care training experience for medical students by integrating an expanded mercy doula program. Each day in our community, there are individuals who have either outlived or don't have an established network of family or friends who spend time with them as they are dying. Often, these individuals need a companion to accompany them on their journey from this life. These patients with irreversible illness face the end of life in isolation because they are often homeless, mentally ill, and/or lack caring, intact support structures from family or friends.
ECMC's program addresses the reality that many medical students, as they go through clinical training and residency, have little to no prior experience with the natural death process. This program will guide trainees and community volunteers through an interactive educational program that encompasses the process of natural dying, stages of grief, spirituality through end of life, and how to be a compassionate companion to dying patients.
Program Description:
This project emphasizes spirituality and humanism in medicine while providing a reflective learning experience. The added value of this training is the shared space and unique learning environment created by the inclusion of community members. This inclusion and integration has given the students a unique opportunity for dialogue and storytelling with members of their own community as an essential element of doula training. Medical students will be prepared through this training to approach dying patients in a more humanistic manner. These students will become sensitive in the art of listening and discerning the spiritual and social needs of the dying person. A core group of medical students and community volunteers have been specially trained as "mercy doulas" who ease the dying person's sense of isolation by providing him/her with emotional and social support. Meaningful connections have been made that touch the lives of both the dying person and the volunteers. Though difficult, sitting with a dying patient at the end of life is a profoundly humanizing experience.
Trainees have reflected on the impact of the experience:
"As a medical student, the exposure we have in development of empathy and connection in healthcare is limited. For this reason, I am tremendously grateful for this training and its long-lasting takeaways that will be used throughout my career."
The overarching goal is to build on the success of this model and build sustainability by expanded recruitment and experiential learning for medical students. Inclusion in the medical school curriculum is one of the next steps.
Author
Consultant
Erie County Medical Center
462 Grider Street
Buffalo, NY 14215
(716) 472-0035
Co-authors
Manuel Wiggins, Elder
Sandra Lauer, RN, BSN