National Seminar
Integrating Palliative Care into Primary Care at a Federally Qualified Health Center
Topic: Building Palliative Care Into the Organizational DNA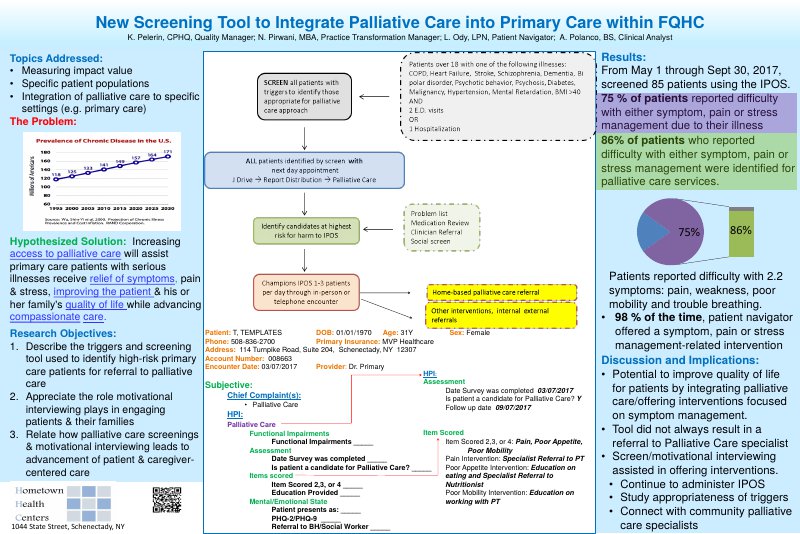 Integrating Palliative Care into Primary Care at a Federally Qualified Health Center
Objectives:
•Describe the triggers and screening tool used to identify high-risk primary care patients for a referral to palliative care
•Appreciate the role motivational interviewing plays in engaging patients and their families
•Relate how the use of screenings and motivational interviewing leads to the advancement of compassionate, patient and caregiver-centered care
Background:
Americans face a growing crisis of chronic disease. Living with a disabling, chronic diagnosis reduces quality of life. Many times, caring for chronic illnesses in primary care features an uninformed passive patient interacting with a rushed practice team, resulting in frustrating and inadequate encounters. Increasing access to palliative care programs will assist primary care patients to receive relief of symptoms, pain and stress; thereby, improving the patient's quality of life.
Research Objectives:
•Evaluate the use of the Integrated Palliative Care Outcomes Scale (IPOS) in primary care to identify patients who may benefit from palliative care
•Increase the number of interventions offered to patients for symptom management.
•Improve patient confidence/gain patient trust by a professional caring of the patient and work of support teams.
Methods:
A patient navigator at Hometown Health Centers, an FQHC, serving a large Medicaid population, administered the IPOS using motivational interviewing. An automated report generated a daily list of patients with one or more serious illnesses and either a functional impairment (use of O2, cane, walker, wheelchair, or needs assistance with ADLs), 2 or more Emergency Department visits or 1 or more hospitalizations in the past 6 months. The patient navigator selected patients from the list each day to screen using the IPOS. Retrospective chart reviews of patients determined which patients were appropriate for a referral to palliative care and which patients needed interventions for symptom, pain and stress. The patient navigator documented about the IPOS in a uniquely designed template in the EMR.
Results:
From May 1 through June 30, 2017, the patient navigator screened 61 patients. 45 patients were identified as appropriate for palliative care. 49 patients reported difficulty with symptom, pain or stress management due to their serious illness. On average, patients reported difficulty with 2.4 symptoms. The patient navigator offered an intervention 98% percent of the time.
Conclusions:
Integrating the IPOS into primary care promoted awareness among staff. The tool alone did not translate into consistent need for a referral to palliative care; however, it assisted in communication amongst providers to suggest interventions like patient education, specialists, home care and community-based organizations referrals, pharmacy education and caregiver supports. Barriers included appropriateness of triggers for the automated daily report. Regardless the results of the study shifted the way patients with serious illnesses are cared for in primary care.
Implications:
Administering the IPOS has the potential to improve the quality of life for primary care patients living with a serious illness through identification of patients for palliative care involvement and offering interventions focused on symptom management. The results highlight the need to continue to administer the IPOS, document in the EMR and further study the triggers.
Author
Practice Transformation Manager
Hometown Health Centers
1044 State Street
Schenectady, NY 12307
(518) 370-1441
Co-authors
Ariana Polanco, BS
Kristine Pelerin, CPHQ
Lori Ody, LPN