National Seminar
Increasing Awareness of Palliative Care for Minorities
Topic: Addressing the Needs of Specific Patient Populations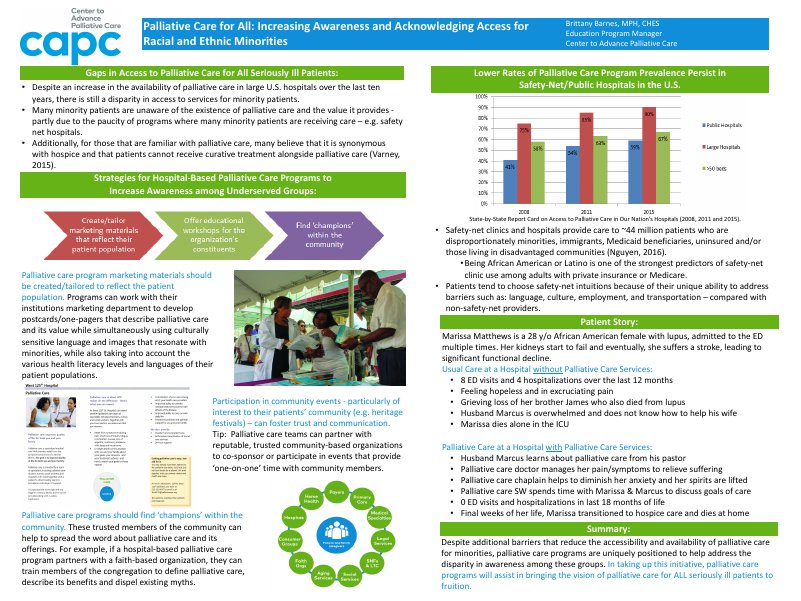 Palliative Care for All: Increasing Awareness of Palliative Care for Racial & Ethnic Minorities
Despite an increase in the availability of palliative care in U.S. hospitals over the last 10 years, there is still a disparity in access to services for minority patients. Many minority patients are unaware of the existence of palliative care and the value it provides - partly due to the paucity of programs where many minority patients are receiving care - e.g. safety-net hospitals. Additionally, for those that are familiar with palliative care, many believe it is synonymous with hospice & patients cannot receive curative treatment alongside palliative care. To address these common myths & increase understanding of what palliative care is - & what it is not, there are strategies hospital-based palliative care programs can employ to increase awareness among minority groups.
First, palliative care programs should create marketing materials tailored to their specific patient populations. For example, programs can work with their institutions' marketing department to develop postcards/one-pagers that describe palliative care and its value using language and images that resonate with the various cultural groups they serve. Secondly, it is critical that palliative care teams partner with community-based organizations to spread the word about the services they provide & build partnerships with trusted sources of information in their communities. Palliative care teams may want to have a presence at community events such as heritage festivals or church gatherings in order to build connections and understand the needs of patients within their community and establish trust with community leaders.
Educational workshops with community organizations are another method for outreach and trust-building. The workshops should be crafted around the community's identified pain points (e.g. advance care planning, caregiving resources) while also describing & clarifying palliative care benefits. The workshops should be inclusive and marketed to all members of the community. For example, if a workshop presented to a local YMCA is marketed to young adults and teaches them about ways to engage with their parents or grandparents, they are more informed & more likely to advocate for palliative care services for a family member when needed. Lastly, it is essential that palliative care programs find 'champions' within the community. These trusted members of the community can help to 'spread the word' of palliative care and its offerings. If a hospital-based palliative care program partners with a faith-based organization, they can train members of the congregation to educate their peers about the benefits of palliative care and dispel existing myths. Advocates can also serve as opinion leaders & provide the team with additional insight into the preferences of their patient population.
Despite additional barriers that reduce the accessibility and availability of palliative care for minorities, palliative care teams must engage in activities that will increase awareness of its existence and benefits for all racial and ethnic minorities in their community. In taking up this initiative, palliative care programs will assist in bringing the vision of palliative care for all seriously ill patients to fruition.
Author
Project Manager
Center to Advance Palliative Care
55 West 125th Street. Suite 1302
New York, NY 10027
(212) 824-9573