National Seminar
Improving the accurate completion of DNR documentation
Topic: Strategic Quality Improvement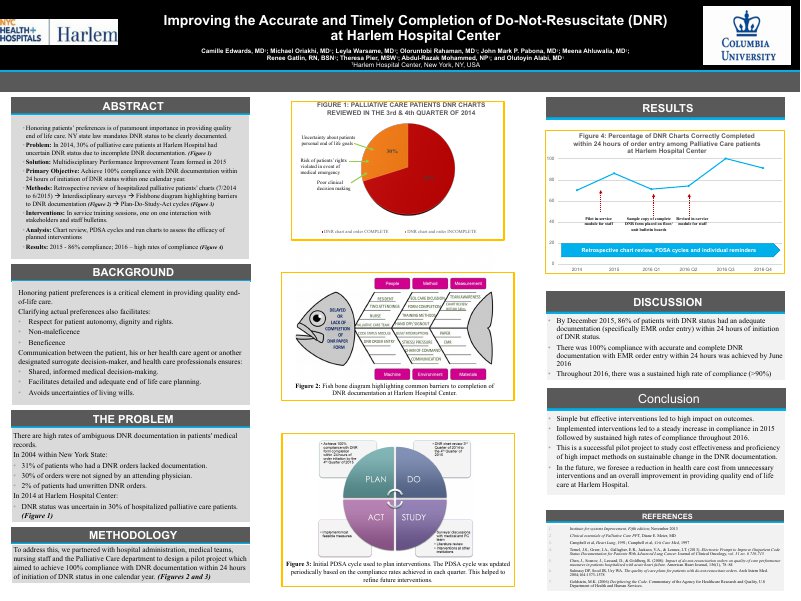 Purpose:
Honoring patient preferences is of paramount importance in providing quality end-of-life care and facilitates respect for patient autonomy, nonmaleficence and beneficence. New York State law mandates that DNR status must be clearly documented after a patient and/or family indicates a preference for DNR status. Despite this explicit statute, there remain high rates of ambiguous DNR documentation in patients' medical records. In a study by Sulmasy et al in 2004, 31% of patients who had a DNR order lacked documentation, 30% of orders were not signed by an attending physician and 2% of patients had unwritten DNR orders. In 2014, at Harlem Hospital Center, DNR status was uncertain in 30% of palliative care patients due to incomplete or missing DNR documentation. To address this patient safety issue, we partnered with hospital administration, the medical teams, nursing staff, social work and the Palliative Care Department to design a performance improvement project and form a project team. Our pilot project aimed to achieve 100% compliance with DNR documentation within 24 hours of initiation of DNR status in a one year period.
Methodology:
We retrospectively reviewed palliative care patients' charts from July 2014 to June 2015 to evaluate baseline compliance with DNR documentation. Using information from surveys with the interdisciplinary team, we formulated a fishbone diagram to highlight barriers to completion of DNR documentation. The project officially commenced in June 2015. Specific interventions included: in service training sessions, one-on-one interactions with stakeholders, and regular staff bulletins. Plan-Do-Study-Act (PDSA) cycles were used to periodically to evaluate the impact of interventions implemented. Run charts were used to represent an analysis of the one year period.
Results:
By December 2015, 86% of patients with DNR status had adequate documentation and EMR order within 24 hours of initiation of DNR status. 100% compliance with accurate and complete DNR documentation and EMR order entry within 24 hours was achieved by April 2016. This continued throughout 2016.
Conclusions:
Simple but effective interventions had a high impact on outcomes. We observed a steady increase in compliance with adequate DNR documentation through 2015 followed by sustained 100% compliance throughout 2016. A major limitation was creating an interdisciplinary collaborative effort to achieve compliance. Nonetheless, this was a successful pilot project to study cost effective and proficient methods that effect a sustainable change in the DNR documentation process. Overall, we foresee a reduction in health care costs from unnecessary interventions and an improvement in providing quality end of life care at Harlem Hospital.
Author
Harlem Hospital Center/Columbia University
506 Lenox Avenue
New york, NY 10037
Co-authors
Abdul-Razak Mohammed
Camille Edwards
Leyla Warsame
Meena Ahluwalia
Oloruntobi Rahaman
Renee Gatlin