National Seminar
Improved Communication between Home Based Palliative Care and Hospital
Topic: Advance Care Planning Initiatives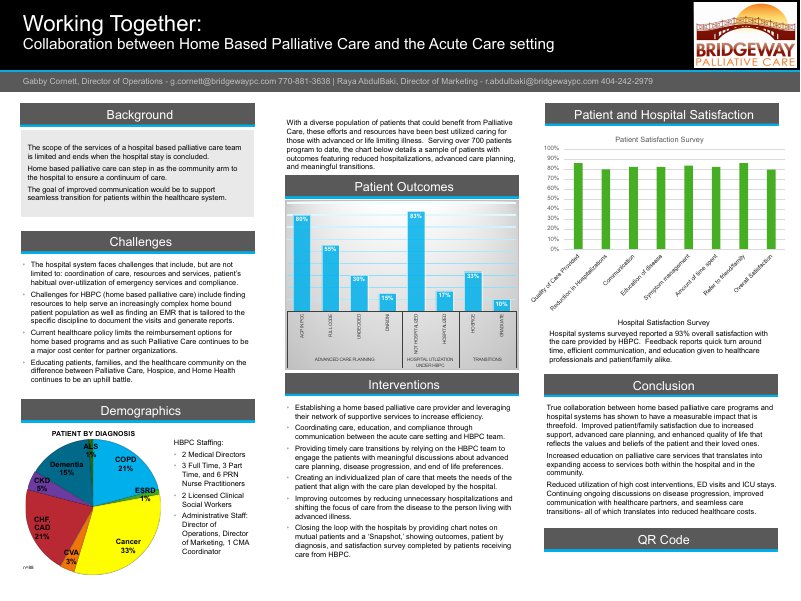 Background:
Patients ready to leave the hospital have a discharge plan typically consisting of a referral, follow up appointment with their Primary Care Physician, and transitional care team calls, as available. With the addition of home based palliative care, the hospitals can rely on a community arm. The designs of a successful partnership would vary by company and market but general practices are outlined.
Challenges:
The disconnect from hospital to home based, outside of a MCO or HMO, renders communication as a constant struggle. The team at the hospital faces challenges with coordination of care, patient reliance on emergency services for non-emergent situations, and finding adequate providers in rural areas. Concurrently, the home based palliative care team faces difficulties with EMR systems, capturing adequate revenue to offset costs, and identifying vendor partners in the public sector that offer services such as lab draws in the home setting.
Interventions:
-Tracking patient progress with a plan of care and utilizing the hospital when appropriate.
Recently, the home based palliative team coordinated with hospital emergency staff for a patient who has congestive heart failure suffering chronic nose bleeds, which in the past have resulted in critical blood loss. The goal was to provide effective treatment expeditiously in order to avoid further complications. This collaboration allowed the patient to receive treatment and be out of the emergency department in only 2 hours
-Implementing steps to better meet the needs of patients and caregivers.
By performing a patient satisfaction survey and capturing the results, the program can recognize areas for growth and discuss the results with the care team to implement performance improvement plans as needed. The survey captures metrics such as communication with patient/family, education on disease progression and management and poses open ended questions such as, 'How has Palliative Care increased your quality of life?' to touch on the subjective nature of care provided. (Exhibit 1)
-Establishing closure with the hospital team
The program offers the hospital based team with communication subject to their preference and disciplines to improve collaboration. By providing the palliative care team in the hospital with the patient's 'home chart', they are made aware of any changes since the last hospitalization or visit to the clinic. Further communication directly between Nurse Practitioner and referring provider is given on a case-by-case basis for unusual, complex, or special patients. Additional snapshot reports (Exhibit 2) are provided to discuss referral management, patient outcomes, and satisfaction.
Conclusion:
True collaboration between home based palliative care programs and hospital systems may have a measurable impact that is threefold. The goal of reduced hospitalizations, increased quality of life for patients, and furthering education of palliative care.
Author
Director of Operations
Bridgeway Palliative Care
2000 Riverside Parkway, Suite 107
Lawrenceville, GA 30043
(678) 878-2950
Co-authors
Register Now
Register for the 2018 CAPC National Seminar and Pre-Conference Workshops by September 24 for Early Bird pricing.
Learn More and Register