National Seminar
Impact of home-based palliative care on patients with Heart Failure
Topic: Measuring Impact and Value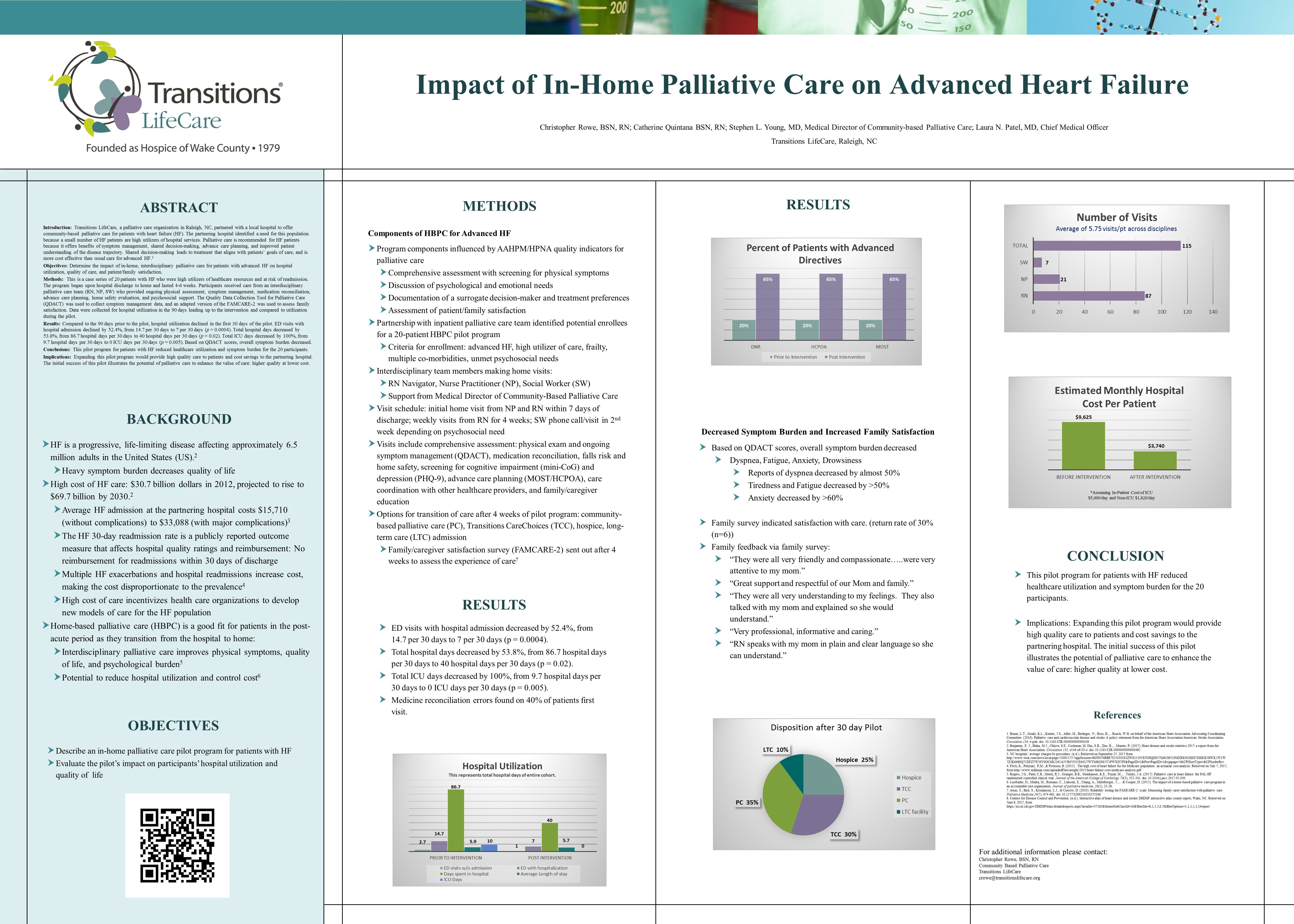 Objectives:
•Describe an interdisciplinary home-based palliative care (HBPC) pilot program for patients with advanced heart failure (HF).
•Evaluate the pilot's impact on participants' subsequent hospital utilization, establishment of advance directives, and quality of life.
Introduction and Background: HF is a chronic disease affecting approximately 5.7 million adults in the United States and the cost of HF care is projected to rise to $53.1 billion by 2030.1.2 Total hospital charges for HF reached $754 million in NC in 2011, with an average cost of $26,662 per hospitalization.3
Transitions LifeCare, of Raleigh, NC, partnered with a community hospital to offer HBPC for patients with advanced HF. The partnering hospital identified these HF patients as high utilizers of hospital services and HBPC was recommended to provide symptom management, shared decision-making, advance care planning, and education regarding disease trajectory. Shared decision-making leads to treatment that aligns with patients' goals of care, and is more cost effective than current care for advanced HF.1
Research Objectives:
Determine the impact of interdisciplinary HBPC for patients with advanced HF on hospital utilization, quality of care, decision-making, and patient/family satisfaction.
Methods:
This is a case series of 20 patients with advanced HF who were high utilizers of healthcare resources and at an increased risk of readmission. The initial HBPC consultation occurred within 7 days of hospital discharge to home and these patients received care from a nurse-directed interdisciplinary team for the subsequent 4-6 weeks. The team provided ongoing physical assessment, symptom management, medication reconciliation, advance care planning, home safety evaluation, and psychosocial support. The Quality Data Collection Tool for Palliative Care was used to collect symptom management data, and an adapted version of the FAMCARE-2 was used to assess family satisfaction. Data were collected for hospital utilization in the 90 days leading up to the intervention and compared to utilization during the 30-day pilot.
Results:
For these 20 patients collectively, ED visits with hospital admission declined by 52.4%, from 14.7 per 30 days to 7 per 30 days (p = 0.001). Total hospital days decreased by 53.8%, from 86.7 hospital days per 30 days to 40 hospital days per 30 days (p = 0.04). Total ICU days decreased by 100%, from 9.7 hospital days per 30 days to 0 ICU days per 30 days (p = 0.01). Overall symptom burden decreased, and 40% of patients had a change in advance directives.
Conclusions:
This HBPC program for patients with HF reduced hospital admissions, and total hospital and ICU days for the 20 participants.
Implications:
Expanding this HBPC program for patients with advanced HF would provide high quality care to patients and cost savings to the partnering hospital. Based on the average hospital cost of HF admissions in NC, this could represent a savings of up to $10,000 per patient for this 30-day period. The initial success of this pilot illustrates the potential of HBPC to enhance the value of care through the provision of high quality care aligned with treatment goals at lower cost to the health system.
Author
Transitions LifeCare
250 Hospice Circle
Raleigh, NC 27713
Co-authors
Christopher Rowe, BSN, RN
Laura N. Patel, MD
Stephen L. Young, MD