National Seminar
Impact of Concurrent Care for Medically Fragile Children
Topic: Promoting Best Practices in Pediatric Palliative Care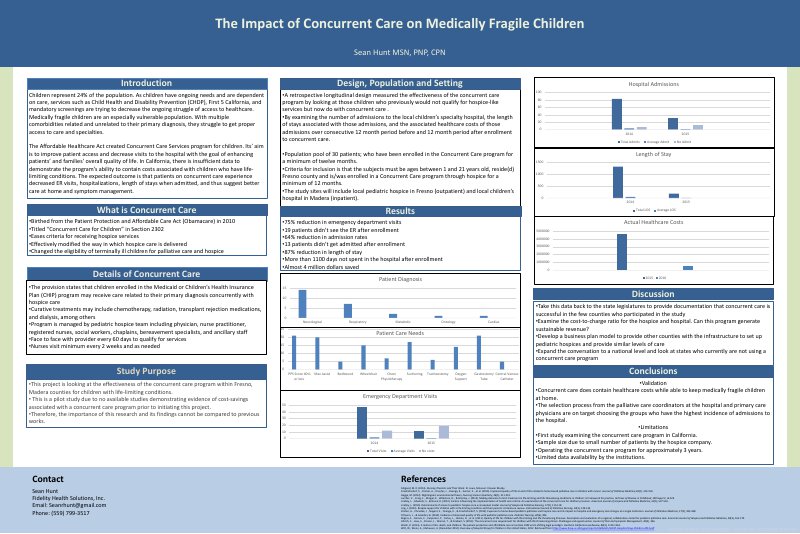 The Affordable Healthcare Act Section 2302 is a provision that changed the eligibility of children with life-limiting conditions to receive hospice-like services and thus created concurrent care programs. In California, there was insufficient data to demonstrate the program's ability to contain costs associated with children who have life-limiting conditions. The methodology included a 24-month retrospective longitudinal study that examined how effective concurrent care is to limiting ER visits, admissions, length of stays, and costs that are associated when caring for a child who has a life-limiting condition, with savings in the milllions of dollars. The data was collected from a local pediatric hospice company who manage concurrent care clients and the associated specialty children's hospital. This research is relevant because lawmakers, hospitals, oupatient hospice companies, and insurances, including state and federally funded subsidies, will want to see how effective the program can be at improving access to healthcare and minimizing the healthcare costs to do so.
Author
Pediatric Nurse Practitioner
Valley Children's Hospital
9300 Valley Children's Place
Madera, CA 93611
Register Now
Register for the 2018 CAPC National Seminar and Pre-Conference Workshops by September 24 for Early Bird pricing.
Learn More and Register