National Seminar
Identifying and Growing to meet our patient's needs
Topic: Education Strategies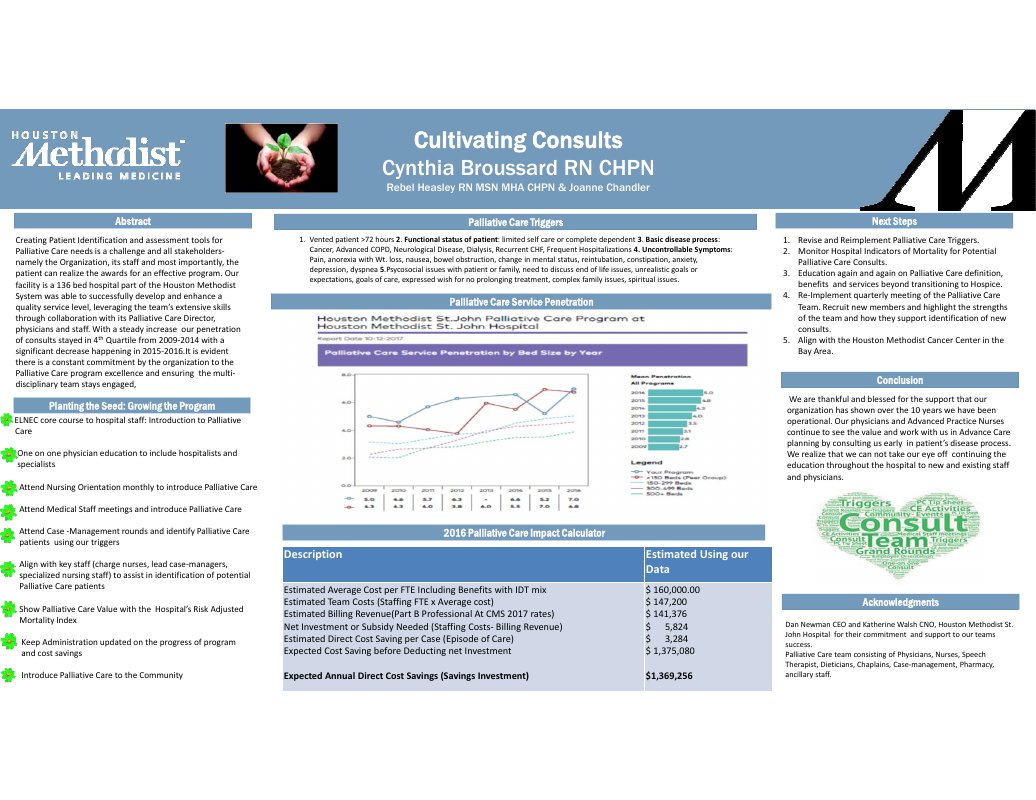 Creating patient identification and assessment tools for palliative care needs is a challenge and the rewards for an effective program can be realized by all stakeholders – namely the organization, its staff and most importantly, the patient. Houston Methodist St. John Hospital, a 177-bed community hospital, part of the Houston Methodist System was able to successfully develop and enhance a quality service level, leveraging the team's extensive skills through collaboration with its Palliative Care service director, doctors and staff. With a steady increase our penetration of consults stayed in the 4th quartile from 2009-2014 with a significant decrease happening in 2015-2016. In analysis of our data in comparison to other hospitals, our size we are again looking at ways to move ourselves forward with increase in identifying patients that would benefit from Palliative Care services. We are looking to implement trigger tools for ICU and Emergency room and daily review of the newly installed Early Warning system on all units in our facility.
In regards to patient identification, the original approach of nursing staff using an assessment tool to identify potential palliative care patients had its challenges. As with every successful program, a journey is experienced, that in the end, actually improves the process. Upon rolling the assessment tool out to nursing staff, it was not initially well received and did not provide the information needed to drive palliative care consults. As an alternate approach, the palliative care director implemented a series of Continuing Education programs involving nursing, medical staff and ancillary services staff – a true multi-disciplinary approach to palliative care patient identification. I
Palliative care assessments play an instrumental part in learning about and caring for our patients at our hospital, providing staff the means to effectively develop a care plan that is specialized to the patients' needs and hopefully improving the patient outcome. At its most simplest level, our assessment process begins with introducing ourselves to the patient, providing a brief overview of the key palliative care services, answer any questions they may have, provide them a brochure and a needs assessment inclusive of triggers that can generate potential program enrollment. In addition, outcomes have markedly improved by extending the reach of palliative care via networking with social workers and hospice companies to establish an action plan for the patient. Palliative care workers also utilize needs-based assessments and brochures that explain to the patient and family exactly what palliative care is and how it differs from hospice care. These assessments allow the staff to build a holistic idea of the patient's needs and areas we may identify that need improvement. It affords staff the opportunity to identify strengths and capitalize them by increasing communication between staff, patients and families. Additionally, one of our social assessment tools utilized is a word cloud. This is a fun assessment tool that we utilize to obtain pertinent information regarding the life of our palliative care patient.
Author
Director of Guest Relations and Palliative Care
Houston Methodist St. John Hospital
18300 St.John Dr.
Houston,, TX 77059
(281) 333-8808