National Seminar
Identification of a palliative care program payor mix in Southeast
Topic: Impact of Program Financing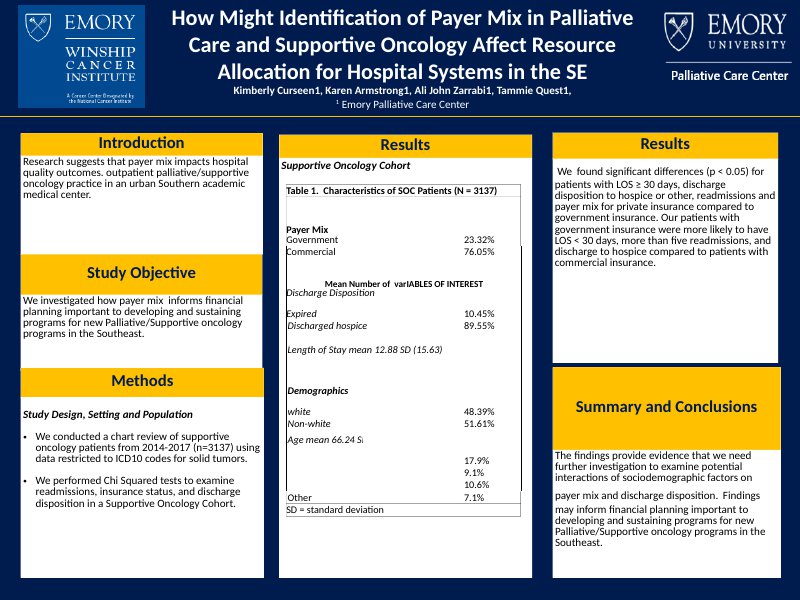 Title:
How might identification of payer mix, in a palliative and supportive oncology outpatient clinic, affect resource allocation for hospital systems in the Southeast?
Background:
Although palliative care (PC) research spans many years, a paucity of research addresses the impact of payer mix on PC quality metrics including hospital length of stay (LOS), readmissions, and discharge disposition. Research suggests that payer mix often predicts health outcomes. We sought to detail our outpatient palliative/supportive oncology practice in an urban Southern academic medical center, and investigate how payer mix (commercial, government—Medicare, Medicaid – or self-pay) influences hospital LOS, readmissions, and discharge disposition in our practice. We believe our study findings may inform financial planning important to developing and sustaining programs for new Palliative/Supportive oncology programs in the Southeast.
Methods:
After obtaining IRB approval, we conducted a retrospective chart review of supportive oncology patients from 2014-2017 (n=3137) using data restricted to ICD10 codes for solid tumors. We performed Chi squared tests and logistic regressions to examine the main effects of length of stay (LOS), readmissions, insurance status, and discharge disposition using SAS version 9.4 (Cary, NC).
Results:
Payer mix included 711 (24%) commercial insurance enrollees, 2357 (75%) Medicare or Medicaid recipients, and 38 (1%) self-pay. Of the 3137 patients, 325 (10%) expired, 1328 (42%) were discharged to hospice, while 1463 (47%) were discharged to rehabilitation services, skilled nursing facilities, or home care. Mean LOS was 12.7 days (SD 16.38). The majority (94%) of patients had more than 5 readmissions. Further, there were significant differences (p < 0.05) for patients with LOS ≥ 30 days, discharge disposition to hospice or other, readmissions (> 5), and payer mix for those with commercial insurance compared to those with government insurance.
Conclusion:
The majority of patients in our PC clinic had government insurance, and a smaller percentage of patients were discharged to hospice than other care settings. Our patients with government insurance were more likely than those with commercial insurance to have LOS < 30 days, readmissions, and discharge to hospice. The findings provide evidence that further investigation is needed to examine potential interactions of sociodemographic factors on payer mix and discharge disposition. Also, further investigation is warranted to determine if the current results are reproducible in outpatient Supportive/ Palliative oncology care programs in the Southeast. The impact of this type of data could be use by accountable care organizations or closed hospital systems to determine how best to allocate financial resources when caring for patients with complex, serious, life-threatening illnesses.
Author
Director of Outpatient Supportive Care Clinic
Emory School of Medicine-Palliative Care Center
1821 Clifton Road, Suite 1046MS 0379-001-1AB
Atlanta, GA 30260
(404) 778-6448
Co-authors
Ali John Zarrabi, MD
Karen Armstrong, RN, PhD
Tammie Quest, MD