National Seminar
ID Needs and Challenges of Family Caregivers of Dementia Patients
Topic: Addressing the Needs of Specific Patient Populations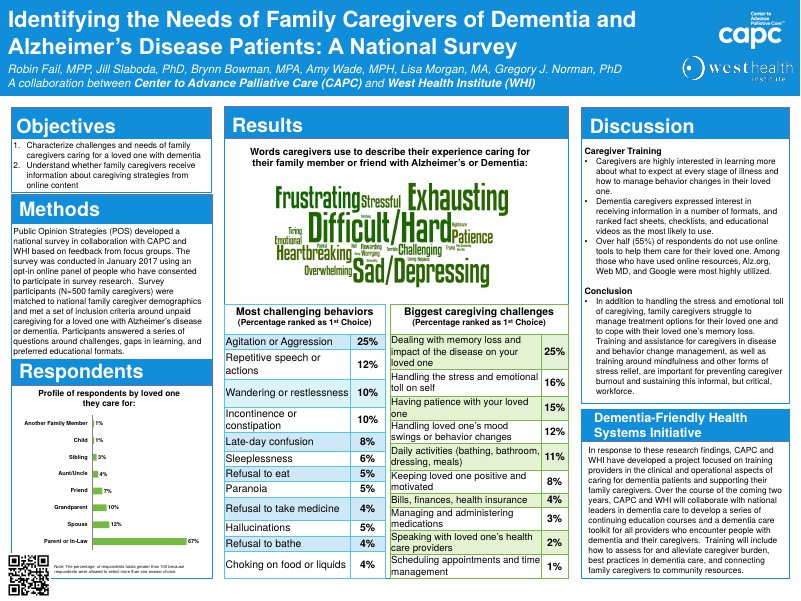 The objectives of this formative research were to: (1) characterize the challenges and needs of family caregivers caring for a loved one with dementia, and (2) understand if family caregivers receive information about caregiving strategies from online content. This research will inform the development of course content for healthcare providers in the aspects of caring for individuals with dementia and their caregivers. Family caregivers (defined broadly as unpaid relatives, partners, and friends) are asked to provide complex clinical care at home that decades ago would only have been provided in hospitals by trained professionals (e.g., wound care, administering medications, injections, and tube feeding). For family caregivers caring for a loved one with dementia, understanding and managing behavior changes as the disease progresses presents additional ongoing challenges. Challenges for caregivers specific to dementia patients include personal care, managing bowel and bladder health, acting as care coordinators, managing household tasks and finances, and more. The lack of adequate support for those caring for people with dementia is a crisis that demands urgent attention. The goal of this research project was to identify the challenges and needs of caregivers caring 36% percent of caregivers reported their loved one received palliative care and 78% of caregivers reported visiting emergency room, hospitalization or both in the past year due to the condition of their loved one. Caregivers rated dealing with memory loss and handling the stress and emotional toll on themselves as their biggest challenges. Caregivers also listed maintaining patience with loved ones and handling mood swings and behavior changes among their biggest challenges. Agitation (51%) and repetitive speech or actions (33%) in their loved one were rated as the most challenging dementia-related behaviors. A majority of caregivers were extremely or very interested in learning how to assess risk versus benefit of treatment (72%) and how to know when to seek medical help and when it might not be necessary (73%). Fifty-five percent of caregivers reported they did not use online tools or specific websites to help care for their loved one. For those who do utilize internet resources, alz.org, webmd.com and Google were the top websites for information. Fact sheets, checklists and videos were the most desired tools for receiving information from a website. In addition to handling the stress and emotional toll of caregiving, family caregivers struggle to manage treatment options for their loved one and how best to cope with their loved one's memory loss. Training and assistance for caregivers in disease and behavior change management, and well as training around mindfulness and other forms of stress relief are important for preventing caregiver burnout and sustaining this informal, but critical, workforce.
Author
Program Manager
Center to Advance Palliative Care
55 W. 125th St, Suite 1302
New York, NY 10027
Co-authors
Amy Wade, MPH
Brynn Bowman, MPA
Greg Norman, PhD
Jill Slaboda, PhD
Lisa Morgan
Register Now
Register for the 2018 CAPC National Seminar and Pre-Conference Workshops by September 24 for Early Bird pricing.
Learn More and Register