National Seminar
ICU nurses' perceptions related to palliative care
Topic: Palliative Care in Specific Settings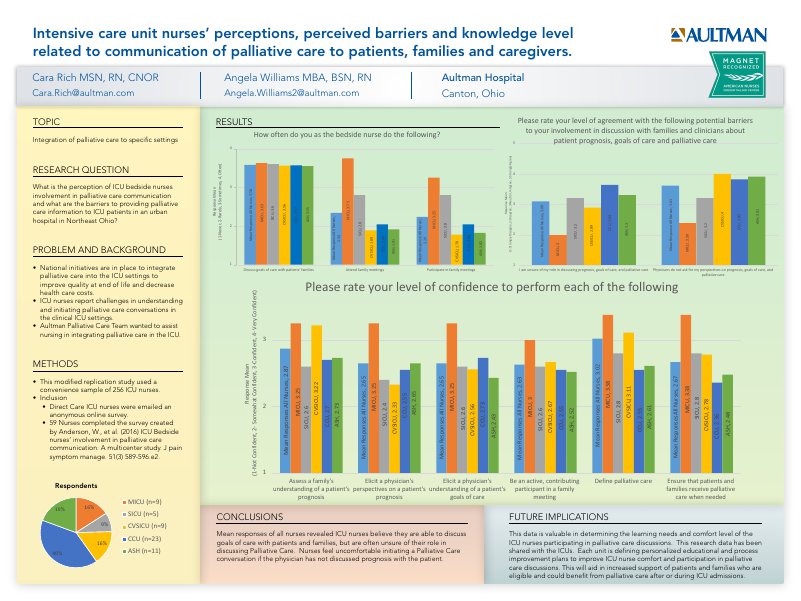 The barriers, knowledge level and perceptions of Aultman's intensive care unit (ICU) nurses ability to deliver, participate and lead palliative care discussions is unknown.The purpose of this study is to understand the perception of critical care bedside nurses involvement in palliative care communication and determine barriers to providing palliative care information to patients in Aultman Hospital's Intensive Care Units.
This Qualitative and Quantitative research used a survey that aims to understand the bedside nurses' perspectives on involvement in palliative care communication, including the importance and frequency of their involvement, confidence and barriers. Survey instrument developed by Anderson, W., et al. (2016) ICU Bedside nurses' involvement in palliative care communication: A multicenter study. J pain symptom manage. 51(3) 589-596.e2 was used permission from the author. The survey's content validity was determined by 10 critical care bedside nurses who confirmed that the survey was appropriate to their work experience. The instrument includes 40 items include 39 Likert scale items and 1 open ended question, with 4 participant demographic questions. Informed consent was included at the beginning of the survey. Eligible subjects were provided by the unit directors of each intensive care unit from Aultman Hospitals 4 intensive care units and acute care specialty hospital (MICU, SICU, CCU, CVSICU, ASH).
Participants were all invited to complete an anonymous online survey through their Aultman email, using password protected Survey Monkey. Nurse Managers and other non-clinical nurses were excluded from survey. Survey opened in March 2017 for two weeks.
This modified replication study used of a convenience sample with n=59, out of 256 ICU nurses.Data will be analyzed using the measures of central tendency mean responses (x ¯). Investigators compared answers between novice and experienced nurses based on Patricia Benners novice to expert research but no significant differences were found, therefore results represent all ICU nurses. Investigators compared responses between the different ICU units where weaknesses and strengths for each individual unit were found. Open coding was used to find content analysis themes for the open ended question. Data revealed nurses believe they are able to discuss goals of care with patients and families (x ¯=3.58/4), but are often unsure of their role in discussing palliative care (x ¯=3.09/5), but feel slightly unsupported by physicians (x ¯=3.61/5) and feel uncomfortable initiating a conversation if the physician has not discussed prognosis with the family.
This data is valuable in determining the learning needs and comfort level of the ICU nurses at Aultman Hospital participating in palliative care discussions. Data is being shared with the units and unit directors, and individualized educational plans are being developed for each individual unit to meet their specific needs. After learning plans have been implemented, the goal will be to resurvey and determine if intervention(s) on each unit were successful in increasing the mean comfort level, knowledge base scores as well as decreasing barriers related to palliative care discussions in the ICU.
Author
PAC Quality Coordinator
Aultman Woodlawn
2821 Woodlawn Ave. NW
Canton, OH 44708
(330) 479-4829
Co-authors
Angela Williams, MBA, BSN, RN