National Seminar
GAP-ED Project: Improving Care for Elderly ED Patients
Topic: Strategic Quality Improvement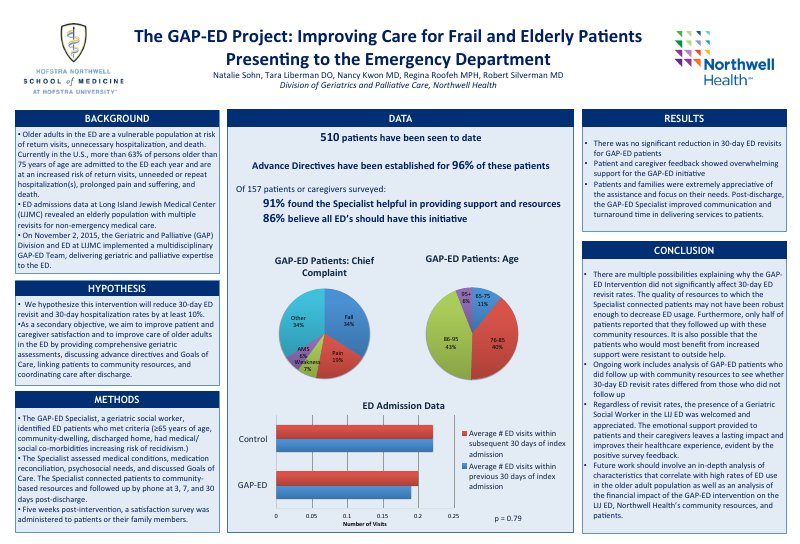 Background:
Older adults in the ED setting are a vulnerable patient population who frequently present with complex conditions and are at an increased risk of return visits, unnecessary hospitalization, prolonged suffering, and death. A review of ED admissions data at Long Island Jewish Medical Center (LIJMC) identified a large elderly population with multiple revisits for non-emergency medical care, visits that aggravate the morbidity and mortality of these vulnerable patients.The Geriatric and Palliative (GAP) Division and ED at LIJMC implemented a multidisciplinary GAP-ED Team, delivering geriatric and palliative expertise to the ED with the goal of decreasing revisits and hospitalizations and improving patient satisfaction.
Objectives: :
We aimed to improve resources available to older adults in the ED by providing comprehensive geriatric and palliative care assessments, holding conversations on advance directives/MOLST and Goals of Care, linking patients to community resources, and coordinating care upon discharge. Furthermore, we intended to demonstrate improved care quality by reducing 30-day ED revisit and 30-day hospitalization rates by at least 10% and by documenting improved patient and caregiver satisfaction.
Methods:
The GAP-ED Specialist, a geriatric social worker, identified eligible patients in the ED who met inclusion criteria. Criteria included patients who were: at least 65 years of age, community-dwelling, discharged home after the ED visit, and had medical or social co-morbidities that put them at high risk of recidivism based on reviews of published predictive tools and expert experience. The GAP-ED Specialist provided an assessment of needs focusing on medical conditions, medication reconciliation, psychosocial needs, and Goals of Care. The Specialist also connected patients to community-based resources that fit the patient's needs.Patients received follow-up phone calls regarding their ED visit at 3, 7, and 30 days post-discharge. Five weeks post-intervention, a satisfaction survey was administered to patients or their family members.
Results:
From November 2, 2015 to January 31, 2017, 370 patients met the established inclusion criteria.. Advanced directives were established for 96% of patients (356).There was a reduction in 30-day revisit rates to 22.5%, and in hospitalization rates from 53.4% to 32.0%.157 GAP-ED patients have been surveyed post-discharge. 91.4% responded that the Specialist was helpful in providing support and resources. 85.7% responded that all ED's should have the GAP-ED initiative. Patients and families have been extremely appreciative of the assistance and focus on their specific needs and have used the GAP-ED Specialist as a resource post-discharge, improving communication and turnaround time in delivering services to patients.
Conclusions:
The significant reduction in 30-day ED revisit and hospitalization rates suggests the GAP-ED Team improved the quality of care and post-discharge outcomes for at-risk elderly patients. Reduction of non-emergent ED use concurrently reduces the dangerous complications often experienced by older adults while in the hospital. Decreased non-emergency patient volume also decompresses the ED and conceivably has downstream effects to improve care for all ED patients.
Furthermore, the emotional support provided to patients and their caregivers leaves a lasting impact and improves their healthcare experience.
Author
Medical Student
Division of Geriatric and Palliative Medicine, Long Island Jewish Medical Center
270-05 76th Avenue
New Hyde Park, NY 11590
Co-authors
Nancy Kwon, MD, MPA
Regina Roofeh, MPH
Tara Liberman, DO