National Seminar
Focus Group Findings: Needs of Family Caregivers of Dementia Patients
Topic: Addressing the Needs of Specific Patient Populations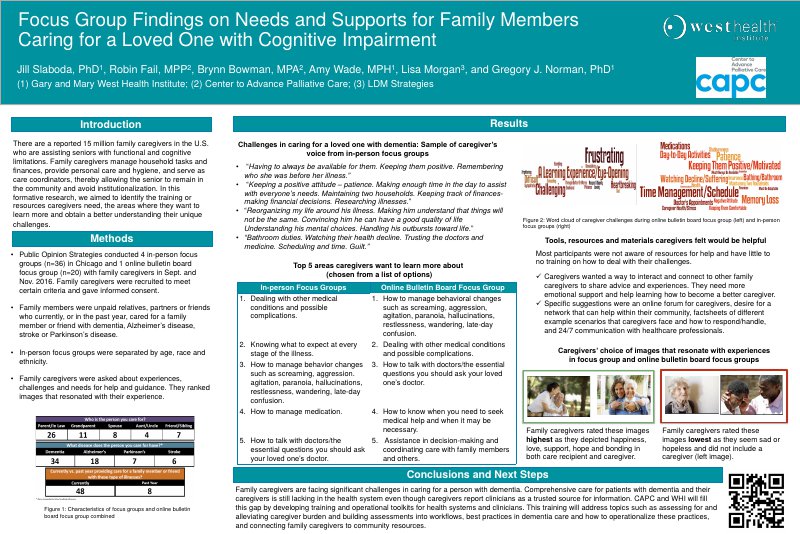 The objectives of this formative research were to: (1) understand the challenges and educational needs of family caregivers caring for a loved one with dementia, and (2) understand family caregivers' preferences for receiving and viewing information. The research will inform course development for healthcare providers in the aspects of caring for individuals with dementia and their caregivers. There are a reported 17.7 million family caregivers in the United States who are assisting seniors with functional and cognitive limitations1. Family caregivers manage household tasks and finances, provide personal care and hygiene, and serve as care coordinators, thereby allowing their family member or loved one to remain in the community and avoid institutionalization2. According to a 2015 survey conducted by the National Alliance for Caregiving and AARP, 57% of family caregivers were performing one or more complex medical/nursing tasks, and most reported no prior training2. In this formative research, we aimed to identify the resources caregivers use for training, and understand their challenges. Public Opinion Strategies conducted four in-person focus groups (n=36) in the Chicago area and one online focus group (n=20) with family caregivers nationally. . Family caregivers were asked about their experiences, challenges and needs for help and guidance in caring for their loved one. Participants discussed their loved ones, gave feedback on online informational resources, and ranked images/visuals of caregivers that resonated most with their experience. During the focus groups, family caregivers were asked open ended questions to encourage discussions and also asked to individually complete series of questions in a written packet. Caregivers' biggest challenges in caring for a loved one included managing schedules and the emotional toll and stress of caregiving. They wanted more information about how to manage behavioral changes in their loved one such as screaming, aggression, agitation, paranoia, hallucinations, restlessness, wandering, and late-day confusion. They stated a lack of understanding of what to expect at every stage of the illness, how to deal with other co-occurring medical conditions, how to manage medications, and how to talk with doctors. When asked about resources, the majority of family caregivers wanted a way to interact and connect with other caregivers for advice, emotional support, and sharing experiences and tips. Family caregivers rated images more highly when they depicted both the caregiver and their loved one together demonstrating love and support, compared to images perceived as showing people distressed or worried. Family caregivers are facing significant challenges in caring for a loved one with dementia. The focus groups identified gaps caregivers experience in understanding how to deal with the symptoms associated with dementia as well as knowing the progression of the disease. Caregivers emphasized a desire to connect with other caregivers and share knowledge, tips and emotional support and preferred accessing resources through websites. These research findings will be used to develop course training for healthcare providers in the clinical and operational aspects of caring for dementia patients and supporting their family caregivers.
Author
Program Manager
Center to Advance Palliative Care
55 W. 125th St, Suite 1302
New York, NY 10027
Co-authors
Amy Wade, MPH
Brynn Bowman, MPA
Gregory Norman, PhD
Lisa Morgan
Register Now
Register for the 2018 CAPC National Seminar and Pre-Conference Workshops by September 24 for Early Bird pricing.
Learn More and Register