National Seminar
Filling the Gap with Community Palliative Care at End of Life: Year One
Topic: Measuring Impact and Value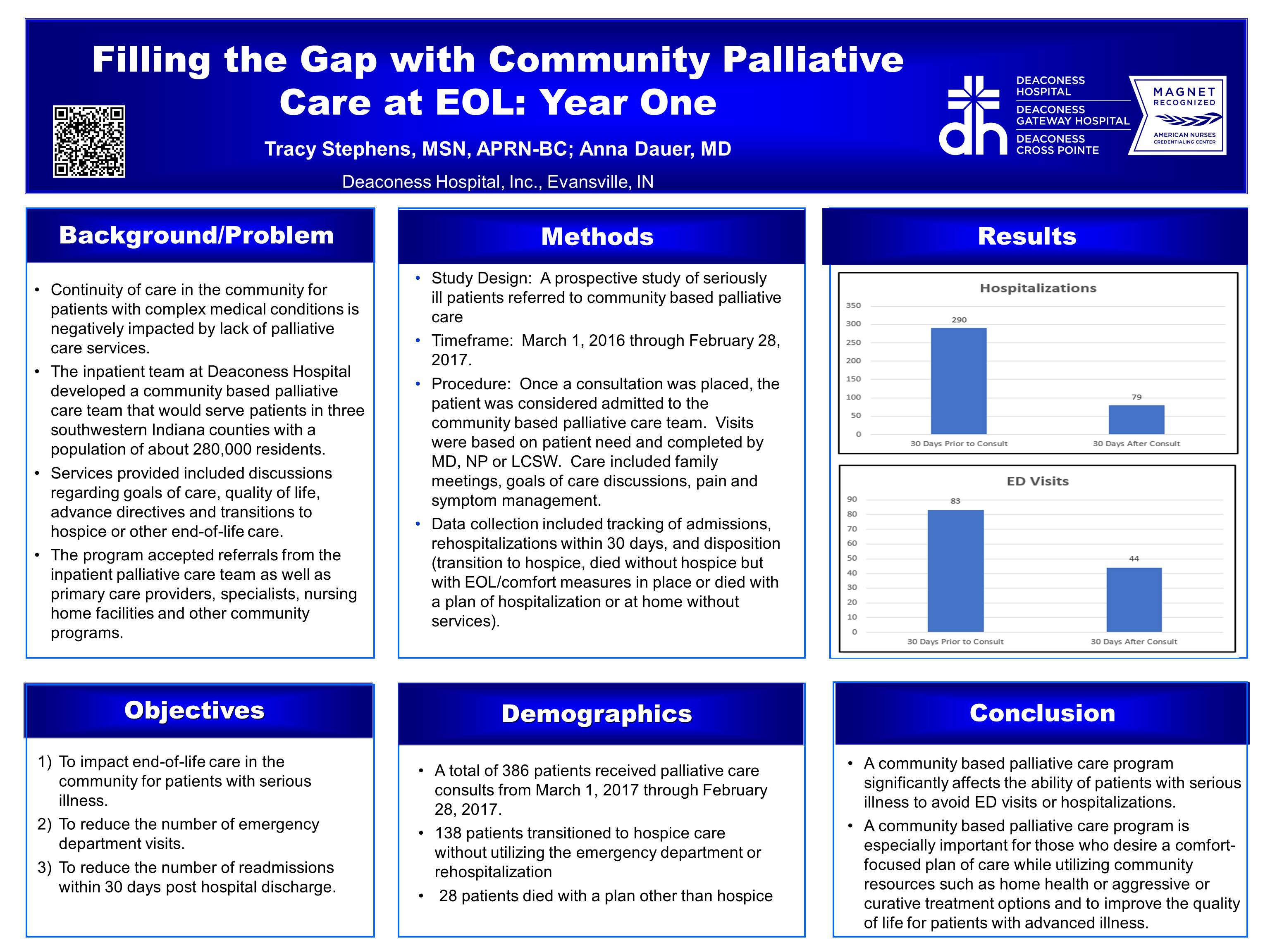 Background:
Patients with complex medical conditions experience reduced continuity of care in the community due to lack of palliative care services. In Southwest Indiana, palliative care (PC) in the community was not available in a consistent, provider-based program. Deaconess Hospital Palliative Care developed a community-based palliative care team in March 2016 to meet the needs of the area by providing ongoing discussions regarding goals of care, quality of life, advance directives and transitions to hospice or other end-of-life (EOL) care. The program consisted of two full-time nurse practitioners covering a service area of three counties.
We accepted referrals from the inpatient palliative care team as well as primary care providers, specialists, nursing home facilities and other community programs.Research Objectives: We aimed to impact end-of-life care in the community for patients with serious illness. We hypothesized that continuing the palliative care model provided inpatient to the community would positively impact transitions of care at EOL by reducing emergency department (ED) presentations and hospitalizations. Such a finding can be used to facilitate utilization of community resources instead of relying on cycling through potentially uneccessary emergency department visits and subsequent hospitalizations; which is especially important as the patient with serious illness approaches end of life.
Methods:
At the initiation of the program, data collection included tracking the number of admissions, rehospitalization within thirty days, and disposition (transitioned to hospice, died without hospice but with EOL/comfort measures in place, or died with a plan of hospitalization or at home without services). Once a consultation was completed, the patient was considered admitted to the community-based palliative care team. Data was collected until they were discharged from the program or deceased.
Results:
From March 1, 2016, through February 28, 2017, our team completed 386 consultations.
138 patients transitioned to hospice care without utilizing ED or rehospitalization.
28 patients died with a plan other than hospice.
Interestingly, of the 386 consultations, 290 (75.1%) patients experienced a hospitalization 30 days prior to community PC consultation, but in the next 30 days following PC consultation, we observed only 79 (20.5%) hospitalizations. Finally, of the 386 consultations, 83 (21.5%) patients experienced an ED presentation in the 30 prior to PC consultation. That number decreased to 44 (11.4%) ED presentations in the 30 days following consultation.
Conclusion:
A community-based palliative care program significantly affects the ability of patients with serious illness to avoid ED visits or hospitalizations. This is especially important for those who desire a comfort-focused plan of care while utilizing community resources such as home health or aggressive or curative treatment options and to improve the quality of life for patients with advanced illness.
Implications:
Community-based palliative care positively impacts patient care by reducing hospitalizations and ED presentations. Continued efforts in building relationships with skilled nursing facilities and specialists will be essential to provide care to patients living with serious illness who are most at risk for decline.
Author
Medical Director
Deaconess Hospital
600 Mary Street
Evansville, IN 47710
Co-authors