National Seminar
Estimating the Need for CBPC in a Public Health System
Topic: Assessing Need for Palliative Care Services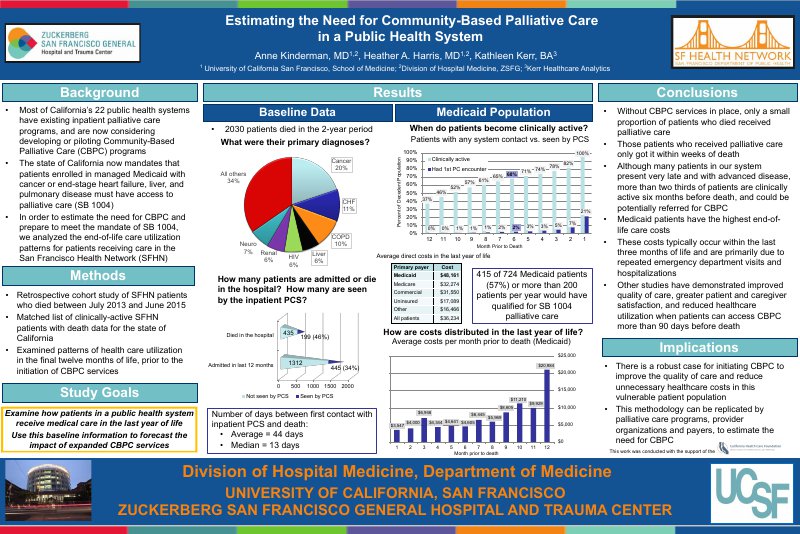 Following a period of rapid growth in inpatient palliative care programs in California public hospitals, an increasing number of these hospitals are now developing Community-Based Palliative Care (CBPC) programs. Many of these programs have been developed based on perceived need, and in anticipation of the implementation of SB1004, legislation which mandates access to palliative care for patients enrolled in Medicaid managed care plans. California's 17 safety net health systems are well-versed with delivering inpatient palliative care; however, many are not equipped to estimate the need for CBPC in their systems. We sought to estimate the number of individuals who would benefit from CBPC, who receive care in the San Francisco Health Network (SFHN), the integrated delivery system organized under the San Francisco Department of Public Health. Using claims data and publically available information from the state of California, we were able to study the health care utilization patterns of SFHN patients in their final year of life. We found that during the two year study period (July 2013-June 2015), of the 2116 patients who died, 747 were enrolled in managed Medicaid and 552 would likely have been eligible for the newly-mandated palliative care services. Without CBPC services in place, the inpatient palliative care program was only able to see 21% of the total decedent population, and 34% of those who were hospitalized in the last year of life. Patients' first contact with inpatient palliative care was very late (mean 44 days prior to death, median 13 days prior to death), with only 3% of the total decedent population having their first contact with a specialty palliative care service >90 days before death. Further, although 68% of the studied population had contact with the health system through emergency department visits, hospital admissions and clinic visits in the 6-12 months prior to death, only 2% were referred to specialty palliative care in that timeframe. In a population with progressive serious illnesses such as cancer, heart failure, end stage liver disease and COPD, earlier referrals to palliative care seem achievable, if clinic or home-based services are available. Additionally, we found that the average direct costs to the system for patients in the last year of life was $34,981, and even higher for Medicaid patients ($46,842). These data suggest that there is a rich opportunity for developing CBPC services in the SFHN, in order to meet the mandate for Medicaid patients, avoid unnecessary end of life costs, improve quality of care for seriously ill patients, and support key system priorities for improving patient flow through emergency and acute care services. Our findings can also serve as a guide for other public health palliative care programs, which are seeking to meet California's mandate for Medicaid patients, or to estimate the future impact of CBPC for specific disease groups.
Author
Director, Supportive & Palliative Care Service
San Francisco General Hospital
1001 Potrero Ave
San Francisco, CA 94110
(415) 206-3303
Co-authors
Heather Harris, MD
Kathleen M. Kerr, BA
Register Now
Register for the 2018 CAPC National Seminar and Pre-Conference Workshops by September 24 for Early Bird pricing.
Learn More and Register