National Seminar
End of Life Care Communication Strategies for Chinese Americans
Topic: Addressing the Needs of Specific Patient Populations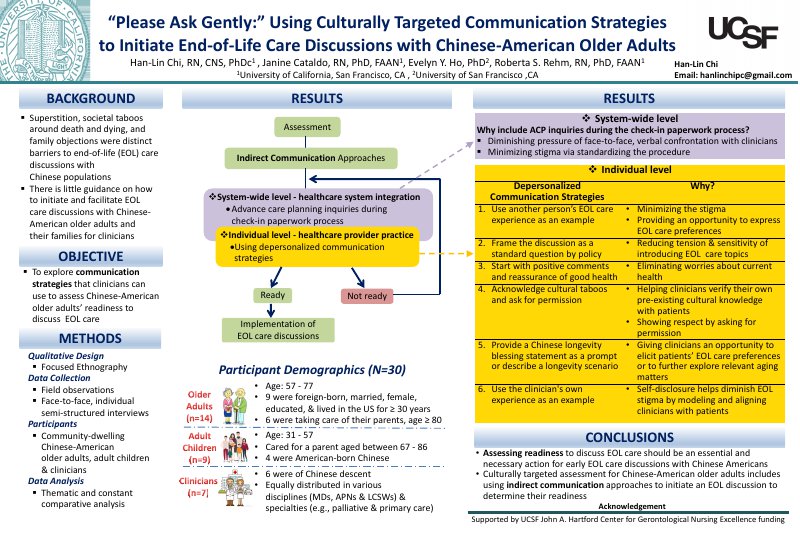 Background:
Healthcare providers find facilitating end-of-life (EOL) care discussions challenging, especially with patients whose ethnicities differ from their own. Currently, there is still little guidance on how to initiate and facilitate such discussions with Chinese-American older adults and their families.
Objective:
To explore communication strategies that healthcare providers can use to assess Chinese-American older adults' readiness to engage in early EOL care discussions.
Design:
This qualitative study utilized focused ethnography. Along with field observations, individual semi-structured interviews with 14 community-dwelling Chinese-American older adults, 9 adult children, and 7 healthcare providers were conducted and analyzed using thematic and constant comparative analysis.
Results:
Older adults, adult children and healthcare providers emphasized the importance of assessing readiness for early EOL care discussions. Moreover, they recommended using indirect communication approaches to assess older adults' readiness, which can be culturally targeted and applied at both system-wide (i.e., health care system) and individual (i.e., healthcare provider) levels. To institutionalize the practice, healthcare facilities should implement EOL care discussion assessments during check-in as part of routine intake questionnaires. In individual practice, using depersonalized communication strategies to initiate the discussion are recommended in order to assess older adults' readiness.
Conclusions:
Assessing readiness should be an essential and necessary action for early EOL care discussions. Culturally targeted assessment for Chinese Americans includes using indirect communication approaches to initiate an EOL care discussion to determine their readiness. In addition to health care system integration, providers should implement and evaluate the suggested assessment prompts with their Chinese-American patients.
Implications for research, policy or practice:
Future studies are needed to further investigate the effectiveness of these assessment strategies.
*Depersonalized communication strategies included: 1) using another person's EOL care experience; 2) framing the discussion as a standard question by policy; 3) starting with positive comments and reassurance of good health; 4) acknowledging cultural taboos and asking for permission; 5) providing a Chinese longevity blessing statement as a prompt or describe a longevity scenario; 6) using the provider's own experience as an example. We also developed a guide that consisted of a list of assessment prompts along with rationales based on our research data for healthcare providers to use in their practice.
Author
PhD candidate
University of California, San Francisco
2 Koret Way
San Francisco, CA 94122
Co-authors
Evelyn Y. Ho, PhD
Janine Cataldo, RN, PhD, FAAN
Roberta Rehm, RN, PhD, FAAN