National Seminar
Effective Use of Nurse Navigator Role in Palliative Care
Topic: Expanding the IDT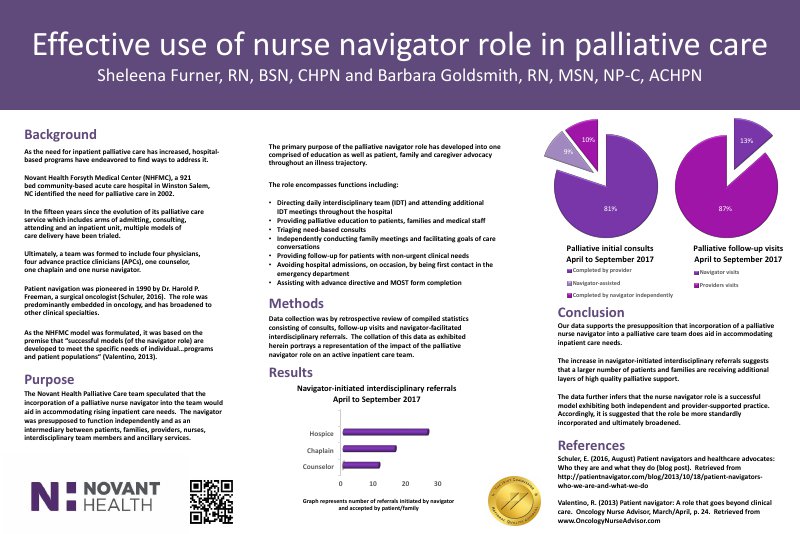 As the need for inpatient palliative care has increased, hospital-based programs have striven to find ways to address it. Novant Health Forsyth Medical Center (NHFMC), a 921 bed community based acute care hospital in Winston Salem NC identified the need for palliative care in 2002. In the fifteen years since the evolution of its palliative care service which includes arms of admitting, consulting, attending and an inpatient unit, multiple models of care delivery have been trialed. Eventually, a team was formed to include four physicians, four Advance Practice Clinicians (APCs), one social worker, one chaplain and one nurse navigator. The service was the first to receive joint commission accreditation in the Carolinas.
Patient navigation was pioneered in 1990 by Dr. Harold P. Freeman, a surgical oncologist (Valentine, 2013). The role has remained predominantly embedded in oncology, although it has now broadened to other clinical specialties. Its primary purpose is education and patient, family and caregiver advocacy throughout an illness trajectory. There are many nurse navigator paradigms but little data reflecting programs utilizing a nurse navigator role in palliative care.
The present NHFMC palliative nurse navigator role encompasses functions including:
- directing daily interdisciplinary team
- providing palliative education to patients, families and medical staff
- triaging need-based consults
- independently conducting family meetings and facilitating goals of care conversations
- avoiding hospital admissions, on occasion, by being first contact in the emergency departmnt
This poster displays data reflecting the effective incorporation of a nurse navigator into an active inpatient palliative care team.
References:
Valentino R, (2013) Patient navigator: A role that goes beyond clinical care. Oncology Nurse Advisor, March/April, p. 24. Retrieved from www.OncologyNurseAdvisor.com
Author
Palliative Nurse Navigator
Novant Health Forsyth Medical Center
3333 Silas Creek Parkway
Winston Salem, NC 27104
(336) 718-9427
Co-authors
Barbara Goldsmith, RN, MSN, NP-C, ACHPN