National Seminar
Early Palliative Care Consultation Decreases Length of Stay
Topic: Measuring Impact and Value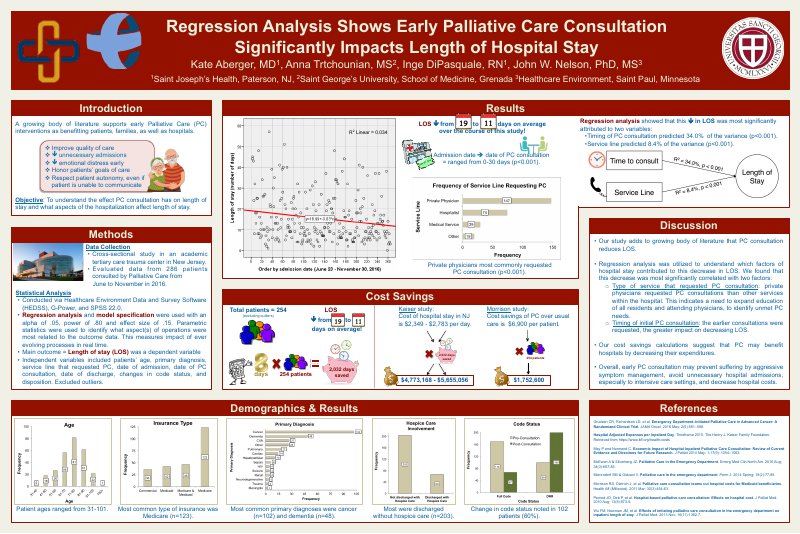 Study objectives:
A growing body of literature proves that early Palliative Care (PC) interventions benefit patients, families, and hospitals. We sought to understand the effect PC consultation has on length of stay (LOS), what aspects of the hospitalization affect LOS, and the associated savings of decreasing LOS.
Methods:
With a descriptive cross-sectional study design, we evaluated data from 286 PC patients, consulted in an academic tertiary care trauma center. Variables analyzed included patients' age, primary diagnosis, service line that requested PC, date of admission, date of PC consultation, date of discharge, changes in code status, and disposition. Statistical analysis was conducted via Healthcare Environment Data and Survey Software (HEDSS), G-Power, and SPSS 22.0. LOS, as a dependent variable, was examined in relationship to the independent variables using regression analysis. This novel use of regression analysis, commonly used in many industries other than healthcare, measures outcomes - specifically, which variables impact outcomes and how significant the impact is. This is an new way to measure impact of ever evolving processes in real time. Cost savings were calculated by comparing the amount of money per admission that PC is proven to save to the customary cost per admission per patient with standard care in the NY/NJ area.
Results:
The patients' ages ranged from 31-101 (mode=81). The most commonly reported primary diagnoses were cancer (n=102) and dementia (n=48). The service line who most commonly requested PC consultation was the private physician service line (n=147; p < 0.001), followed by hospitalists (n=74). Admission date to date of PC consultation ranged from 0-30 days (average days = 6.7 + 6; p < 0.001). Change in code status to new "do not resuscitate" orders were noted in 102 patients (60%). Most patients were discharged without hospice care (n=203). Others were discharged with hospice to either home (n=38), nursing home (n=24), or inpatient unit (n=4). During this study's timeframe, LOS decreased from 19 to 11 days, with an average LOS of 15 days + 11 (range: 0-57 days). Hierarchical regression analysis showed that this decrease in LOS was most significantly attributed to two variables: the timing of PC consultation predicted 34.0% (p < 0.001) and the service line predicted 8.4% of the variance (p < 0.001). Total cost savings for 254 patients in final regression analysis ranged from $6,525,768 - $7,407,656.
Conclusion:
Between June and November of 2016, the LOS of patients who received PC consultation decreased from 19 to 11 days. Analysis indicates that the decrease in LOS was most significantly correlated with the timing of initial PC consultation. Earlier consultations were related to decreased LOS. Service line was also significantly correlated to LOS; patients with private physicians as providers had decreased LOS. Our study adds to the growing body of literature which supports early PC consultation as a significant factor in reducing LOS, prevent suffering by aggressive symptom management, avoid unnecessary hospital admissions, especially to intensive care settings, and decrease hospital costs.
Author
Medical student
Saint Joseph's Regional Medical Center, Department of Palliative Care
703 Main Street
Paterson, NJ 07601
Co-authors
Inge DiPasquale, RN
John W. Nelson, PhD, MS, RN
Kate Aberger, MD