National Seminar
Creating Tangables: Validating Workload, Productivity
Topic: Expanding the IDT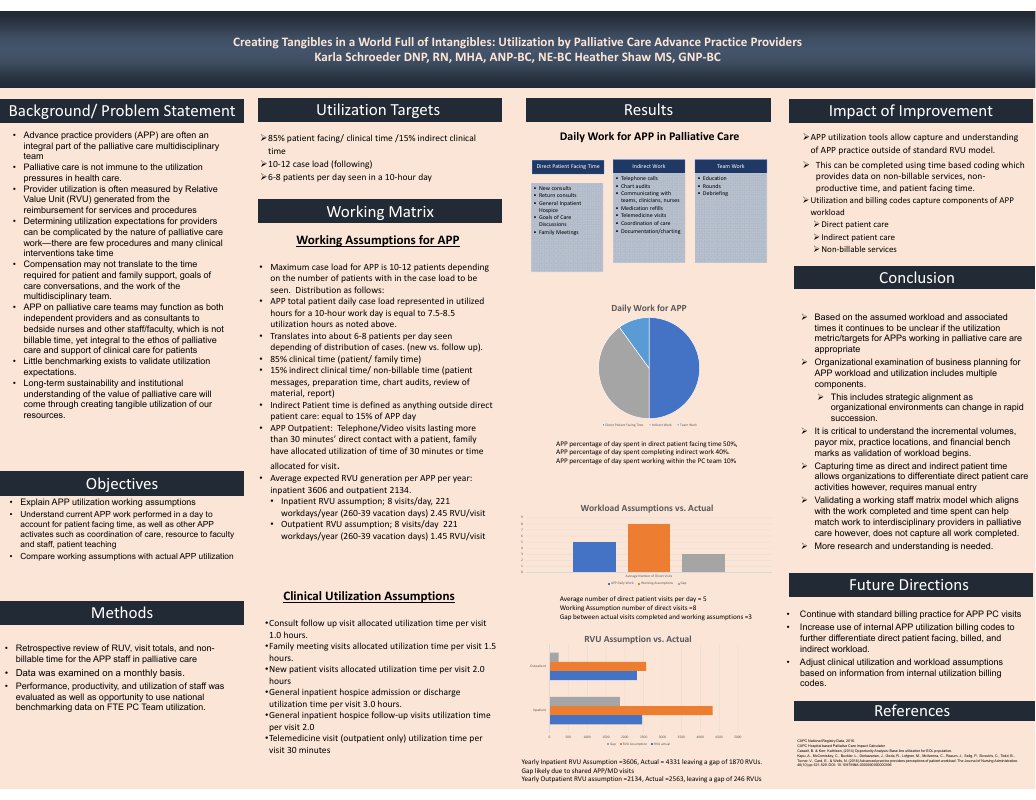 Despite increasing access and resources patients continue to suffer needlessly and utilize hospice and palliative medicine less. Further, palliative medicine alone has not improved the overall quality of end of life care. Long-term sustainability in health care will come through creating tangible utilization of our resources.
Tangibles in medical practice is often defined by the Relative Value Unit (RVU) generated from the sheer reimbursement for services and procedures. The monetary value of work is assigned compensation but how does this translate to utilization of staff. Palliative Medicine states the primary goal is to meet the growing palliative care needs across organizations.
Organizational examination of business planning validating workload and utilization includes multiple components. This includes strategic alignment as organizational environments can change in rapid succession. It is critical to understand the incremental volumes, payor mix, practice locations, and financial bench marks as validation of workload begins. Understanding the work which each provider completes further validates utilization. This can be completed using time based coding which provides data on non-billable services, non-productive time, and patient facing time. Capturing time as direct and indirect patient time allows organizations to differentiate direct patient care activities. Creating a working staff matrix model which aligns with the work completed and time spend can incorporate tool matching work to interdisciplinary providers in palliative medicine. Data will be examined on a quarterly basis. Performance, productivity, and utilization of staff will be evaluation as well as opportunity to use national benchmarking data. The hope is to engage in conversations with the specific staff to fully understand the needs of each discipline caring for patients. The Goal is to provide adequate support needed with the appropriate resources.
Author
Director of Palliative Medicine and Geriatrics
Stanford Health Care
300 Pasteur Drive
Stanford, CA 94305
(650) 723-1303
Register Now
Register for the 2018 CAPC National Seminar and Pre-Conference Workshops by September 24 for Early Bird pricing.
Learn More and Register