National Seminar
Continuity of Care Across Our Community
Topic: Building Palliative Care Into the Organizational DNA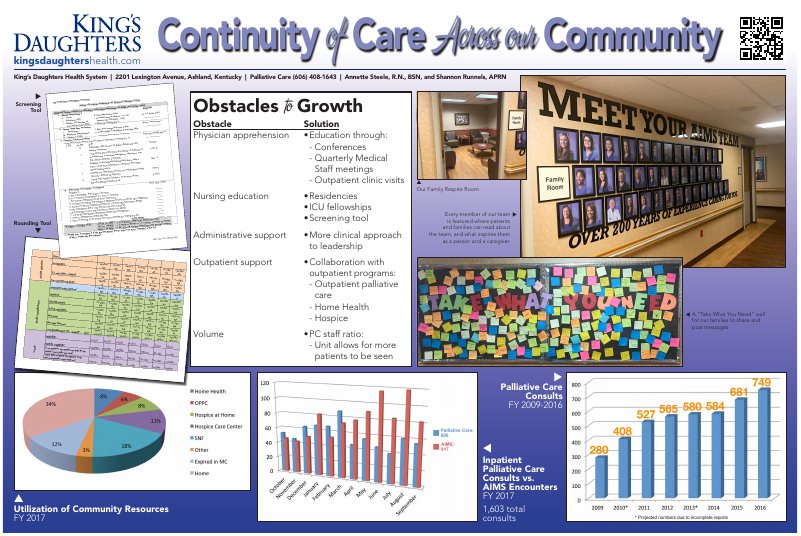 This project was based on a study aimed to determine the frequency at which patients seen by the palliative care team (PCT) were readmitted and subsequently received a palliative care follow up visit. Analysis of data collected in 2013, 2014, and 2015 determined that, on average, 32% of patients seen by the PCT experienced readmission within 30 days and the majority were not reassessed. Our root cause analysis revealed two primary contributing factors:
The Health System's electronic medical record (EMR) did not facilitate identification of patients who had previously received evaluation and care from the PCT. In response to this finding, the Health System developed an EMR-based patient registry comprised of the existing palliative care patient base. This registry permits clinicians to readily identify all patients with a palliative care status.
Over an eighteen-month span, King's Daughters Medical Center designed and implemented an inpatient unit to serve the needs of palliative care patients and their families. At its outset, the Advanced Illness Management Service (AIMS), consisted of eight beds. Today, the unit has grown to 24 beds and serves a wide array of patients with chronic, life-limiting conditions.
By developing new relationships and strengthening existing relationships with hospital-associated clinics and outpatient primary care providers, palliative patients can receive care for an exacerbation of their chronic illness, and be admitted directly to the AIMS unit, when needed, with the knowledge that the AIMS team is already intimately familiar with the patient's case, psychosocial concerns, spiritual needs, and treatment preferences.
The study also revealed that many physicians remained unaccustomed to, and uneasy with, palliative care philosophies, and thus were unlikely to refer patients for palliative care. Changing attitudes and preferences has taken a dedicated effort. Over the past several years, education has been provided to the medical staff on the benefits of palliative care; and collaborative efforts have been established with transitional care clinics, as well as with hospital-based nephrology, cardiology, pulmonary, and oncology services. Patients with newly diagnosed chronic illnesses are now being preemptively enrolled by their physicians for palliative services should the need arise.
A survey of patients' preferences exposed an overwhelming desire to prevent admission to the hospital in general, decrease readmissions, and decrease length of stay when admission was unavoidable. Through a partnership with a community-based, non-profit palliative care program, enrolled palliative patients are seen in their homes on a regular basis for symptom management. The outpatient palliative team can also refer patients for direct admission to the AIMS unit at the beginning of an exacerbation for aggressive symptom management, drastically reducing length of stay. The current average length of stay for the inpatient unit is 4.277 days and current readmission rate is 15.79%.
At the close of Fiscal Year 2017, the service will have close to 1500 registered palliative patients, 24 inpatient beds, 3 full time providers, an inpatient consulting team, and one modernized, efficient, and meaningful method to delivering care in a way that is defined by those receiving it.
Author
Advanced Illness Management Program Coordinator
King's Daughters Medical Center
2201 Lexington Ave
Ashland, KY 41101
(606) 408-1645
Co-authors