National Seminar
Compassionate Withdrawal of Care in the Palliative Care Unit
Topic: Collaboration Across Specialties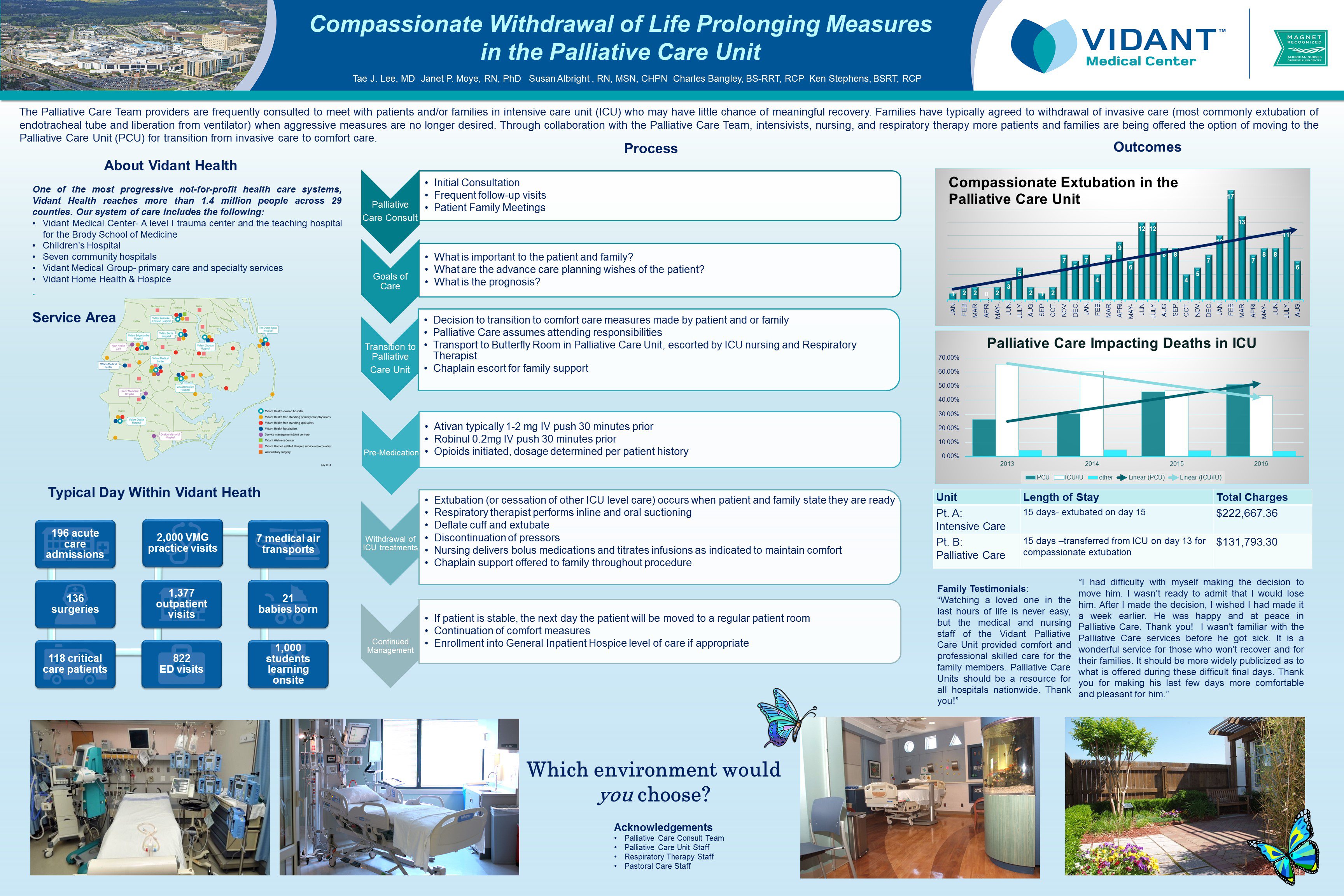 The palliative provider team is frequently consulted to meet with families of loved ones in intensive care unit (ICU) who may have little chance of meaningful recovery. Families have typically agreed to withdrawal of invasive care (most commonly extubation of endotracheal tube and liberation from ventilator) when aggressive measures are no longer warranted in the ICU. Through collaboration with the palliative care team, more patients and families are being offered the option of moving to the Palliative Care Unit (PCU) for transition from invasive care to comfort care. This requires a strong collaboration with Respiratory Therapy, the intensivists and the palliative care provider team. Often the palliative provider is consulted early in the ICU stay and develops a relationship with the family, supporting and educating them as they work through the complex medical issues and decisions they are facing. The palliative care provider team makes daily visits and participates in family meetings as needed. Once a decision is made the option of transferring to the PCU is discussed. The benefits of PCU include a quiet environment where the family can focus on their loved one without monitors and distractions while receiving comfort care by the providers and nurses who are extremely proficient in palliation of symptoms. This also allows ICU to have available beds for other appropriate patients needing that level of care. Patients are brought to the "Butterfly Room" in the PCU and the family spokesperson establishes the timeline for withdrawal of care (extubation and/or discontinuation of cardiac drips) once family is present - ranging from an hour to 24 hours. The room has a sitting area, an aquarium and a private courtyard that the patient's bed can be rolled outdoors for a time if that is desired. There are no visiting restrictions and children and the family dog are welcomed. The Chaplain and Child Life Specialist are available for support. The home-like environment and supportive measures provide for a peaceful end-of-life experience for the patient and family in a high-touch rather than high-tech setting. The palliative care provider, respiratory therapist and Registered Nurse assumes care of the patient and manages the process to ensure that symptoms are managed and the patient is comfortable both prior to and after the removal of artificial life support. We'll describe the process step-wise and explain how the members of this interdisciplinary team collaborate. In our 900 bed medical center, an average of 10 families monthly are electing this care option. Usual life expectancy following the transition to comfort care is hours to a few days. Family members have expressed high satisfaction and appreciation for this service through informal feedback and written surveys. Poster will display data reflecting volume, impact on ICU mortality, and family and provider satisfaction.
Author
Vidant Health
2100 Stantonsburg Rd
Greenville, NC 27834
(252) 847-1242
Co-authors
Charles Bangley, RRT, BS. RCP
Ken Stephens, BSRT RCP
Susan Albright, RN, MSN, CHPN
Tae J. Lee, MD
Register Now
Register for the 2018 CAPC National Seminar and Pre-Conference Workshops by September 24 for Early Bird pricing.
Learn More and Register