National Seminar
Communication with a Nonverbal Patient about End of Life Choices
Topic: Expanding the IDT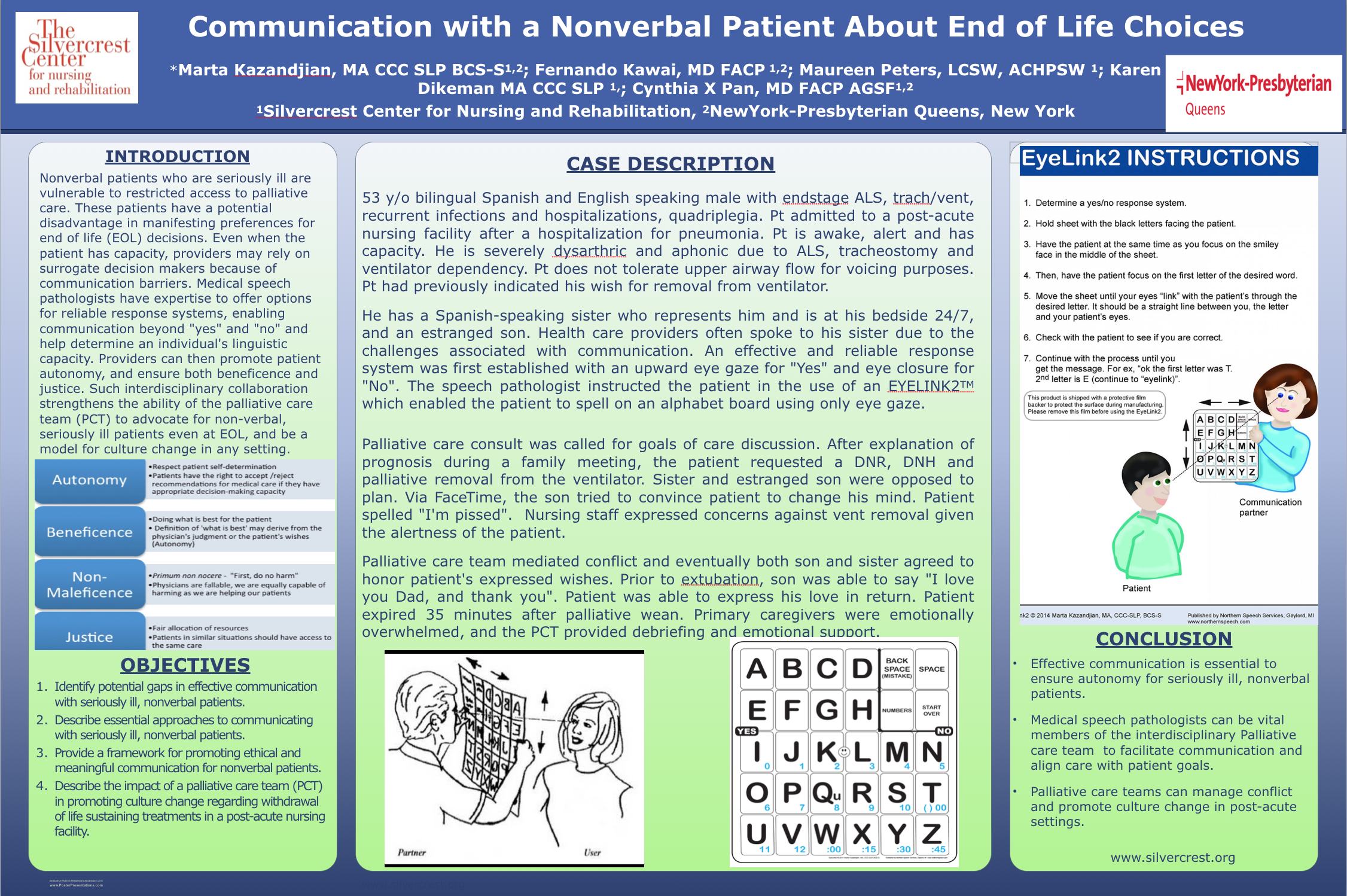 Objectives:
1. Identify potential gaps in effective communication with seriously ill, nonverbal patients.
2. Describe essential approaches to communicating with seriously ill, nonverbal patients.
3. Provide a framework for promoting ethical and meaningful communication for nonverbal patients.
4. Describe the impact of a palliative care team (PCT) in promoting culture change regarding withdrawal of life sustaining treatments in a post-acute nursing facility.
Background:
Nonverbal patients who are seriously ill are vulnerable to restricted access to palliative care and are at a potential disadvantage in manifesting their preferences for end of life decisions. Despite the patient's capacity, providers may rely on surrogate decision makers because of barriers to communication. Medical speech pathologists have the expertise to offer options for reliable response systems, enabling communication beyond "yes" and "no" and help to determine an individual's linguistic capacity. Providers can then promote patient autonomy, and ensure both beneficence and justice. Such interdisciplinary collaboration strengthens the ability of the PCT to advocate for non-verbal, seriously ill patients even at end of life, and be a model for culture change in any setting.
Case Description:
53 y/o bilingual Spanish and English speaking male with ALS, trach/vent, recurrent infections and hospitalizations, quadriplegia. Pt admitted to a post-acute nursing facility after a hospitalization for pneumonia. Pt is awake, alert and has capacity. He is severely dysarthric and aphonic due to ALS and tracheostomy and ventilator dependency. Pt does not tolerate upper airway flow for voicing purposes. He has a Spanish speaking sister who represents him and is at his bedside 24/7, and an estranged son. Health care providers often spoke to his sister due to the challenges associated with communication. An effective and reliable response system was first established with an upward eye gaze for "Yes" and eye closure for "No". The speech pathologist instructed the patient in the use of an EYELINK2 TM which enabled the patient to spell on an alphabet board using only eye gaze. Palliative care consult was called for goals of care discussion. After explanation of prognosis during a family meeting, the patient requested a DNR, DNH and palliative removal from the ventilator. Sister and estranged son were opposed to plan. Via FaceTime, the son tried to convince patient to change his mind. Patient spelled " I'm pissed". Nursing staff expressed concerns given the alertness of the patient. PCT mediated conflict and eventually both son and sister agreed to honor patient's expressed wishes. Prior to extubation, son was able to say "I love you Dad, and thank you". Patient was able to express his love in return. Patient expired 35 minutes after palliative wean. Primary caregivers were emotionally overwhelmed, and the PCT provided debriefing and emotional support.
Conclusion:
Effective communication is essential to ensure autonomy for nonverbal patients. Medical speech pathologists can be vital members of the interdisciplinary PCT to align care with patient goals. PCTs can manage conflict and promote culture change in post-acute settings.
Author
Senior Director, Speech Pathology/ Clinicial Initiatives
The Silvercrest Center for Nursing and Rehabilitation
144-45 87th Avenue
Briarwood, NY 11570
Co-authors
Cynthia Pan, MD FACP AGSF
Fernando Kawai, MD FACP
Karen Dikeman, MA CCC SLP
Marta Kazandjian, MA CCC SLP BCS-S C-IHC
Maureen Peters, ACSW LCSW ACHPSW