National Seminar
Clinical pharmacy consults in inpatient palliative care
Topic: Expanding the IDT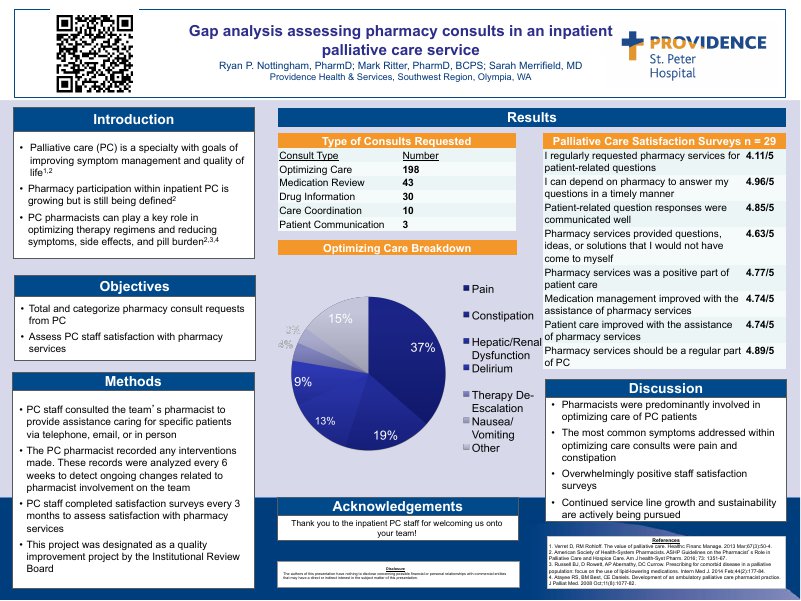 Palliative care (PC) patients frequently present with complex medication regimens. However, provision of clinical pharmacy services within PC is a new and emerging field. With medications playing a critical role in PC, pharmacists may be uniquely suited to address concerns related to complex symptom management and drug related problems. This IRB-designated quality improvement project was designed to characterize pharmacy consults requested by the PC consult team. Pharmacy consults were recorded, reviewed, and analyzed to identify patterns. PC staff completed satisfaction surveys every 6 weeks to examine satisfaction with pharmacy services. In the 7-month study period, pharmacy services were consulted 284 times. Consult categories included optimizing care, medication review, drug information, care coordination, and patient communication. Seventy-percent of these consults were categorized as optimizing patient care. Within the optimizing care category, there were a large variety of symptoms, side effects, and disease states for which pharmacy was consulted. Pharmacy was most frequently consulted for pain and constipation. Four satisfaction surveys were administered during this time. The Likert scale used included questions assessing regularity of pharmacist consult requests, timeliness of response, communication skill, uniqueness of solutions or ideas, positivity, improved medication management, improved patient care, and if pharmacy should be a standard part of palliative care. Satisfaction surveys revealed high approval ratings, with a yearly averaged score of 4.71/5, with 5 being strongly agree. The pharmacist's role in PC is still being defined and may vary substantially depending on setting and team structure. In this project, pharmacy services' inclusion in optimizing patient care was enthusiastically embraced by the PC inpatient consult team.
Author
PGY-1 Pharmacy Practice Resident
Providence St. Peter Hospital
413 Lilly Road NE
Olympia, WA 98506
(360) 486-6705
Co-authors
Mark Ritter, PharmD, BCPS
Register Now
Register for the 2018 CAPC National Seminar and Pre-Conference Workshops by September 24 for Early Bird pricing.
Learn More and Register