National Seminar
Bereavement Without Budget: A Pilot with MSW Students
Topic: Expanding the IDT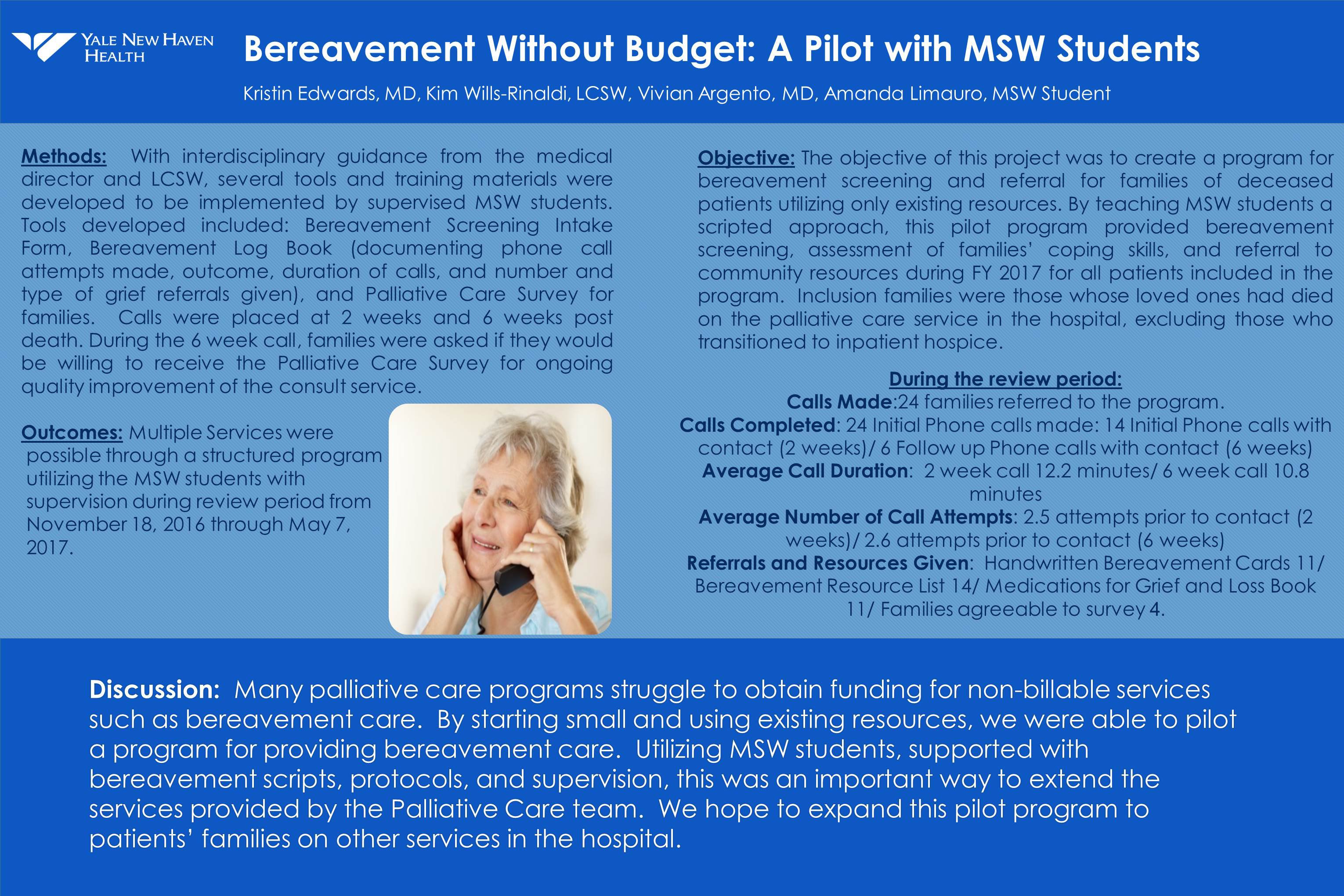 The objective of this project was to create a program for bereavement screening and referral for families of deceased patients utilizing only existing resources. By teaching MSW students a scripted approach, this pilot program provided bereavement screening, assessment of families'coping skills, and referral to community resources during FY 2017 for all patients included in the program. Inclusion families were those whose loved ones had died on the palliative care service in the hospital, excluding those who transitioned to inpatient hospice.
Methods:
With interdisciplinary guidance from the medical director and LCSW, several tools and training materials were developed to be implemented by supervised MSW students. Tools developed included: Bereavement Screening Intake Form, Bereavement Log Book (documenting phone call attempts made, outcome, duration of calls, and number and type of grief referrals given), and Palliative Care Survey for families. Calls were placed at 2 weeks and 6 weeks post death. During the 6 week call, families were asked if they would be willing to receive the Palliative Care Survey for ongoing quality improvement of the consult service.
Outcomes:
Multiple Services were possible through a structured program utilizing the MSW students with supervision during review period from November 18, 2016 through May 7, 2017. During the review period:
• Referrals Received:24 families referred to the program.
• Calls Completed: 24 Initial Phone calls made: 14 Initial Phone calls with contact (2 weeks)/ 6 Follow up Phone calls with contact (6 weeks)
• Average Call Duration: 2 week call 12.2 minutes/ 6 week call 10.8 minutes
• Average Number of Call Attempts: 2.5 attempts prior to contact (2 weeks)/ 2.6 attempts prior to contact (6 weeks)
• Referrals and Resources Given: Handwritten Bereavement Cards 11/ Bereavement Resource List 14/ Medications for Grief and Loss Book 11/ Families agreeable to survey 4.
Discussion:
Many palliative care programs struggle to obtain funding for non-billable services such as bereavement care. By starting small and using existing resources, we were able to pilot a program for providing bereavement care. Utilizing MSW students, supported with bereavement scripts, protocols, and supervision, this was an important way to extend the services provided by the Palliative Care team. We hope to expand this pilot program to patients' families on other services in the hospital.
Author
Medical Director of Palliative Care
Yale New Haven Health--Bridgeport Hospital
267 Grant Street
Bridgeport, CT 06840
Co-authors
Amanda Limauro
Kimberly Wills-Rinaldi
Vivian Argento