National Seminar
Anticholinergic Burden in Hospice Patients with Dementia
Topic: Expanding the IDT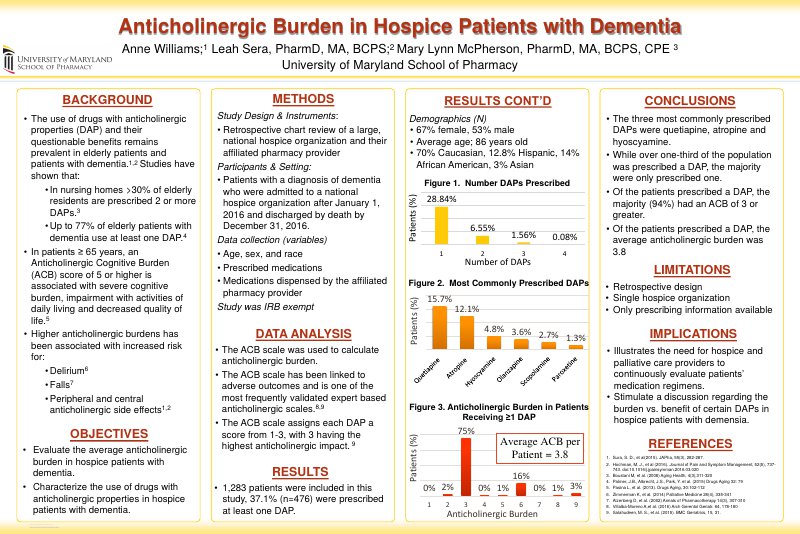 Literature has illustrated that end-of-life (EOL) patients with dementia have an increased risk for anticholinergic toxicities due to age-related pharmacokinetic and physiologic changes in conjunction with an increased susceptibility to drug-induced cognitive impairments1,2 Although this risk is well documented, the use of medications with anticholinergic properties and their questionable benefits remains prevalent in EOL patients with dementia.1,3,4 The aim of this study is to compare prescribing practices within hospice for patients with and without dementia and characterize anticholinergic burden (ACB) among hospice patients with dementia. A retrospective review of a medication and patient information database from a large national hospice organization was conducted. Patients were included in this study if they had a diagnosis of dementia and were admitted to hospice after January 1, 2016 and discharged by death by December 31, 2016. From this population, a smaller cohort of dementia patients randomly selected and matched with a comparator cohort. Patient medical records were reviewed and medications with anticholinergic properties were identified to characterize ACB and anticholinergic prescribing patterns. Determining the ACB in patients with advanced dementia can further illustrate the need for hospice and palliative care providers to continuously evaluate the patient's medication regimen.
References:
1.Sura, S. D., Carnahan, R. M., Chen, H., & Aparasu, R. R. (2015). Anticholinergic drugs and health-related quality of life in older adults with dementia. Journal of the American Pharmacists Association, 55(3), 282-287. doi:10.1331/japha.2015.14068
2.Carrière I, Fourrier-Reglat A, Dartigues J, Rouaud O, Pasquier F, Ritchie K, Ancelin M. Drugs With Anticholinergic Properties, Cognitive Decline, and Dementia in an Elderly General Population: The 3-City Study. Arch Intern Med. 2009;169(14):1317-1324. doi:10.1001/archinternmed.2009.229
3.Hochman, M. J., Kamal, A. H., Wolf, S. P., Samsa, G. P., Currow, D. C., Abernethy, A. P., & Leblanc, T. W. (2016). Anticholinergic Drug Burden in Noncancer Versus Cancer Patients Near the End of Life. Journal of Pain and Symptom Management, 52(5), 737-743. doi:10.1016/j.jpainsymman.2016.03.020
4.Cross, A. J., George, J., Woodward, M. C., Ames, D., Brodaty, H., Ilomäki, J., & Elliott, R. A. (2015). Potentially Inappropriate Medications and Anticholinergic Burden in Older People Attending Memory Clinics in Australia. Drugs & Aging, 33(1), 37-44. doi:10.1007/s40266-015-0332-3.
Author
PharmD Candidate, 2018
University of Maryland, School of Pharmacy
20 N Pine St
Baltimore, MD 21043
Co-authors
Leah Sera, PharmD, BCPS
Mary L. McPherson, PharmD, MA, BCPS, CPE