National Seminar
Advancing Care Planning Education in Medical Practices
Topic: Advance Care Planning Initiatives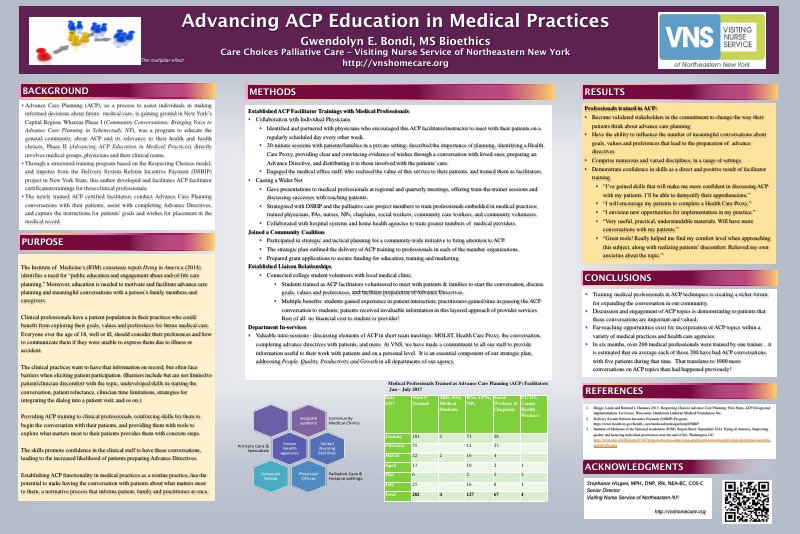 Advance Care Planning (ACP), as a process to assist individuals in making informed decisions about their future medical care, is gaining ground in New York's Capital Region. Whereas Phase I (Community Conversations: Bringing Voice to Advance Care Planning in Schenectady, NY), was a program to educate the general community about ACP and its relevance to their health and health choices, Phase II is now well underway in expanding the scope and scale to the medical community. Phase II directly involves medical groups, physicians and their clinical teams. Through a structured training program based on the Respecting Choices model and impetus from the Delivery System Reform Incentive Payment (DSRIP) project in New York State, this author developed and facilitates ACP facilitator certification trainings for these professionals, who in turn, conduct ACP conversations with their patients. This approach is effectively reaching patients and families regularly (via medical appointments), thoroughly (utilizing consistent language and depth of subject matter), and purposefully – to gain Advance Directives. The cascading process is establishing normalcy and confidence in a previously tentative approach. This project provides a roadmap of activities and execution of the Phase II initiative including outreach methods, lessons learned and outcomes in several communities of New York's Capital Region.
Author
Program Manager, Palliative Care - Care Choices
Visiting Nurse Service of Northeastern NY
108 Erie Blvd.
Schenectady, NY 12203
(518) 860-8965
Register Now
Register for the 2018 CAPC National Seminar and Pre-Conference Workshops by September 24 for Early Bird pricing.
Learn More and Register