National Seminar
Advance care planning education at local senior centers
Topic: Advance Care Planning Initiatives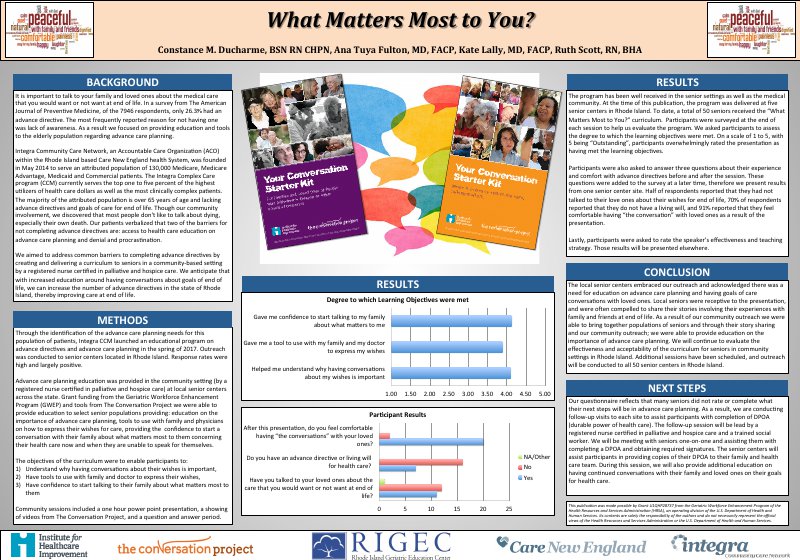 Integra Community Care Network, an Accountable Care Organization (ACO) within the Rhode Island based Care New England health System, was founded in May 2014 to serve an attributed population of 130,000 Medicare, Medicare Advantage, Medicaid and Commercial patients. The Integra Complex Care program (CCM) currently serves the top one to five percent of the highest utilizers of health care dollars as well as the most clinically complex patients. The majority of the attributed population is over 65 years of age and lacking advance directives and goals of care for end of life. Through the identification of the advance care planning needs for this population of patients, Integra CCM launched an educational program on advance directives and advance care planning in the spring of 2017. Advance care planning education was provided in the community setting (by a registered nurse certified in palliative and hospice care) at local senior centers across the state. The ability to educate the senior population concerning advanced care planning and advance directives has contributed to the development of conceptual understandings of providing education to individuals in their own health communities. The ability to engage populations from a wide range of backgrounds in an innovative approach to a potentially difficult and sensitive subject was a rewarding experience. Grant funding from the Geriatric Workforce Enhancement Program (GWEP) and tools from The Conversation Project we were able to provide education to select senior populations providing: education on the importance of advance care planning, tools to use with family and physicians on how to express their wishes for care, providing the confidence to start a conversation with their family about what matters most to them concerning their health care now and when they are unable to speak for themselves. The program has been well received in the senior settings as well as the medical community; the goal is to continue to provide education, and tools to the seniors in the community allowing them the confidence to express their desired goals for care to their loved ones and physicians.
Author
Integra Community Care Network
300 Richmond Street
Providence, RI 02903
Register Now
Register for the 2018 CAPC National Seminar and Pre-Conference Workshops by September 24 for Early Bird pricing.
Learn More and Register