National Seminar
A Visual Guide of a Palliative Care Workflow in a Hospital Setting
Topic: Quality Improvement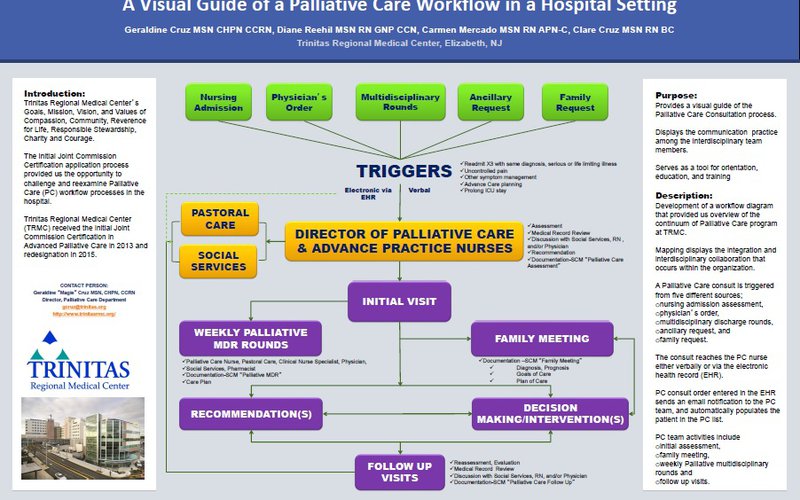 Trinitas Regional Medical Center (TRMC) received the initial Joint Commission Certification in Advanced Palliative Care in 2013 and redesignation in 2015. The initial Joint Commission Certification application process provided us the opportunity to challenge and reexamine Palliative Care (PC) workflow processes in the hospital. The result is a development of a workflow diagram that provided us the big picture of the continuum of Palliative Care program at TRMC. This process mapping displays the integration and interdisciplinary collaboration that occurs within the organization. A Palliative Care consult is triggered from five different sources; nursing admission assessment, physician's order, multidisciplinary discharge rounds, ancillary request, and family request. The consult reaches the PC nurse either verbally or via the electronic health record (EHR). PC consult order entered in the EHR sends an email notification to the PC team, and automatically populates the patient in the PC list. PC team activities follows, which includes, initial assessment, family meeting, weekly Palliative multidisciplinary rounds (Director of PC, Social Worker, Pastoral Care, PC Liaison Physician, ICU Intensivist, Advance Nurse Practitioners), and follow up visits. This visual diagram serves as an educational tool and a structure for the organization to follow.
Author
Director of Palliative Care
Trinitas Regional Medical Center
225 Williamson St.
Elizabeth, NJ 07202
(908) 994-5851
Co-authors
Carmen Mercado, MS, RN, APN-C
Clare Cruz, MSN, RN, BC
Diane Reehil, MSN, RN, GNP, CNN
Register Now
Register for the 2018 CAPC National Seminar and Pre-Conference Workshops by September 24 for Early Bird pricing.
Learn More and Register