National Seminar
Venting Concerns: A Terminal Extubation Guideline
Topic: Quality Improvement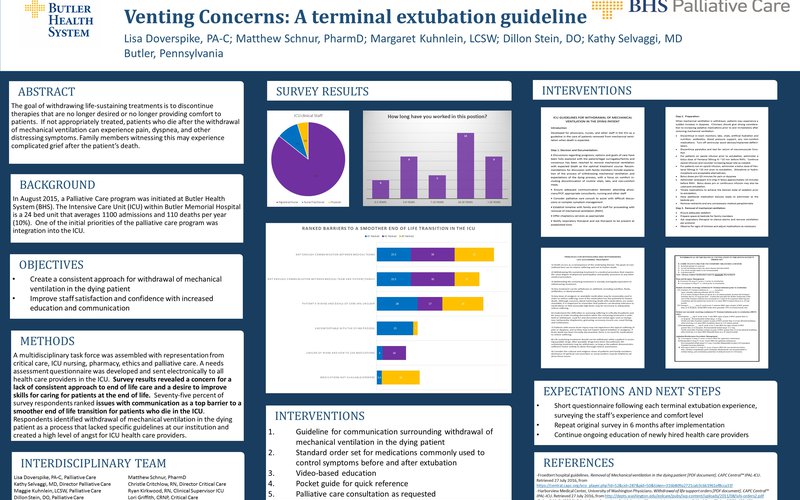 The goal of withdrawing life-sustaining treatments is to discontinue therapies that are no longer desired or no longer providing comfort to patients.  If not appropriately treated, patients who die after the withdrawal of mechanical ventilation can experience pain, dyspnea, and other distressing symptoms. Family members witnessing this may experience complicated grief after the patient's death. In August 2015, a Palliative Care program was initiated at Butler Health System (BHS). BHS, located 35 miles north of Pittsburgh, Pennsylvania, is a single hospital system anchored by Butler Memorial Hospital (BMH), a 297 bed community hospital located within a county of 185,000 residents.  The Intensive Care Unit (ICU) within BMH is a 24 bed unit that averages 1100 admissions and 110 deaths per year (10%).  One of the initial priorities of the palliative care program was integration into the ICU. The ICU team was very interested in collaborating with the new palliative care program to improve care for critically ill patients.
A multidisciplinary task force of physicians, nurses, pharmacists, nurse practitioners, physician assistants and social workers was assembled with representation from critical care, ICU nursing, pharmacy, ethics and palliative care. A needs assessment questionnaire was developed and sent electronically to all health care providers in the ICU.  Survey results revealed a concern for a lack of consistent approach to end of life care and a desire to improve skills for caring for patients at the end of life.  Seventy-five percent of survey respondents ranked issues with communication as a top barrier to a smoother end of life transition for patients who die in the ICU. Respondents identified withdrawal of mechanical ventilation in the dying patient as a process that lacked specific guidelines at our institution and created a high level of angst for ICU health care providers. 
Based on literature reviews and best practice procedures, a guideline was created that included a step wise process for communication surrounding withdrawal of mechanical ventilation in the dying patient.  We developed a standard order set for medications commonly used in this process to control symptoms before and after extubating.  This order set was reviewed and approved by the BMH Critical Care, Pharmacy and Therapeutics, and Forms committees.  The order set was uploaded for use by all clinicians in the electronic order entry system (Meditech).  Video education to all ICU health care providers was provided by representatives from pharmacy and palliative care.  A laminated pocket sized guideline for reference was also made available. Palliative care consultation continues to be available to assist with end of life care when requested.
We are hopeful that with the use of the electronic order sets, video education, and pocket guides, a more consistent approach for withdrawal of mechanical ventilation will be implemented within the ICU. Our hypothesis is that staff satisfaction and confidence will increase with continued education and support.  We will repeat the survey 6 months after implementation and continue ongoing education of newly hired ICU health care providers.
Author
Physician Assistant
Butler Health System
One Hospital Way
Butler, PA 16001
(724) 968-5330
Co-authors
Dillon Stein, DO
Kathy Selvaggi, MS MD FAAHPM
Lisa Doverspike, MPA PA-C
Margaret Kuhnlein, LCSW
Matthew Schnur, PharmD