National Seminar
Using Patient Data to Electronically Identify PC Patients
Topic: Screening for Palliative Care Patients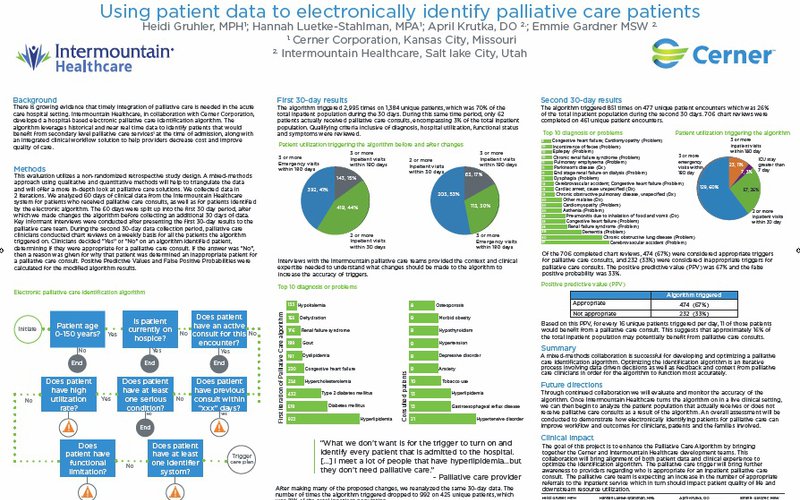 Background:  Palliative care (PC) has been shown to improve the quality of life of patients and their families facing the problems associated with chronic and serious illness through early identification, assessment, and prevention and treatment of pain and other problems, physical, psychosocial and spiritual. Patients with chronic and serious illness frequently move through the healthcare system in many different venues, such as hospitals, clinics, rehab facilities, and emergency rooms. There is growing evidence that timely integration of palliative care is needed in the acute care and inpatient hospital settings. Intermountain Healthcare, in collaboration with Cerner Corporation, developed a hospital-based electronic palliative care identification algorithm, which leverages historical and near real time data to identify patients that would benefit from secondary level palliative care services at the time of admission, along with an integrated clinical workflow solution to help providers decrease cost and improve quality of care.
Methods:  This evaluation utilizes a non-randomized retrospective study design. A mixed-methods approach using qualitative and quantitative methods will help to triangulate the data and will offer a more in-depth look at palliative care solutions. We analyzed 30 days of clinical data from the Intermountain Healthcare system for patients who received palliative care consults, as well as for patients identified by the electronic algorithm. Key informant interviews were conducted after presenting the 30-day results to the palliative care team.
Results:   The algorithm triggered 2,995 times on 1,384 unique patients, which was 70% of the total inpatient population during the 30 days. During this same time period, only 62 patients actually received palliative care consults, encompassing 3% of the total inpatient population. Qualifying criteria inclusive of diagnosis, hospital utilization, functional status and symptoms were reviewed. Interviews with the Intermountain palliative care teams provided the context and clinical expertise needed to understand what changes should be made to the algorithm to increase the accuracy of triggers. After making many of the proposed changes, we reanalyzed the same 30-day data. The number of times the algorithm triggered dropped to 992 on 425 unique patients, which was 21% of the total inpatient population.
Conclusion:  A mixed-methods collaboration is successful for developing and optimizing a palliative care identification algorithm. We will re-iterate the same process in August/September, continuing our collaboration to refine the algorithm and have additional data results to present at CAPC's National Seminar in October.
Author
Cerner Corporation
10234 Marion Park Dr
Kansas City, MO 64137
(816) 945-3922
Co-authors
April Krutka, DO – Intermountain Healthcare
Emmie Gardner, MSW – Intermountain Healthcare
Hannah Luetke-Stahlman, MPA – Cerner Corporation
Heidi Gruhler, MPH – Cerner Corporation