National Seminar
Using Metrics to Evaluate In-Patient Palliative Service
Topic: Measuring Impact and Value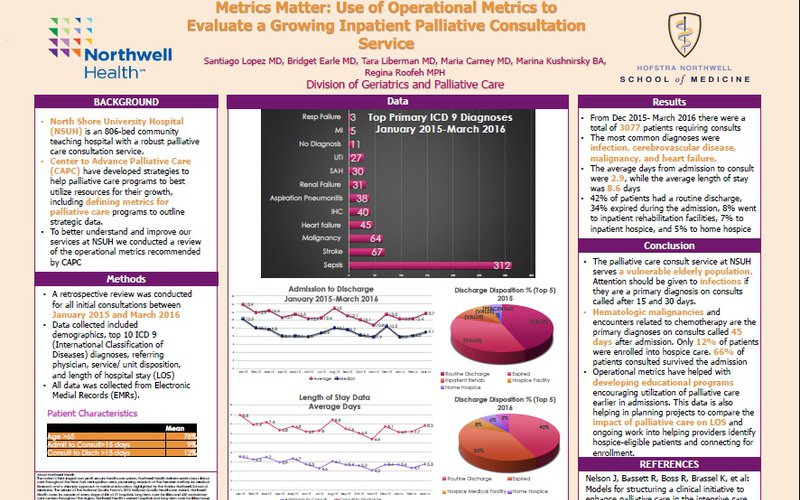 Introduction: North Shore University Hospital (NSUH) is an 806-bed community teaching hospital with a robust palliative care consultation service that sees over 2,000 new consultations per year. With the establishment of the Palliative Care Information Act, the number of hospitals in the United States offering palliative care services has grown, with 67% of US hospitals with 50 or more beds having an inpatient palliative program.1 As these programs evolve, institutions such as the Center to Advance Palliative Care (CAPC) have developed strategies to help palliative care programs best utilize resources in order to grow. Among these strategies, CAPC has defined metrics for palliative care programs to define strategic data needed for important aspects such as planning, quality improvement, and allocation of resources.2 To better understand and improve our services at NSUH we conducted a review of the operational metrics recommended by CAPC.
Method: A retrospective review was conducted of all initial consultations between January 2015 and March 2016 via electronic medical records (EMR). Data collected included demographics, top 10 ICD 9 (International Classification of Diseases) diagnoses, referring physician, service/unit, disposition, and hospital length of stay (LOS).
Results: There were a total of 2,374 patients consulted. Over 79% of patients were older than 65 years old and the majority of them were white. The leading primary diagnoses were Infections (17%), Cerebrovascular Disorders (7%), and Congestive Heart Failure (2%). The average days from admission to consult were 2.9 days and the average LOS was 8.6 days. 42% of consulted patients had a routine discharge, 34% expired during the admission, 8% went to inpatient rehabilitation facility, 7% to inpatient hospice, and 5% to home hospice.
Conclusion: The palliative care consultation service at NSUH serves a vulnerable elderly population.  Special interest is to be given to infections once they are also the primary diagnosis on consults called after 15 and 30 days during the hospital stay. Hematologic malignancies and encounters related to chemotherapy were the primary diagnosis on consults called 45 days after admission. Only 12% of patients were enrolled into hospice care. 66% of patients consulted survive the hospital stay. Operational metrics has helped with developing educational programs and partnerships among other specialties, particularly hospitalist, neurology, oncology, and infectious diseases in order to provide palliative care services earlier during hospital admission. This data is also helping in planning future projects to compare the impact of palliative care services on LOS. Furthermore, there is ongoing work into helping other provider to identify hospice eligible patients and reaching out for enrollment.
Author
Northwell Health
300 Community Drive
Manhasset, NY 11030
(516) 562-0100
Co-authors
Bridget Earle, MD
Maria Carney, MD
Regina Roofeh, BS
Santiago Lopez, MD
Tara Liberman, DO