National Seminar
Technological Strategies to Improve the Timeliness and Efficiency of Palliative Care Consults
Topic: Leveraging Technology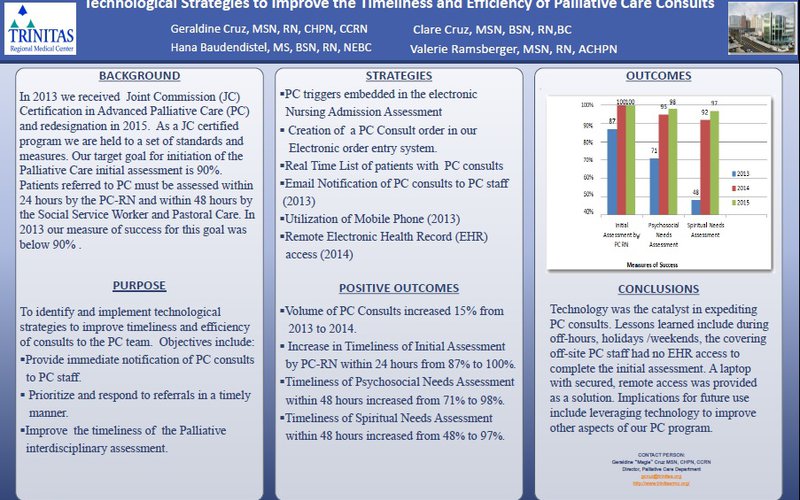 The purpose of this project is to identify and implement technological strategies to improve the timeliness and efficiency of consults to the Palliative Care (PC) team so they may initiate the physical, psychosocial and spiritual needs assessment process.
Trinitas Regional Medical Center (TRMC) received The Joint Commission (TJC) Certification in Advanced Palliative Care in 2013 and redesignation in 2015. As a TJC certified, we are held to a set of standards and measures that guide our program. We set our target goal for initiation of the Palliative care initial assessment at 90%. In 2013, our measure of success for this goal was below the 90% threshold. We were challenged to explore technology to assist us in reaching our goal. Patients referred to the PC program must be assessed within 24 hours by the PC RN and within 48 hours by the Social Worker and Pastoral Care Staff.
Our objectives include;
(1) To provide immediate notification of a consult to PC staff,
(2) To prioritize and respond to referrals in a timely manner,
(3) To improve timeliness of interdisciplinary assessment, comprehensive care and management of physical, psychological, emotional and spiritual needs of patients and families with chronic debilitating or life-threatening illness. A variety of technological methods were utilized to improve our measure of success above the 90% threshold.
Technological Strategies:
(1) PC triggers embedded in the electronic Nursing Admission Assessment
(2) PC Consult order in EHR
(3) Real Time List of patients with PC consult order
(4) Email Notification
(5) Utilization of Mobile Phone
(6) Remote access to EHR.
These strategies resulted to:
(a) a 15% increase in Total Volume of PC Consults from 2013-2014
(b) Timeliness of Initial Assessment by PC-RN within 24 hours, increased compliance from 87% to 100%,
(c) Timeliness of Psychosocial Needs Assessment within 48 hours, increased compliance from 71% to 95%,
(d) Timeliness of Spiritual Needs Assessment within 48 hours, increased compliance from 48% to 98%.
In conclusion, we learned that technology was the catalyst in expediting PC consults to our team as demonstrated by exceeding our 90% goal for initiation of PC consults. This led to a progressive increase in the number of PC consults. We also learned that during off-hours, holidays and weekends, the covering off-site PC staff has no EHR access to complete the initial assessment. In 2014, a laptop with secured, remote access was provided for the covering PC RN or Physician as a solution to this barrier. Implications for future use include leveraging technology to continue to improve other aspects of our PC program as well as other care services at TRMC.
Author
Director of Palliative Care
Trinitas Regional Medical Center
225 Williamson St.
Elizabeth, NJ 07202
(908) 994-5851
Co-authors
Clare Cruz, MSN, RN, BC
Hana Baudendistel, MS, BSN, RN, NE-BC
Valerie Ramsberger, MSN, RN, ACHPN