National Seminar
Team Wellness Strategies for Palliative Care Programs
Topic: Team Wellness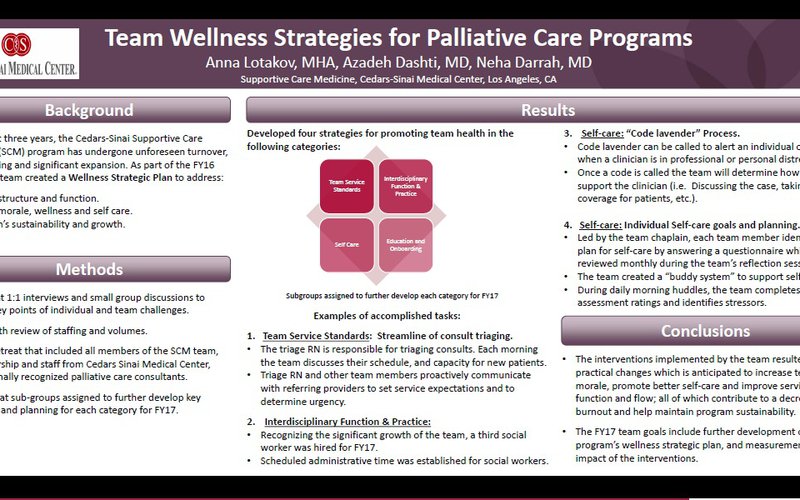 Background: In the past two years, the Cedars-Sinai Supportive Care Medicine (SCM) team has experienced rapid increase in staffing as well as an unforeseen high turnover rate. It was evident that there was a need to assess the team's morale, wellness, and structure. As part of the FY16 goals, the team agreed to create a SCM Team Wellness Strategic Plan to address self-care and team structure which would ultimately contribute to the program's sustainability and growth.
Methods:  With the support from administrative leadership, the SCM program held a 2 ½ day retreat that included all members of the SCM team, key leadership and staff from Cedars Sinai Medical Center, and nationally recognized palliative care consultants. The purpose of the retreat was to focus on improving the team's overall health and service standards. Through group discussions, team building activities, and practical skill building exercises, the team developed four unique and easily implementable strategies for promoting team health.
Results: The four wellness strategies developed during the retreat are detailed below.
"Code lavender" process for intense cases – a code that can be called to alert the team when an individual is in personal/emotional/spiritual/existential/mental distress during the day. 
Self-care goals and plan for each member of the team – Led by team chaplain, each team member defined their plan for self-care in the following areas: emotional, mental, physical, social and/or spiritual. The team also created a "buddy system" to support and encourage self-care. In order to keep each other on track, the team completes self-assessment ratings and identifies stressors during their daily huddles. Also during the monthly reflection sessions, the chaplain checks in with each team member about their self-care plan.
Streamline of consult triaging – The triage RN is solely responsible for triaging all consults. Each morning the team discusses their schedule, meetings, and capacity for new patients. Also, the triage RN and other team members proactively communicate with referring providers to set service expectations.
Recruitment for additional social work and administrative days – As our team continues to grow, the need for additional social work support is critical. Recognizing this need, SCM leadership budgeted for a third social worker for FY17. In addition to recruitment, administrative days were provided for the social workers.
Conclusion: The interventions implemented by the team resulted in quick, easy and effective changes that reduced the risk of compassion fatigue, promoted better self-care, and provided program sustainability. Future goals have been set to continue exploring and applying other interventions.
Author
Program Manager
Cedars-Sinai Medical Center Supportive Care Medicine
8700 Beverly Blvd. Becker 224
Los Angeles, CA 90048
(310) 423-2857
Co-authors
Anna Lotakov, MHA
Azadeh Dashti, MD
Neha Darrah, MD